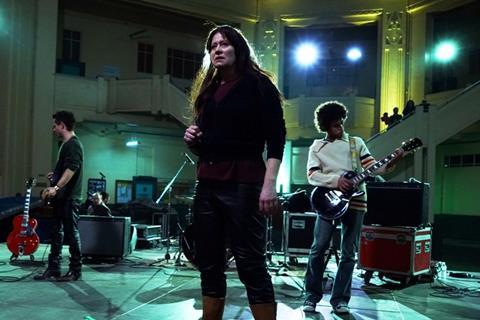 Susanna Nicchiarelli's third feature is Nico, 1988, a biographical picture about the singer Christa Päffgen, better known for her stage name Nico and her famous collaboration with the Velvet Underground.
The Italian-Belgian film opens the Orizzonti section at the 74th Venice Film Festival (30 Aug - 9 Sept) and is produced by Vivo Film with international sales handled by Celluloid Dreams.
It is set during the late years of the singer, when she was touring Eastern Europe on both sides of the Iron Curtain. Shot mainly in English with some German and Italian dialogue, the movie tells the story of how a woman approaching 50 with a famous past managed to rebalance her life.
In the film, director Susanna Nicchiarelli, whose previous works include Cosmonaut and Discovery At Dawn, is once again fascinated with the portrait of a complex woman. Screen spoke to her ahead of the film's Venice Film Festival premiere.
Why did you choose to show only the very last years of Nico?
Because the way her life ended goes against all stereotypes. She was this almost 50-year-old woman who destroyed the myth of her beauty. She wasn't trying to stay young. She dyed her famous blonde hair to black and didn't even shower! She didn't regret her New York years, she just wanted to be what she wanted to be. And all that happened at an age in which usually a woman's life is considered to be finished.
The film is shot in the 4:3 format, why?
I was looking for the 1980s TV look. I didn't want the cool, fashionable portrait of a rock band with groupies and stuff. I don't think that is even true. I liked the looser aspect of her band, not the handheld camera style of rock music films. I tried to match the movie's atmosphere with the austerity of her music.
Was it difficult to cast the leading role? How did you choose Trine Dyrholm?
I immediately wanted her. I saw Trine only on screen in Love Is All You Need and The Commune and I knew I needed that positive energy for this character tainted with tragedy. And she also was a singer when she was 18!
Did she help to form the character?
Preparing the movie I interviewed all of the characters who are still alive, but a lot of the material comes from Trine, from some Nico interviews that she found and I knew nothing about. In addition she also got to find the character by herself rehearsing the songs.
Was the project originally envisioned as an international one?
No, I first wrote the script and then I realised it had to be shot in English, it had to be a co-production. So I pitched it to Vivo Film, who I knew because of a short movie we made together years ago, and since then made a terrific job with co-productions.
Why did you think it had to be a co-production?
Because this is a very European movie about the 80s, and taking suggestions from a bunch of very different people from different countries is crucial for a story set abroad.