Steven Spielberg's The Post, about The Washington Post newspaper's publication of the Pentagon Papers in 1971, has had a rapid journey to awards season. Screen recounts the film's origins.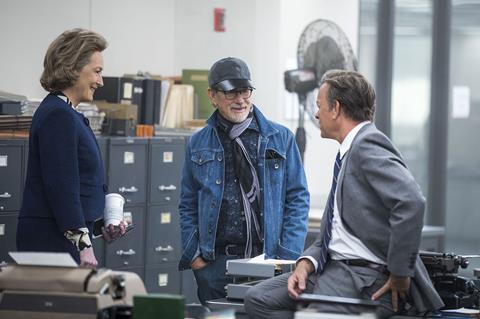 When The Post screenwriter Liz Hannah graduated from the AFI Conservatory, Donald Trump wasn't president, 'fake news' wasn't a thing and the New York-born Hannah dreamt of being a movie producer. But after four and-a-half years of working in development, notably for Charlize Theron's company Denver & Delilah, she decided to try her hand at writing instead.
Five years later, Hannah had pushed through a couple of pilots but had yet to sell a feature. Then she remembered a book she had read years earlier, The Georgetown Ladies' Social Club: Power, Passion And Politics In The Nation's Capital, which had featured Katharine 'Kay' Graham, long-time publisher of family-run newspaper The Washington Post. Graham, who died in 2011, had presided over the title during an extraordinary period of journalistic excellence that had included the publication of the Pentagon Papers in 1971 — about US conduct during the Vietnam War — and the investigation into the Watergate scandal that had contributed to president Richard Nixon's downfall.
"I was like, 'Who is this woman?'" Hannah recalls. "So I Googled [her], I bought her memoir [1998 Pulitzer Prize-winner Personal History] and I absolutely fell in love with her. Her voice was so unique and her perspective on her life was so honest, and she was so vulnerable and willing to examine her choices and her mistakes, I was, 'There has to be a movie in her.'"
But what movie? "She lived, like, 10 different lives," continues Hannah. "I knew that I wanted to tell a story of her finding her voice, to tell the story of her being empowered. But I didn't know necessarily what that moment was." It wasn't until Hannah read Post editor Ben Bradlee's memoir A Good Life that the idea finally coalesced. "I realised the movie wasn't only about [Kay] finding her voice, and the Pentagon Papers and the publishing of them, but it was the origin story of this superhero team that was Katharine Graham and Ben Bradlee."
Personal connections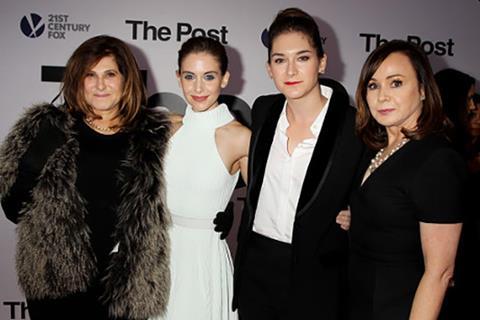 Encouraged by her husband, TV writer Brian Millikin, Hannah took the summer of 2016 to write the screenplay, knocking out a 165-page draft by July and a revised script by early September. She developed the script on spec with Star Thrower Entertainment, a film and television finance and production company run by Tim and Trevor White, who took it out in late October and remained attached as executive producers. Hannah's hope was that the script would net her an agent. At best, it might become "this tiny little movie that nobody will ever see".
But the script started to generate serious buzz around Hollywood, eventually placing second on 2016's Black List rundown of the best unproduced screenplays. Amy Pascal's Pascal Pictures beat out several interested parties; the former Sony studio head bought the rights the day after she read the script.
Like Hannah, Pascal had gravitated to the remarkable Graham but had a deep personal connection to the story. Not only had her husband worked at The New York Times, her father had been a researcher at the RAND Corporation and shared an office with Daniel Ellsberg, who leaked the Pentagon Papers to The New York Times and The Washington Post. "And I think Amy knows a thing or two about being a woman in a man's world," muses Hannah. "Being able to make the film with her was the best possible thing. Then we were looking for a director."
At the time, Steven Spielberg was in post on his visual-effects-heavy adaptation of Ernest Cline's novel Ready Player One for Warner Bros and was prepping The Kidnapping Of Edgardo Mortara to shoot in Italy. That project was delayed, however, as Spielberg looked for the right seven-year-old boy to star.
And so, in February 2017, Pascal sent the script to Kristie Macosko Krieger, Spielberg's long-time producing partner, who immediately loved it. "What struck me was the relationship between Ben Bradlee and Kay Graham," says Krieger. "He didn't have a problem reporting to a woman in 1971. He just wanted her to be a great boss and do what was right." On February 20, Spielberg read the script and said yes. The following weekend, Meryl Streep and Tom Hanks agreed to play Graham and Bradlee. "It was probably the most glorious weekend of any producer's life," says Pascal. "It was my luck that boy didn't show up."
Spielberg's only proviso was he wanted to shoot The Post that summer and release it in December. "I said, 'Okay, let me see if we can figure this out and make it work,'" recalls Krieger. "I had to look at [Ready Player One's] post-production schedule and look at a production schedule for The Post, and figure out if we could get both made in time. The biggest thing was Steven needed to deliver the film so John Williams could write the score, and had to deliver it three weeks after he finished shooting."
Ring of truth
With 20 weeks until principal photography started, they drafted in Josh Singer, who won an Oscar for co-writing Spotlight, to rework the script. Spielberg had been neighbours of Bradlee and his wife Sally Quinn in the Hamptons, and had met for lunch with Graham during the Saving Private Ryan press tour. "It was really important to Steven that everything in the movie was true," says Pascal.
"I got a call from God, or rather God's lieutenant, around March 15," laughs Singer. "I had a fair amount of trepidation to get involved with another journalism project so quickly. But then I read Liz's script and loved it." His immediate task was to "dig deeper". "The needs of a spec script are very different to the needs of a movie," continues Singer. "With a spec, you're trying to get people excited about this idea, this story, and you as a writer, which Liz had done because she'd got Meryl, Tom and Steven on board. You don't worry, necessarily, about how historically accurate [it is], because, frankly, that's not your job. But Steven feels a real responsibility, when he's telling history, to be pretty close to the spirit of the truth."
Unusually, Hannah remained on board throughout the rewrite process, and into production. "Writers get thrown away in Hollywood a lot, and that was not something we were ever going to do," says Pascal. "She and Josh became partners."
"When Josh was brought on, I was so relieved I was not the only person who had the weight of this script on their shoulders," Hannah reflects. "It was amazing to work with him, constantly pushing the script along, in pre-production and on set, reworking dialogue, reworking scenes. No one who worked on this film settles for good. They all expect great and expect the best. And only if we climbed the ladder together could we get there."
Filming began on March 30, 2017, in an office building in White Plains, New York state, where production designer Rick Carter recreated the Post's 1970s newsroom, while Graham and Bradlee's houses were built at Steiner Studios, Brooklyn. In addition to Williams and Carter, the crew included Spielberg's regular DoP Janusz Kaminski, Oscar-winning costume designer Ann Roth and casting director Ellen Lewis, who helped amass a stellar supporting cast. "Had we not had Ellen Lewis, had we not had Rick Carter, had we not had Ann Roth, there would have been challenges," reflects Pascal of the condensed production schedule. "But these people are the best at what they do and everybody fell in love with the movie and felt passionate about it. If any one of those hadn't, it would have been a different situation."
Spielberg finished filming on July 2 and post on November 10, with the film screened for the first time just eight days later. "Once [Steven] gave the movie over to John Williams I knew that, barring any major complications, we were going to make all of the dates and release the movie on December 22," admits Krieger. The only issue was the title: The Papers was briefly considered, before it reverted back to The Post.
The budget was around $50m, split equally between Fox (which took North American rights) and Amblin Partners. International distribution is through Amblin's output deals with various distributors in EMEA, Korea and China, eOne in the UK, Ireland, Spain, Benelux and Australia, and Universal in France, Germany, Asia, Latin America and Russia.
The Post is dedicated to screenwriter Nora Ephron, who died in 2012 and had once been married to the newspaper's legendary reporter Carl Bernstein. "Everyone involved in the movie, Kristie, myself, Steven, Meryl, Tom, we all had significant relationships with Nora," explains Pascal. "Everything that this movie is about is everything that Nora cared about. And I think each of us loved her dearly, miss her endlessly, and this movie feels like it has some kind of connection to her."