Lunana: A Yak In The Classroom has become the first Bhutanese film to make the Academy's international feature film shortlist after being deemed ineligible in 2021. Writer/director Pawo Choyning Dorji tells Screen about the film's challenging journey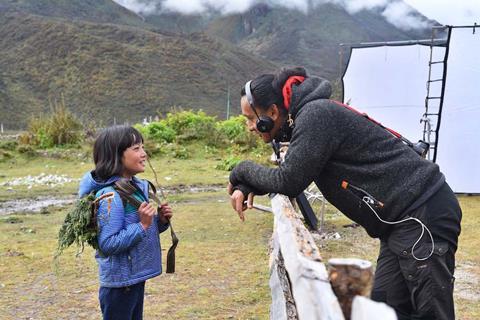 "We were all doing this for the very first time and didn't know what the requirements were," recalls Bhutanese photo­grapher-turned-director Pawo Choyning Dorji, referring to his film Lunana: A Yak In The Classroom's first run as a submission to the 2021 international feature Oscar race.
"I was told that having an official letter from the Bhutanese government would suffice," he continues. "That's what we did, but we didn't receive any con­firmation from the Academy until only days before the deadline, when they informed us that our submission wasn't accepted because Bhutan didn't have a valid selection committee that they recognised."
As it was impossible to form a proper committee in time, the Academy advised Dorji to resubmit the film the following year. The Bhutanese government acted right away to put forward a selection committee comprised of respected Bhutanese representatives in the fields of cult­ure, history and the arts, which was sub­sequently acknowledged by the Academy; the new committee unanimously voted for Lunana and it was submitted for a second time for the 2022 international feature race.
The Dzongkha-language film is Dorji's directing debut, following a career in which he started as an assistant on Bhutanese lama and director Khyentse Norbu's Vara: A Blessing (2013) and went on to produce Hema Hema: Sing Me A Song While I Wait, which was given a special mention in Toronto's Platform section in 2016. Lunana follows a young Bhutan­ese teacher who aspires to be a singer in Australia but finds himself assigned to an isolated school in the Himalayan glacial village of Lunana, inhabited by a small nomadic community.
With the Academy submission being successful in late 2021, it became only the second film to represent Bhutan in the Oscars, following Norbu's The Cup in 1999, and made it through to the 15-strong shortlist announced on December 21. "Can you imagine that Bhutan was not even an option in the country list of the Academy's website? The Academy had to add 'Bhutan' for us to complete the submission," says Dorji.
Industry insiders advised Dorji that a good publicity team and strong US distributor were essential to ensure voters see the film and advance it to the next stage of the Oscar shortlist. "We didn't have either, and I didn't think we had any chance of making the shortlist of 15," he smiles. "I was just grateful to be finally accepted as an official submission representing my country and felt honoured to be sharing Bhutan's culture and legacy among great films from the world over."
International support
Excitement heightened following the shortlist announcement. To kickstart the Oscar campaign, Berlin-based sales agent Films Boutique quickly closed a North American deal with Samuel Goldwyn Films, which had showed a keen interest in Lunana even before it made the shortlist. The Los Ang­eles-based company, which distributed last year's best international feature film winner Another Round, released Lunana in the US on January 21.
Films Boutique has since secured further distribution deals for Australia and New Zealand, Israel and Italy on top of earlier deals including Austria, Brazil, France, Germany, Greece, Japan, South Korea and Switzerland. Additionally, US-based Cinetic Media and Germany's Claudia Tomassini + Associates have boarded as publicists.
"Films Boutique is the most supportive agent I could have asked for," notes Dorji. "The film has reached where it has reached because of them genuinely caring for us." Lunana has travelled to more than 80 festivals and won 18 international prizes to date, including the audience award at Palm Springs in early 2020, just before the Covid‑19 outbreak.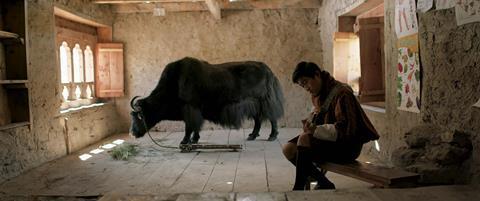 This international interest is part­icularly welcome, as the making of Lunana required painstaking preparations. Given the harsh weather on the Himalayas, filming could only take place within a two-month gap when there was no rain, no snow and enough sun to power the solar panels, which were the only source of electricity for the production up in the village at high altitude.
There is no road to Lunana, so the crew trekked for eight days, bringing along 75 mules and donkeys to carry the solar panels, batteries and food supplies (rice and dried vegetables chosen for their long shelf life). After a year of pre-production, which included the building of temporary housing for the crew and cast, cameras started rolling in August 2018.
Once the shoot wrapped two months later, Dorji began post-production in Taiwan — such facilities are totally absent in Bhutan — using Taipei Postproduction for editing and colour correction, and Tu Duu-Chih's 3H Sound Studio.
Dorji splits his time between Bhutan, India and Taiwan, the latter being where his Taiwanese wife, Stephanie Lai, and their two children are based. Lai, who is a theatre actor and appeared as a child in Edward Yang's 1991 classic A Brighter Summer Day, produced Lunana alongside Dorji. It was largely self-financed through Doji's Thimphu-based Dangphu Dingphu: A 3 Pigs Production, with China's Huanxi Media as a minority investor.
Once the film was completed, Dorji and Lai applied directly to film festivals without using agency representation; before its world premiere at the BFI London Film Fest­ival in October 2019, Films Boutique discovered the film via social media and signed it up straight away.
Reaching screens
Taiwanese distributor Swallow Wings was the first to release Lunana in theatres, taking more than $250,000 in 2020 from 15 cinemas. It was also a success in Japan, where the audience reception was so overwhelming that local distributor Doma responded to public demand and dubbed the film into Japanese. Huanxi released it in China through its online streaming platform as, explains Dorji, getting the official dragon seal from the censors for commercial theatrical release proved too complicated. European theatrical releases have been disrupted because of successive Covid-19 waves.
Yet Dorji remains reflective about the journey. He references a foundational Buddhist belief of imperm­anence — an idea that endless possibilities can arise through constant change, which is also a main theme of the film. "Because of impermanence, it becomes possible for my tiny film to end up on the Oscar shortlist," he muses.
"I see Lunana's journey like that of a rainbow that came together through many causes and conditions," Dorji continues. "All the true stories that inspired me to write the script; meeting beautiful villagers like Pem Zam and Kunzang Wangdi [the little girl who plays herself and the village head who plays Asha Jinpa respectively]; our crew and cast who braved the harshest conditions to share a story of Bhutan with the world; even the mules who ensured we had all our gear and equipment. And Naka, our beloved yak, who stayed with us to make this movie before dying of old age."