Claire Foy didn't hesitate to accept a role in Sarah Polley's drama Women Talking. She tells Screen how she connected with her character, who is forthright in her response to abuse.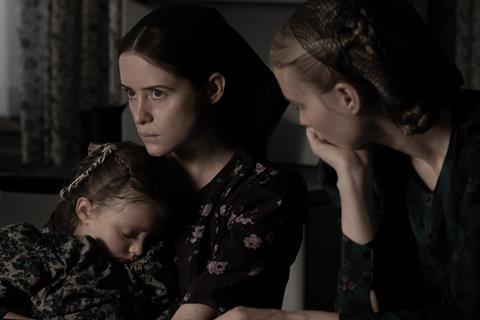 Claire Foy recalls the first time she encountered the real-life inspiration for Women Talking: a newspaper report outlining events in Bolivia between 2005 and 2009, in which more than 130 Mennonite women were drugged and raped by men in their community.
"It was obviously horrific and very traumatising to read," says Foy. "But as depressing as it sounds, I wasn't particularly surprised. I wasn't like, 'Oh my God, how can things like this happen in this day and age?' Which is not a great sign, really."
Those horrific events inspired a 2018 novel by Canadian author Miriam Toews, herself a former Mennonite, which she called "an act of female imagination". The book, and Sarah Polley's film adaptation, both move the story to North America, and focus on a group of abused women who gather in a hayloft to debate what to do when their attackers are released from police custody: forgive them, fight for change, or leave the community. The entire film is centred on the impassioned debate between the women of two families but, despite the daunting content, Foy did not hesitate in joining the ensemble.
"I was straight in," she says. "I've never, ever read a script like this. It's completely unique. I don't think many people will see this film and feel that it fits into a particular genre or type of filmmaking. There could be lots of films called Men Talking, because that is, basically, most films. What I admired about Sarah is that she didn't want to diminish the idea that women talking was enough to fill a film. The fact it's the title just goes to show how rare that is in cinema."
Foy admits to being an admirer of Polley, as both a director and actress, from an early age. "Ramona Quimby [the colourful child protagonist of a series of books by Beverly Cleary, portrayed by Polley in a 1988 TV series] was a large part of my childhood," she says. "I felt much more similar to her than I did to, like, Anne [in TV series Anne Of Green Gables] in children's programming… But, shamefully, I hadn't put two and two together until later in the shoot that Sarah was Ramona, which was really embarrassing."
The actress had already seen Polley's first two features as a writer/director, Away From Her (2006) and Take This Walt z (2011), and watched her third, 2012 documentary Stories We Tell, in preparation for their first meeting. "It's the most extraordinary piece of filmmaking, documentary or whatever you want to call it," she enthuses of the latter investigation by Polley into her own family. "So yes, I was a fan. And it's very easy to be a fan of her in real life; she's incredibly articulate and intelligent and engaged and self-aware and self-deprecating. She's just the best leader ever."
Harnessing emotion
Women Talking goes out through MGM/United Artists Releasing in North America on December 23 and Universal Pictures for international, and is produced by Plan B Entertainment and Frances McDormand's Hear/Say Productions. It was shot in Canada from July to September 2021, when tight Covid-19 restrictions were in place.
Virtual discussions and read-throughs were followed by a week of masked, in-person rehearsal. Foy notes that much of this preparation was within the two family groups — hers, the Friesens, comprises matriarch Agata (Judith Ivey), sisters Salome (Foy) and Ona (Rooney Mara), and their niece Neitje (Liv McNeil). It was something she found fruitful. "There are all the things that, obviously, no-one else is really interested in but actors love — what was our upbringing like, what was our father like? It was important we had a collective answer to those questions.
"And why is it that Salome, Ona, Agate and Neitje are chosen by the family to be representatives for the community?" Foy continues. "Agata is a natural leader, Ona has perspective and more education than the other women, and Salome would want to be there. I'd be like, 'I'm coming.'"
Salome is the most overtly angry of all the women on show; in fact, she can barely contain her rage at the men, and has physically attacked one of them before the main action of the film.
"She has endured the unimaginable," notes Foy. "Her daughter and herself have been sexually abused, and her mother and her sister, who's now pregnant. How do you engage with the world after that, when you've been dehumanised in such a way by the people that you trust, in your community?
"I think her response is completely justified. Her anger is an engine and a catalyst to keep going, to find some sort of meaning in life again. And I identified with her need for justice and need for action, her frustration with what she sees as other people not doing enough and not seeing her point of view." Foy laughs. "Yeah, I just really got her."
Foy, who will next be seen alongside Andrew Scott, Paul Mescal and Jamie Bell in Andrew Haigh's adaptation of Taichi Yamada's novel Strangers, has an intriguing range: from the painful reserve of Queen Elizabeth II in the first two seasons of Netflix hit The Crown to the volatility of Salome and the stalked heroine of Steven Soderbergh's Unsane. Does she have a preference?
"I think I've got both in me, so it's great to be able to express that," she says. "But I would hope none of those people are just one thing. I've also played some absolute rotters, so I'm pretty much open to whatever they're giving me."
That said, a character like Salome brings certain demands. "Playing someone at that high intensity, who's going through extreme things, can also be pretty extreme for you as a person — to have that stamina, to keep it up for a long shoot, it's quite a lot. But I just really love doing it."
Sacred space
She says Polley, who has described her set as a "sacred space", supported her cast through the emotional and psychological weight of the shoot, to the extent of ensuring a therapist was on hand at all times.
"It wasn't just about what the actors were doing, it was about people in the crew also, that this could trigger experiences they may have had in their life, in the same way it might for an audience member," says Foy. "We were living that, 12 hours a day. I think Sarah realised she needed to create an environment where everybody felt they could pause; and it did happen a lot, people needed to have a break or talk to the therapist.
"I've never been on a film set where it felt [so much] like my director, and also the production, were saying, 'We're looking out for you.'"