Nick Rowland's debut feature Calm With Horses was four years in the making. Screen speaks to the director and his producer, Daniel Emmerson, about its journey to the screen.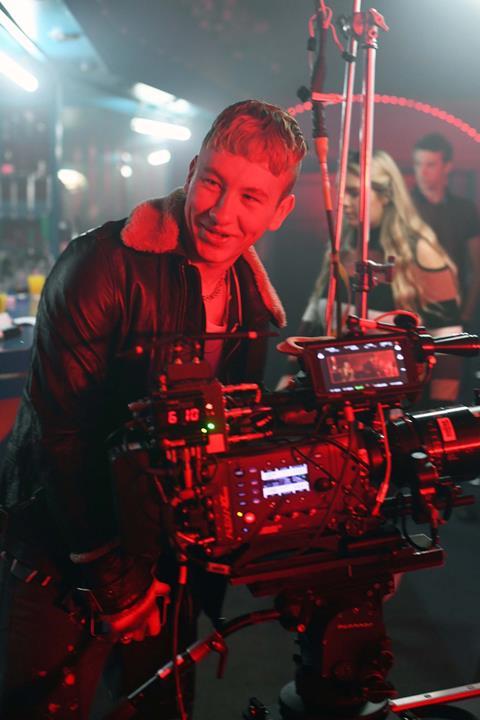 The story of Nick Rowland's feature debut Calm With Horses is one of strange coincidences, good timing and rapidly rising stars.
The project's genesis can be traced back to director Rowland's time at the National Film and Television School in London, where he studied alongside writer Joseph Murtagh. The pair collaborated on four short-film projects, including the Bafta-nominated Slap, starring Joe Cole. The actor's agent was Conor McCaughan at Troika, whose eye had been caught by Rowland's short films, and he wasted no time in snapping up the director as a client.
On graduating, Rowland voraciously consumed short stories in the hunt for something to develop. His eye was caught by a review in The Guardian newspaper of a debut collection of short stories, Young Skins, written by emerging Irish writer Colin Barrett. In particular, one story from the collection stood out. Calm With Horses was the tale of an ex-boxer who becomes a feared enforcer for a family of drug dealers while also trying to be a good father to his autistic five-year-old son.
Rowland recognised parts of the story's setting and characters in his own childhood growing up in Banff, a small village in the north of Scotland. "Each short story [in the collection] is about a trapped young soul who is stuck in this town," he adds.
A collaborative approach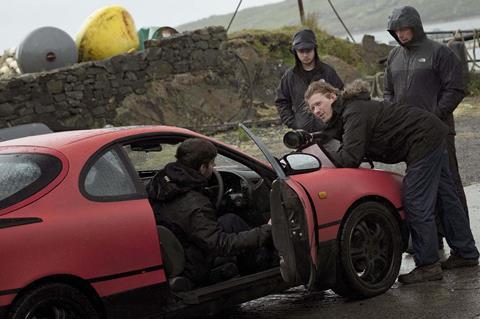 Rowland had met Daniel Emmerson while the young producer was cutting his teeth in development at UK powerhouse Working Title Films. When he set out on his own — "scrapping around", as Emmerson puts it — he received a text from Rowland asking if he might be interested in optioning Young Skins.
"Colin [Barrett] had a very distinctive and cinematic voice, and Calm With Horses had all the ingredients that would make a good film — genre elements, interesting characters, and it was doable on a first-time budget," recalls Rowland. "Just doable," Emmerson underlines.
But Emmerson discovered they had competition for the rights, fortuitously from Rowland's agent McCaughan. He had been sent the book separately and asked if he wanted to option it for his production company DMC Film, which McCaughan had set up with Michael Fassbender.
The situation was smoothed not just by McCaughan's existing relationship with Rowland, but because he also knew Emmerson. The producer was developing a project called The Kitchen written by a then-emerging Daniel Kaluuya, another of McCaughan's clients.
Young Skins became part of the reason Emmerson was soon offered a job as in-house producer at DMC, and the first thing he did when he joined the company was to option the book for Rowland to direct and Murtagh to write. "It all felt quite serendipitous," remembers Rowland (Emmerson is now managing director of DMC Film).
Emmerson secured early development funding from Northern Ireland Screen (DMC is London-based but registered in Northern Ireland, meaning it could access funding for the development slate) to help create a "really detailed treatment" for the feature, which they took to Film4. "My dream was to make a Film4 film," says Rowland. "Trainspotting got me interested in filmmaking. I've always admired what that company represents and its output."
Film4 had already been involved in Fassbender's career, backing titles including Hunger and Shame (in which he starred) as well as DMC's first feature Slow West. Film4 joined the project to fund the rest of the development process and to majority finance the production.
"We really loved Nick and Joe's previous work together, and the combination of their vision and voice was the deciding factor. It was their insight into the story and passion that convinced us it was a great idea for a film adaptation," recalls Film4's deputy head of creative Sam Lavender.
The team then raised money from Screen Ireland (then the Irish Film Board) — they would eventually shoot on Ireland's west coast — and as such needed to attach an Irish co-producer, finding their match in Ed Guiney and Andrew Lowe's Element Pictures.
Further funding came from Ireland's regional WRAP fund, and the country's Section 481 tax credit. Element also took Irish distribution rights, and Altitude came on board for UK distribution as well as international sales.
During the four years it took from optioning the book to securing the finance, Rowland did not want to rest on his laurels — and needed to pay the bills. So he juggled television work with the ongoing development of Calm With Horses, working on high-end productions including BBC period drama Ripper Street, an experience that got him used to working on a production of scale and with established talent.
A cast of rising stars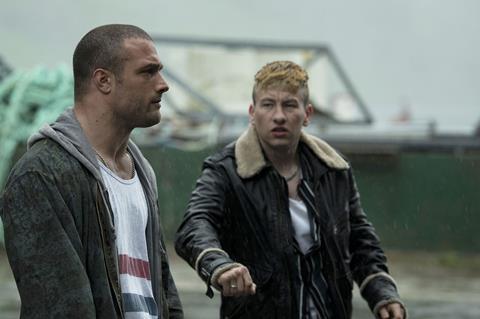 When it came to casting Calm With Horses, Rowland had rising Irish star Barry Keoghan in mind from early in the process. Rowland knew the actor from his film school days when Keoghan used to visit the director's flat, which he shared with another budding director who had cast him in a short film. "He's incredibly talented, every role he's done has surprised me," says Rowland.
Separately, Emmerson met Keoghan at Sundance in 2016, which Keoghan was attending as one of the stars of Rebecca Daly's Mammal. "I told him about this wheeler-dealer character," Emmerson recalls. "We had a good chat and at the end he walked away, turned around, and gave me back my wallet. He'd pinched it."
The team was aware of Cosmo Jarvis from his breakout turn in Lady Macbeth and he impressed at his first audition. "He has a physicality, an imposing quality, but the moment he walked in the room he had an incredible vulnerability," says Rowland. "He's extremely sensitive and he was a perfect fit for the character."
"Cosmo connected with the material in a way no-one else did," Emmerson adds.
Jarvis threw himself into the role. Five weeks prior to shooting, he moved to the west coast of Ireland at his own expense to immerse himself in the culture and learn the local lingo. The Englishman was the only non-Irish actor in the film playing an Irish character, but performed such a convincing accent that not a single member of the crew realised he was English. This lasted until the wrap party when, after 28 solid shooting days, he broke character for the first time. "He suddenly started talking in his Devon accent and everyone freaked out," remembers Rowland.
A further key character in the film is played by another rising star, Irish actress and amateur boxer Niamh Algar. She was recently selected as a UK and Ireland Screen Star of Tomorrow for 2018 and Calm With Horses found her in similarly illustrious territory: Jarvis was a Star of Tomorrow in 2013, Keoghan, Emmerson and Rowland were all Screen Stars in 2015, and writer Murtagh was chosen in 2016.
"What really struck me with Niamh was the layers of past she infused her performance with. You could feel the history of her character and her past relationship in all these micro details and choices she was making in the scenes," says Rowland on Algar's performance.
The shoot was tight, with a fair amount of travel. "Every day there was an intense pressure to get everything done, we couldn't go into overtime," says Emmerson. "We had a few one-take wonders and it was a relief getting those in the can."
For Rowland, the highlight from the production was simply seeing it all come together after so many years of hard work. After wrapping in June, the film is now well into the edit process in London, and will lock before the end of the year.
At DMC, Emmerson now has two projects moving towards production: The Kitchen with Kaluuya and Gentle In The Bones, the latter the writing debut of I, Daniel Blake star Hayley Squires.
Transitioning from directing shorts at film school to television work and then onto his first feature was a learning curve for Rowland, but he is now considering life after Calm With Horses.
Particularly appealing to him is an idea for a project about rally driving. Between the ages of 13 and 21, the director was a professional race driver, competing in the British and Chinese rally championships before he was forced to change careers after the 2008 financial crisis meant funding dried up. "My mum was also really nervous [about the driving]. When I told her I wanted to be a film director, she said, 'Thank god, something sensible,'" says Rowland.
"The only mum in the world who describes a career in film as sensible," Emmerson adds, with a smile.