In TÁR, Cate Blanchett plays a brilliant classical conductor whose revered status is enabling her own bad behaviour. She tells Screen about taking a dive into the deeply flawed character.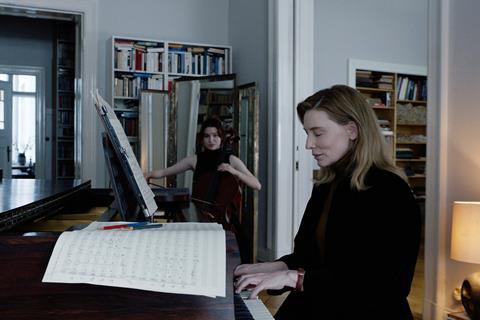 Cate Blanchett was in Budapest, filming video-game adaptation Borderlands for Eli Roth, when her agent called to say Todd Field had written a script especially for her. "We had met maybe 10 years ago, on a project he was doing with Joan Didion, and for one reason or another it didn't happen," recalls Blanchett of Field. "But he doesn't leave the house very often to write and direct. It's a rare thing. So my agent said, 'I think you should read it quickly.' She doesn't say that very often. She's only said it once or twice. I read it immediately and I couldn't put it down."
TÁR, Field's first film as writer/director since 2006's Little Children, tells the story of Lydia Tár, a pre-­eminent concert conductor and EGOT winner, who is preparing to record Gustav Mahler's 'Symphony No. 5' with her Berlin orchestra. But as spectres from the past return to haunt her, the highly strung and volatile Lydia's personal and professional lives unravel, resulting in a devastating fall from grace.
"I was bamboozled by it," says Blanchett of Field's script, which touches on issues of #MeToo, cancel culture and the corruptive nature of power. "You open the page and here comes an eight-page monologue about a whole lot of things I only vaguely understand, with terminology I had never heard, and I realised it made existential and rhythmic sense to me before it made intellectual sense. It haunted me. I said yes straight away. Then I got the knee sweats and realised just how much work I had to do."
She jumped right in, learning piano, how to conduct and wield a baton. "Because of lockdown, a lot of musicians were unable to perform, which was an incredible gift for me, selfishly," she says. "During the day, I was kicking and punching and flying through interstellar space. In the evening, I was having piano lessons and Zooming my friend [conductor] Natalie Murray Beale to dissect Mahler's 'Fifth' and work out which pieces we should conduct in the rehearsals. It was an incredibly schizophrenic but exciting way to prepare."
An education
Blanchett trawled through online rehearsal videos and masterclasses. "Thank God for the internet and YouTube. I started with the masterclasses of [Russian music teacher and conductor] Ilya Musin, because the first person I met was the conductor of the Scottish National Opera and he trained with Musin. He said to me, 'It's all about breath.' In that way, it's not so dissimilar from acting. The backstory of the character is she was a child of deaf parents, so I thought about sign language influencing her style. There were so many things brought to bear beyond simply learning that the right hand does the beating and the left hand does the expression. Anytime she was conducting, I wanted it to be as dynamic as possible and to advance the drama. Conducting is all about communication."
It was Blanchett's idea that Lydia speaks German to her musicians, despite at the time having only a school-level knowledge of the language. "Todd had said early on that he wanted to be a fly on the wall, he wanted to feel you were bearing witness to these rehearsals, to these people's lives, so I said to him, 'I'm making a rod for my own back, but she has to conduct the rehearsals in German. There's no way she wouldn't — it would be disrespectful. A friend put me in touch with Franziska Roth, who teaches opera singers to sing Wagner. She understood the language, the musical language, and was an enormous help."
Lydia is an indelible creation: abrasive, petty, acerbic, deeply flawed, selfish, totally lacking in self-­awareness, monstrous. Blanchett's committed performance saw her scoop the Volpi Cup for best actress at Venice, where TÁR premiered in September — ahead of the film's North America release via Focus Features in October.
"Powerful forces move through a conductor. That's why they're called conductors, I guess," muses Blanchett. "Even before I got to the end of the story, I thought, 'What is she running from? Does she know how to be herself?' She's someone who believes in the ability for human beings to be transfigured by genius, who has surrendered and devoted herself to the supreme God of music, at great personal cost. The character is about to turn 50, which is enormous, and I always saw her as being in transition. She's got to accept there's this change happening."
A birthday party sequence was shot, which "was extraordinary. But that whole thing has been excised from the film, and it's only there in a subtle way. But I was very aware of that fact."
Extended takes
Working with Field was, she says, "very symbiotic". Many scenes were shot in extended takes. "We goaded one another creatively, to go outside our comfort zones, in ways I've experienced in theatre but rarely in film," Blanchett reveals. "He is one of the great screen­writers, so there was an incredible architecture of the story to hold us. And within that, his preparedness to improvise, to see what happens, and to throw everything we had in our arsenal, was exhilarating."
Blanchett is an executive producer on TÁR, a role that has come to the fore for her in recent years with Caroland miniseries Stateless and Mrs. America. "I spent a decade with my husband [Andrew Upton] running a very large cultural institution in Australia and had an incredible creative surge doing that," she explains, with reference to the Sydney Theatre Company. "What has been waning, in terms of the respect for it, value for it and space for it, is the creative producer. People who understand how things are made, who have a sense of the whole, not just their part within it.
"I have always, as an actor, been interested in the whole," she continues. "That's why I've played characters who died on page nine, and characters who've been in every frame. Creative producing, being the friend of the director, I find incredibly exciting. I don't have to be in it."
With Upton, Blanchett is producing Apples director Christos Nikou's English-language debut Fingernails and developing a film of 1960s TV show The Champions with Ben Stiller. As she speaks to Screen International, she is back home in Australia for the first time in four years, starring in and producing feature film The New Boy for Warwick Thornton "about the intersection between Indigenous spirituality and Catholicism. He's an Indigenous director I've always wanted to work with."
Blanchett plays a nun — a long-cherished ambition, she reveals. "I watched a film years ago where Hayley Mills burnt down a convent and I thought, 'Oh, being a nun would be so exciting,'" she laughs. "I've since watched documentaries about the Carmelites… and maybe not."