Judas And The Black Messiah is a drama that arrives with added contemporary resonance, telling the story of a political leader and the man who betrayed him. Screen talks to the film's lead performers Daniel Kaluuya and LaKeith Stanfield.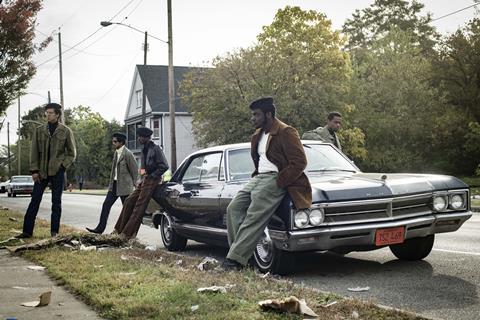 Judas And The Black Messiah is not the first time Daniel Kaluuya and LaKeith Stanfield have worked together.
In 2017 they memorably appeared in Jordan Peele's groundbreaking social thriller Get Out, for which Kaluuya received an Oscar nomination. That same year they also shared the stage at Carnegie Hall, in the one-night-only, Danny Boyle-directed show The Children's Monologues, delivering speeches based on the writing of children from remote African townships. But talking to them via Zoom in early January, it is clear they have never worked as hard nor as intensely as they did in Shaka King's biopic/crime-thriller hybrid: a genuine dual-protagonist story that took the actors to new, highly exacting places.
"There was a lot of… There was a lot of… There was a lot," laughs Kaluuya.
"Yeah, it was really challenging," agrees Stanfield.
Written by King and Will Berson, based on a story by brothers Kenneth and Keith Lucas, Judas And The Black Messiah tells the story of Fred Hampton (Kaluuya), chairman of the Illinois chapter of the Black Panther Party, whose powerful rhetoric and impactful, progressive community work (including the formation of the multicultural Rainbow Coalition) so riled the FBI they effectively assassinated him in 1969, when he was just 21 years old. But the film is simultaneously a tense deep-cover drama, following the travails of William O'Neal (Stanfield), a teenage criminal turned FBI informant who infiltrated the Panthers, earned Hampton's trust, and was instrumental in his demise.
Two very different roles, each requiring its own challenges.
"I was aware of chairman Fred Hampton," says Kaluuya, who grew up far away from Illinois, in Kentish Town, London, and who has so far earned Golden Globe and Screen Actors Guild supporting actor nominations for the performance. "I was aware of what he meant, aware of the weight of him. It's an incredible story — how he lived and how he was murdered. He raised the awareness of his community and put himself on the front line to feed the kids and heal the sick, you know?"
To properly honour the man, Kaluuya put in the hours researching Hampton, travelling to his hometown of Maywood, Chicago and visiting his childhood home and school. He met his family and read all his writings, as well as "a majority of the books on the Black Panther reading list". He had to bulk up for the part, too, and spent a lot of time in the gym, during which he listened to recordings of Hampton to help him find the man's uniquely resonant voice.
"I audibly cocooned myself in his cadence and rhythms," Kaluuya says. "It was just diligent work, man. Diligent, diligent, diligent."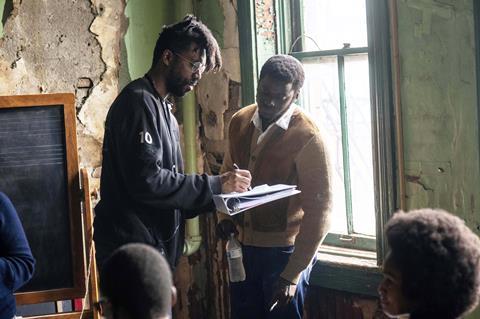 Responsibility of performance
However, for some commentators, all the work in the world would not be enough to justify casting a UK actor as this iconic black American activist. Even one who has appeared in more films as an American than a British character, including Sicario, Widows and, most recently, Queen & Slim. For Kaluuya, though, the response is understandable.
"There's a mistreatment that is triggering people to feel this way," he says. "There's a history of African American erasure, and they've got every right to say, 'I don't know about this.' As someone coming into their country and portraying a person that fought for them and represented them, I'm open to hearing it."
He was not going to let it obfuscate his performance, however. "I felt the responsibility, just in terms of what he meant as a man," Kaluuya continues. "I didn't lead with, 'Oh, I'm British.' I don't even see myself as British. So I don't internalise that perspective on me, especially when I'm building a character. Look, I'm here to represent this character to the best of my knowledge and resources and know-how. Because that's how my mum raised me, bro. And if people don't like that, they're free to not like it."
Stanfield — who has been positioned as lead actor for this year's film awards — shares Kaluuya's empathy with his critics. "I think the conversation matters," says the Californian actor, who broke through in 2013's Short Term 12 and has since appeared in the likes of Straight Outta Compton, Uncut Gems and Sorry To Bother You. "I understand why people might be at odds with beloved historical figures being played by someone that isn't of the nationality in question. But I have to say whoever can portray the role in the best way, in the best light, is the person that's apt for the job. And I think Daniel did a very great job. I think David Oyelowo did a great job playing Martin Luther King Jr [in Selma, which also starred Stanfield as civil-rights activist Jimmie Lee Jackson]. And I couldn't see anyone else playing this role the way Daniel played it."
Interestingly, there was a brief period in which Stanfield actually saw himself playing Hampton. After being sent the script by King, with whom he worked on the director's short LaZercism in 2017, Stanfield assumed he was being offered the role of the Illinoisan activist — until the writer/director pointed out he was looking at O'Neal.
"I had to get comfortable with that," Stanfield admits. Which was not as easy as he had hoped. "When I got on the set, I had a lot of things to break down in my own judgments, and to be able to understand the character as a human being. O'Neal was someone that did things I felt were reprehensible, that led to the death of someone I respect even now. But I realised it was much more complicated than that, and that he was a much more complicated person."
Fortunately, King, whose film neither excuses O'Neal nor vilifies him, was always on-hand to help Stanfield. "Shaka is the only one that really understood the internal struggle I was going through on set," Stanfield says. "In my mind, I'm like, 'Oh my God, how am I playing this guy? Why is the movie through his eyes?' But Shaka would say, 'You're doing the right thing, you're okay. This is going to work.'"
The role was further complicated by the fact, in most scenes, O'Neal himself is effectively playing a role. "I had to be thinking about how he might be afraid to die in a scene, but also how he might be trying to finagle and finesse himself out of a situation. And also how he might be thinking about what they are thinking. It's acting within acting within acting."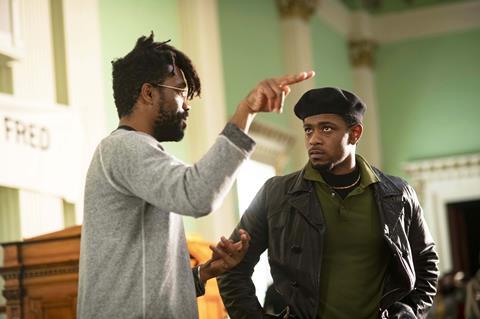 Stanfield's work impressed Kaluuya. "He is an incredible artist," he says. "It was amazing to see him go deeper. Through this film he found depth to O'Neal that's very hard to find and to convey and translate to an audience. It was amazing to see his commitment and his ability."
Perfect timing
Judas And The Black Messiah was originally set to release in August 2020, but like the rest of Warner Bros' slate, it was pushed back by Covid‑19 into early 2021, and received its world premiere at Sundance in February. The new timing does not merely feel appropriate in terms of positioning the film firmly in awards season.
When Screen speaks with Kaluuya and Stanfield, the January 6 storming of Capitol Hill is still sending shockwaves around the globe, with a spotlight on the fact the majority-white Donald Trump supporters who stormed the US Congress were treated so gently compared with Black Lives Matter protesters in 2020, following the killing of George Floyd. It is clear the social imbalance that Hampton sought to right is still very much in effect.
Neither Kaluuya nor Stanfield were surprised by what they saw that day. "I'm black, so I wasn't shocked," says Kaluuya. "I know why that is, and we're telling you why that is. Chairman Fred told you why that is. But maybe people will be open to that concept and that idea now."
"I'm not surprised there are still attempts to stifle what it is to be black," says Stanfield. "But it won't work. We will survive. And I think this movie is a representation of that. I'm really glad it's hitting right now, and reminding people that it's not only about blackness. That's the thing. This movie is about the universal struggle for freedom. Fred wanted everybody to come together in the Rainbow Coalition and build all of us together as a unit. That's what he was about."
Both actors appreciate the fact the Black Panther Party is now being given cinematic attention, with this film — a picture from a major studio, no less — arriving soon after Aaron Sorkin's The Trial Of The Chicago 7, in which Hampton was a minor character (played by Kelvin Harrison Jr), appearing alongside party co-founder Bobby Seale (Yahya Abdul-Mateen II). "It's heartening that we're in a time where Fred Hampton's ideas can come to the fore and be in a mainstream studio film," says Kaluuya.
"It's a great thing," Stanfield concurs. "There's so many stories to tell about the black experience and the diaspora. But I think this one sets itself apart, in the sense that it made me feel ambitious. It made me feel like if I'm not Fred Hampton, then I'm doing something wrong. If I'm not standing up for what I believe in, then I'm not living a truly worthy life. So I'm appreciative of Warner Bros taking on this story and allowing us to tell it in its real, true form. We had liberty to tell the story in a true and honest way. And I'm grateful for that."
Kaluuya likens the film's impact to that of his and Stanfield's last movie together, Get Out. "What this film has the opportunity to do is give the words to a feeling," he explains, "in the same way Jordan [Peele] gifted us The Sunken Place [a trance-like state representing the oppression of black people]. The stuff that chairman Fred Hampton says in this film — and some of it is his real words — allows a lot of young people to feel less isolated. I hope it bolsters the people who are really on the front line, really in the communities, helping the communities. I hope it empowers people to want to do that more and feel more confident about doing it."