Berlinale Series presents the first two episodes of Hanna, spun off by David Farr from the 2011 hit film he co-scripted. Screen talks to producers Tomorrow Studios about its slate of feature film-based TV series.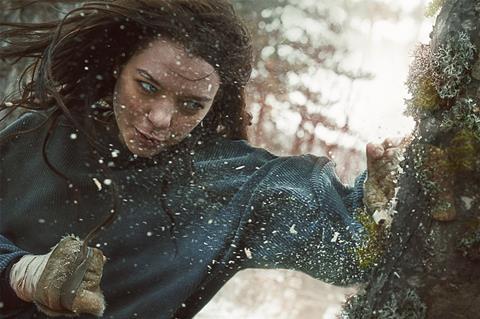 It was deemed worthy of a pricey ad during the US Super Bowl broadcast earlier this month and now Hanna is headed for a prestigious screening in the Berlinale Series TV strand.
But a report of teenagers discussing the show in Starbucks could be "the ultimate compliment" so far for the project, jokes executive producer Becky Clements. Because as Clements (whose sister overheard the chatting teens) points out, getting existing and new fans on board is key to making a success of a movie-based series.
Based on the 2011 feature of the same name and already given a one-episode sneak peek on Amazon Prime Video before its full-season global launch on the streaming platform in March, Hanna continues the story of its title character, a uniquely skilled but confused 14-year-old girl (played in the film by Saoirse Ronan and in the series by 2018 Screen International Star of Tomorrow Esme Creed-Miles) who was raised in a forest by the man she thinks is her father (Joel Kinnaman) and is now being hunted across Europe by a ruthless CIA agent (Mireille Enos).
Feature co-writer David Farr created the eight-episode series, shot on locations in Hungary, the UK and Morocco, financed by NBCUniversal (whose Focus Features unit made the movie) and produced by Tomorrow Studios, the Los Angeles-based joint venture between ITV Studios and producer Marty Adelstein, where Clements serves as president.
As producer of the film, Adelstein (former Endeavor Talent Agency partner whose TV credits include Prison Break and Aquarius) has a special connection to the material. Yet it was Farr, fresh from writing The Night Manager with John le Carré, who provided the blueprint to turn the film into the series.
"David loved what [director] Joe Wright did with the movie, but he always felt there was a very powerful father-daughter story that wasn't told [in the film]," says Clements. "The idea of what that relationship would look like, and of a coming-of-age story wrapped in a thriller, was very compelling to him.
"He has two teenage daughters and was experiencing that moment when your children go from being dependent on you to growing into their own individualism. So it also spoke to him personally."
Adjusting the tone and balance of the story for a character-oriented episodic treatment was another part of the process. The film, says Clements, "was a little bit of a fairytale, by design. We approached it more from Hanna's perspective, the teenage angst point of view. We leaned into the relationship more than the thriller aspects. There's much more of the coming-of-age stuff in the series, wrapped around a thriller. The movie is mostly a thriller with moments of a coming-of-age story."
In narrative terms, meanwhile, the series leaves behind the story of the movie during its second episode. And that, says Clements, means there is "absolutely potential" for a second season, though Amazon has not yet given an official renewal order.
In the pipeline
Turning features into series is becoming something of a speciality for Tomorrow, launched by Adelstein and Clements four-and-a-half years ago and able, thanks to ITV's backing, to finance its own projects, feeding international rights to ITV Studios Global Entertainment.
Snowpiercer, its action sci-fi series based on the same French comic-book as Bong Joon Ho's 2013 feature, just finished shooting for US cable network TNT and Netflix, which licensed rights outside the US and China from ITV.
Vampire drama Let The Right One In, based on the same novel as the 2008 Bafta-nominated Swedish feature from Tomas Alfredson, is set to be reworked with a new writer after TNT passed on the pilot it ordered two years ago.
Though far from being a guarantee of success, the benefits of having a big-screen precursor for a series are clear: it can help sell it to a network and it provides a set-up with proven appeal. Each of Tomorrow's three current movie-related projects "holds onto the essentials of the idea that makes it completely unique", says Clements. "Then everything else — whether it's the setting, the characters or the tone — spins off into what the showrunner/writer wants them to be."
The pitfalls are clear, too. The biggest concern, Clements says, are "the fans that hate your interpretation and spread the word that they don't like it. As Marty says, it's that rabid fan who figures out what your home address is. You don't want to disappoint people who really loved the original, so you have to figure out how to hold onto them."