Dir: Johnnie To. Hong Kong. 2009. 108 mins.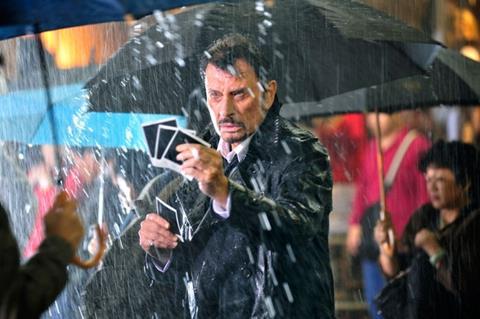 A revenge shoot-em-up which fires mostly blanks, Johnnie To's eagerly anticipated pairing with French actor and rocker Johnny Hallyday isunlikely to make it into the To Top Tens obsessively compiled by the Hong Kong director's loyal fanbase. As always, the sensuality of To's visualstyle and soundscapes and the choreography of the film's bullet ballet provide reasons to watch, but the contrived plot, some wooden English dialogue and Hallyday's stilted perfomance derail proceedings well before the final showdown.
What's really lacking in Vengeance is the narrative inventiveness which lifted films like Breaking News or PTU out of the Hong Kong crime genre box and turned them into arthouse crossover items.
Producer/distributor ARP releases the film in France on May 20 – but the audience driven by the pulling power of ageing rocker Hallyday, who is a national institution, is likely to be short-lived, and may not translate to other territories.
Though he has become a festival favourite over the last five or six years, To is still invisible to most ordinary filmgoers, and Vengeance is unlikely to change this. Most of its ultimate audience will probably come from DVD.
There's something very physical and compelling about To's innate feel for cinematic sheen and syntax, and it's fully on display in the 90-second pre-title sequence, which shows the brutal slaying of a happy Macau family – French mother Irene (Testud), her Chinese husband and their two young sons – by a trio of hitmen. Left for dead, Irene survives – and when chisel-faced father Costello (Hallyday) arrives at the hospital, he swears to avenge the murder.
Costello engages three local hitmen (To regulars Wong, Tung and Suet) to find the killers. To has a way with character actors, but the wry chemistry between the three assassins and the rugged Frenchman – who offers them his restaurant on the Champs-Elysees as collateral for the deal – doesn't quite work.
Maybe it's because Suet and Tung learned their lines phonetically, maybe it's because, behind his unflinching Easter Island facemask, Hallyday looks as if he's not sure what he's doing here. But around 30 minutes in, the humour-tinged noirish atmosphere that To is usually so good at evoking begins to tip over into absurdity.
Essentially it's a script problem. Worst of all is the moment around 45 minutes in when a wounded Costello – who by now has revealed that before working as a chef, he too was a hitman – tells his hired guns that he has a bullet lodged in his brain, and is in imminent danger of losing his memory.
It looks like a plot turn that might have been invented on the hoof, but this is the first script that To and Wai Ka-fai actually committed to paper. This new fact allows for some Memento-style visual business as Costello rapidly drifts into amnesia and is forced to write down the names of friends and enemies on photos, and on his gun. It also gives an amusing edge to the final last-man-standing shoot out, but the slapdash way it's introduced loses the sympathy of an audience that was already wavering between indulgence and impatience.
As ever, there are compensations. To is a master of location shooting, and Macau's neon casino signs and ancient lanes provide an atmospheric backdrop for the film's early scenes – an atmosphere that is underlined by Lo Tayu's great urban score, which alternates blaxploitation-style funk with jangling Wild West guitar melodies.
A scrapyard on a piece of wasteland backed by distant high-rise office blocks supplies another atmospheric setting, and becomes the location for the film's most choreographed gunfight involving huge bales of scrap paper – a sequence whose self-conscious theatricality is underlined by the improvised grandstand from which Fung surveys the action.
Production companies
ARP
Media Asia
Milkyway Image
International sales
Kinology
(33) 9 51 47 43 44
Producers
Johnnie To
Wai Ka-fai
Michele Petin
Laurent Petin
Peter Lam
John Chong
Screenplay
Wai Ka-fai
Cinematography
Cheng Siu-keung
Production design
Silver Cheung
Editor
David Richardson
Music
Lo Tayu
Main cast
Johnny Hallyday
Sylvie Testud
Anthony Wong
Lam Ka-tung
Lam Suet
Simon Yam
Cheung Siu-fai
Felix Wong
Yuk Ng Sau