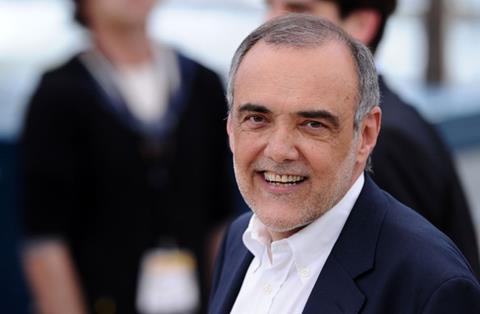 Alberto Barbera has good problems. When we sit down he is delayed due to the high-demand for tickets to George Clooney's Suburbicon. His brow is momentarily furrowed.
"When we have films the size of Clooney's, the size of the main auditorium can become a problem," says the Venice Film Festival artistic director.
Venice's elegant main venue is slightly smaller than its secondary cinema, the Darsena.
But Barbera soon finds his renowned geniality. So he should. It has been a good start to the festival. The only noticeable hiccup has been the occasional spectacular downpour.
"I'm happy. The mood is good. The lineup has gone down pretty well and things have been smooth…apart from the weather," he laughs.
The reviews have been largely favourable. Among festival highlights, Guillermo del Toro's The Shape Of Water has garnered raves and Oscar buzz while Samuel Maoz's Foxtrot has emerged as a critical darling and a likely festival favourite.
Second week titles already generating strong word of mouth among critics and industry on the ground include Xavier Legrand's Custody, Vivian Qu's hard-hitting Angels Wear White and Warwick Thornton's Sweet Country.
Meanwhile, a handful of US deals are already being discussed for Toronto.
"In the second part of the festival we still have the Kechiche, mother!, Three Billboards Outside Ebbing Missouri, the Kore-eda," says Barbera.
"This Kore-eda is quite different from previous films of his that have been in Cannes," he elaborates.
"You mentioned Custody. It is very strong and very accomplished as a first feature. There are a couple of very interesting Italian movies too: Andrea Pallaoro's film, which features Charlotte Rampling in almost every frame of the film, and then we have the Italian 'mafia musical' Ammore e Malavita, which is a unique combination of elements."
Kechiche's film is expected to end up in multiple parts.
"This is the first of two parts," Barbera explains. "He told me he has a lot of material and it could become three parts but he isn't sure yet. The two parts can be seen separately, he said. The characters are the same but it isn't necessarily in sequence. He is still working on the first part of the film."
Netflix, new venue
Netflix has three movies and one TV series in Venice. Barbera has previously said it would be 'absurd' for the streaming giant not to have a presence on the Lido.
Given that stance, what does he make of a recent comment from Eurimage's Roberto Olla that the streaming giant can be the 'kiss of death' for some European art house movies which want extended festival lives?
"I can't see how that would be the case," he muses. "This isn't a problem for festivals. Netflix and Amazon are clearly shifting the rules. But this is a new technology issue, not a festival issue. There will only be more platforms in the future. Most of the big distributors and producers are in financial trouble. We are in the middle of a revolution. We don't know when and where we will land."
Venice has enjoyed building on its offering in recent years. This year saw the launch of its first VR competition. Could the festival host more TV next year?
"It depends. Some people say there is more cinema in TV today than in cinema itself. There has been a trend for great film directors directing TV. Now there is a trend for filmmakers experimenting with VR. We should be open to new mediums."
Next year's innovations are most likely to be infrastructural.

"We hope by next year to complete renovation on the venues," explains the festival head. "And I hope we will have a new cinema on the third floor of the Casino for 500-600 people."
Venice press audiences are among the louder and more distracted contingents on the major festival circuit. Evolving viewing habits make it only more likely that audiences will check their phones during screenings or bring food into auditoria. Given that, is the festival considering upping noise control - in the vein of the Drafthouse Alamo venues in the US - or asking media to hand in phones before screenings?
"Those are considerations," he says. "I wasn't aware of the extent of this. It's good to know. Handing in phones could be complicated but we need to do something for sure. It's a problem."