Writer/director Adam McKay and producers Jeremy Kleiner, Dede Gardner and Kevin J Messick reveal how they made Vice, their "challenging" portrayal of former US vice president Dick Cheney.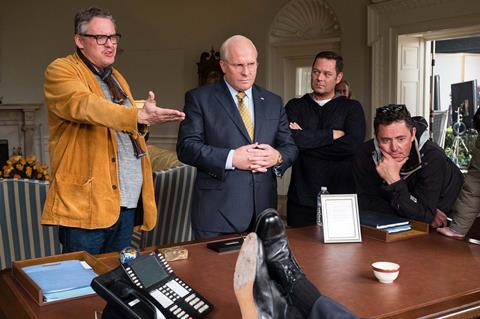 The Golden Globes nominations are announced only minutes before Adam McKay sits down with Screen International in London. His latest movie, Vice, has secured six nominations — more than any other film — including best director for McKay.
Unsurprisingly, the towering, six-foot-five Pennsylvanian enters the room in good spirits, even if a painful back condition means he conducts the interview in a near-horizontal slouch on a sofa. "I'm thrilled," he says, head propped up by a small cushion. "We know it's a very challenging, unusual movie, so it's cool to see them embrace it like that."
Charting the rise and disturbing political impact of Dick Cheney, the vice president who dangerously extended the power of the US government's executive branch during George W Bush's administration, Vice is McKay's second 'serious' film, after a string of successful, improv-driven comedies, including Anchorman: The Legend Of Ron Burgundy (2004) and Step Brothers (2008). His first film in this more serious direction was 2015's The Big Short, a dissection of the 2008 global financial crisis that earned him a best original screenplay Oscar in 2016.
In a sense, McKay has gone from making some of Hollywood's funniest movies to some of its most terrifying, even though Vice was entered in the Globes' comedy or musical rather than drama category for Hollywood Foreign Press Association (HFPA) voters.
"There was a big debate about that," says McKay. "There are funny runs in the movie and yet at the same time, some incredibly dark, tragic moments too. I told the HFPA, 'You tell me!'"
Evidently, Vice's satirical stylistic twists — such as a fake-out end credits roll half-way through — won out over the horrific scenes of extraordinary rendition and the surprisingly tender portrayal of Dick and Lynne Cheney's marriage by Christian Bale and Amy Adams (also both nominated). To McKay, the debate is less about the movie itself, but the times we're living in right now: "Do you laugh your way through these times? Do you cry your way through these times? Our answer with the movie was both."
The Vice squad
The film has not merely proved challenging in terms of awards categorisation. Virtually every aspect of its creation and execution has tested its makers, starting with the concept itself. Cheney is hardly an obvious protagonist, being an elusive and secretive political figure who lacks the clear 'rise and fall' arc of so many based-on-life subjects. He first appeared on McKay's creative radar during a bout of flu the director suffered just after completing The Big Short. Searching for a book he hadn't read, he pulled down a biography of Cheney. "That cracked open Adam's curiosity and amazement at the story there was to tell," says producer Kevin J Messick, who has worked alongside McKay at their company, Gary Sanchez Productions, with Will Ferrell since 2009. "Within a month he was lifting rocks and researching as much as he could possibly find out."
To McKay, Cheney's very opacity was an attraction. "Everything I read about him, I was like, 'Oh my God, I didn't know he did this,' and I realised that his life and rise to power synced up with the Republican revolution that's changed America. But most of all I love the fact that he did not want a movie made about him. If you read his autobiography, it is so dry — everything's covered up."
If translating Cheney's story into a viable script was not tough enough, McKay and Messick then had to convince a studio and financiers to get behind a film not only about a relatively little-known figure, but one in a genre that traditionally does not play well overseas: real-life US political drama. However, McKay and Messick were immediately joined by Dede Gardner and Jeremy Kleiner of Plan B Entertainment, keen to work with him again after their positive experience together on The Big Short.
"Adam is doing something as a storyteller that defies classification or categorisation," says Kleiner. "In some ways, Vice obviously has something in common with other films, and in other ways he's breaking the form, combining tones and genres, even methods of storytelling. That's what made The Big Short very exciting and I would argue he's evolving beyond that with this."
Even though the film is a US political story on the surface, Gardner believes it has global resonance. "Very regrettably, there is an upsetting global trend, which I think opens up the movie's discussion of power to the world," she says. "I don't think of it as just a domestic story."
In late 2016, Megan Ellison's Annapurna Pictures boarded as sole financier and domestic distributor, covering the entire $60m production budget. "I think Megan has proven herself over and over to be a risk-taker and a bet-maker and it's been an excellent partnership," says Gardner, who brushes aside recent suggestions that Ellison's outfit has been overextending itself, following Annapurna's withdrawal from Jay Roach's Roger Ailes film and the Jennifer Lopez-starring Hustlers, put down at least in part to the significant financial commitment to Vice. "It's business as usual there, and I can't speak to the press's perception," she adds. "Sometimes companies go through changes that are not that significant and get reported as tectonic."
One reason for Vice's sizeable budget was the fact it was shot entirely in California. This was partly at the request of the film's star, Christian Bale, who was so essential to the project that McKay insists he would not have made it without the actor as Cheney ("He was plan A, plan B, plans C all the way to Z," says Messick). "So you don't get those rebates," McKay admits. But it was also the sheer scale and scope of the film. "It covers six decades, with extensive make-up for the actors, over 200 different locations, 180 speaking parts," McKay continues. "I've never worked on anything this big before. The amount of mental juggling I had to do every single day was exhausting."
So much so, McKay would ultimately suffer a heart attack in January this year, although he insists "that was more related to the fact I very foolishly smoked for 30 years". Fortunately, he spotted the signs early enough to prevent it from being "the widowmaker… I remembered Christian describing heart attacks to me [Cheney suffered a few, as depicted in the film] and I was able to identify the symptoms," he says.
For all the challenges, McKay's lifelong grounding in comedy stood him in good stead on Vice, and his producers continued to be impressed by the innovative way he handled such complex, potentially dry material. "I think Adam combines two very distinct qualities," echoes Kleiner. "He's a supremely skilled, Oscar-winning writer who has great dialogue and screenplay structure, but at the same time has an improv background, where there's a playfulness, so the words don't become this mandate that stops the actors from experimenting."
The resulting performances are resonating with voters — both Bale and Adams have seen their Globes nominations echoed at the Screen Actors Guild Awards.
As well as encouraging his actors (including regular collaborator Steve Carell in the role of secretary of defense Donald Rumsfeld) to ad-lib when they wanted, McKay employed another technique in the edit that was honed on his comedies: rigorous and regular test screenings. "I love test screenings, but I use them more to gauge energy levels," he explains. "There's always going to be some parts an audience isn't going to like. That's okay. I just want to make sure the thrust of the movie is feeling right. So with this one I did a fair amount of test screenings — six or seven, which is a lot more than I usually do. They were incredibly helpful."
There was one reaction that really sticks in McKay's mind. "It was our third or fourth test screening and one guy tried to walk out before filling out his comment card," he recalls. "The woman handing out the cards said, 'Sir, you have to give your comment on the movie.' He goes, 'You want to know what my comment is? They should burn this movie!'"
A divisive approach
Given the thorny subject matter and the current, polarised state of US politics, McKay is prepared for such reactions, though he notes many Republicans have "responded quite well to the movie", while his "big leftie friends" have taken issue with the way he has humanised Cheney. McKay is also interested to find out how the Cheneys themselves might respond to the film. "I heard they watched the trailer and laughed," he says. "I'll be very curious to see if they even watch the whole movie."
Having now made two challenging, hard-to-categorise features about difficult issues, McKay is considering the third in what he calls his "What The F Is Going On? trilogy", which will tackle "the biggest story maybe in the history of mankind — global warming."
It is, he says with some understatement, "a very hard subject. You don't want it to just be doom and gloom, you want some positivity of action that we can take. It's not for sure the next movie, but that's the one I'm looking at pretty seriously."
McKay admits too that he does miss working on straight-out comedies. "They are so much fun to make," he says wistfully, still stretched out on the couch like he is speaking to a psychiatrist. "I mean, is there a global warming comedy? If I can think of it, that's what's happening."