With effects-heavy films more visible than ever and films across the board including more individual visual-effects shots, John Hazelton surveys this year's crowded field of awards contenders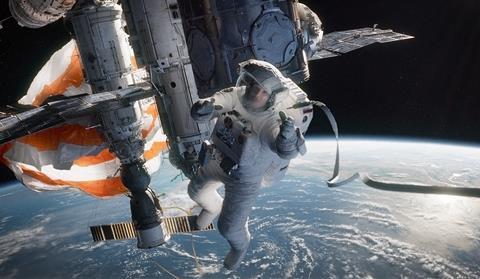 Award groups considering this year's contenders for visual effects honours should find plenty to catch the eye.
Not only are effects-heavy films more visible than ever — making up eight of the top 10 grossing live-action releases of 2013 so far — but some now include thousands rather than hundreds of individual effects shots. And in some of those shots, visual effects are now being used to create most of the image, leaving actors and the odd prop as the frame's only physical elements.
"A trend in these movies is that the visual-effects department has become bigger and bigger," says Victoria Alonso, executive vice-president of visual effects and post-production at Marvel Studios, talking about the company's recent comic book-based sequels Iron Man 3 and Thor: The Dark World, on both of which Alonso was an executive producer.
Whereas a Marvel production from a few years ago might have included 800 effects shots out of a total 1,700 shots, in the latest projects all but a hundred or so of 2,500 total shots are likely to incorporate effects, says Alonso.
While most of the foreground action in Iron Man 3's 'barrel of monkeys' aerial-rescue sequence was shot practically, for example, "pretty much every environment that you see has been created in CGI", Alonso reports. "We actually picked a look that we liked and then [effects company] Digital Domain went on and created these beautiful matte paintings with the proper terrains of the different heights, because we drop from about 30,000 feet to the water level."
Creating new environments
Fantasy adventure Oz The Great And Powerful included 1,500 effects shots — including about 60 that were all computer generated — and called on its VFX team to design 40 environments and create virtual characters including Oz's flying monkey sidekick.
Scott Stokdyk, the film's Oscar-winning (for Spider-Man 2) visual-effects supervisor, says, however, that "it's not just about the quantity, it's trying to bring a unique feel and flavour to every environment. We really had more artistic challenges than volume challenges."
In fact, to give the film — a prequel of sorts to the classic Wizard Of Oz — a handcrafted look, the film-makers used physical sets constructed on sound stages as often as they could.
"We took great pains to create as many sets and stages as possible and to not have it be overwhelmingly digital," says Stokdyk, who serves as senior visual-effects supervisor at Sony Pictures Imageworks. To help meld the film's digital and physical imagery, the effects team developed new technology that allowed better interaction between physical and virtual characters.
Actors voicing the virtual characters were put in a soundproof booth and wired for audio and video into the set. On set, a monitor positioned where the virtual character would be in the scene gave the physical actors something with which to interact. The device worked, says Stokdyk, "like a virtual video conference, but it's real time, which is important for the timing of the performance. The actors could feel like they were actually talking to each other even though the actor [playing the monkey] can't be 18 inches or flying up 10 feet in the air".
Gravity defying
The practice of putting physical actors in mostly digital settings was taken further than ever in space thriller Gravity, a hybrid of live action, computer animation and CGI in which sets, backgrounds and even some costumes were rendered digitally.
To make that big advance, the film's visual-effects supervisor Tim Webber notes: "We had to develop new techniques and technologies in a number of areas. Some were just pushing old techniques a bit further and some were fairly groundbreaking steps forward."
Adapting existing technologies for new purposes, Gravity's effects team developed what it called a '12-wire rig' that allowed more precision in moving actors as if they were floating in space.
The team also developed new computer code to employ a rarely used (in films) rendering programme called Arnold that allowed more natural lighting effects and helped in the film's extensive pre-visualisation process.
Gravity's biggest step forward, though, came with the development of the Light Box, a hollow cube, constructed at the UK's Shepperton Studios, whose interior walls were lined with panels containing thousands of computer-controlled LED bulbs that acted like pixels on a screen.
The device allowed actors inside the cube to be precisely lit while they were going through complex and lengthy movements that would later be combined with digital backgrounds. Using the device, Webber explains, "meant we could move the lights in any way, because we weren't actually moving anything physically, we were rearranging the pixels on the screen".
Though the Light Box was used in very specific ways on Gravity, Webber, who is chief creative officer at UK-headquartered effects company Framestore, believes the work done to create the device could pay off in other films as well. "The general principles and techniques of what we did could be used in a great many ways," Webber says. "It was a very successful way of lighting and it had a lot of benefits to it."
Long-term effects
In addition to helping to boost the earning power of some of 2013's most successful films, the extent and ingenuity of this year's effects work could also foster change in the way VFX artists and companies interact with the wider film production world. Or at least that's what those in the globally competitive and financially precarious VFX business are hoping. VFX practitioners have long argued that keeping effects artists involved throughout the course of a project, rather than just in post-production, can make for better effects at a lower cost.
"What's great about involving them early on," says Jeff Okun, board chair of industry group the Visual Effects Society, "is that VFX people can show you how to get what you're asking for much more effectively and efficiently."
And that's what happened on Gravity, according to Tim Webber. "One of the big differences on this movie was how the visual-effects department had to work much more closely in collaboration with most of the other departments," he says. "Things are slowly moving in the right direction and every movie like this makes a difference."
Where companies are concerned, the box-office potential of effects-driven films might lead to new business models, as it did on one of this year's visual effects awards contenders. Independently financed and produced sci-fi adventure Ender's Game was set up with Digital Domain not only providing most of the effects but also acting as investor.
The idea, says Ed Ulbrich, producer of the film and until recently Digital Domain's CEO, was that by being involved from the development stage the company could deliver a "completely executable plan" for the film's production — reportedly on a budget of $125m — that could be used to help attract financiers and distributors.
Ulbrich — who left his Digital Domain post in the wake of the company's emergence from bankruptcy and sale to a new owner — says the model points to "a way for independent film-makers and financiers to come together around these kinds of properties that have prior to this been unattainable for them. These kinds of films can now be made outside the studio system."