Filmed and released before the denouement of this tumultuous year in US politics, the makers of documentary Weiner tell Tom Grater what drew them to disgraced New York politician Anthony Weiner.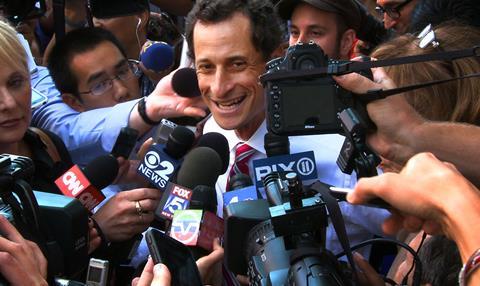 When Elyse Steinberg and Josh Kriegman's documentary Weiner debuted at Sundance in January, the US presidential election had not yet ignited into the firestorm it was to become. Few could have predicted the film's subject — the former New York congressman Anthony Weiner, who resigned in 2011 following a 'sexting' scandal — would have continued to draw press attention throughout the year. The ongoing controversy lingered during Hillary Clinton's bid for the White House, thanks to the position of Weiner's wife Huma Abedin as a top aide to Clinton.
And in October, just a month before the election, as part of an inquiry into Weiner's actions, US officials discovered emails relevant to the separate investigation into Clinton's private email server. This prompted FBI director James Comey to publicly reopen proceedings. We all know what happened next.
"It's a stunning turn of events; we could never have predicted it," says co-director Steinberg. "It has spoken to the surreal nature of the election, it became this entertainment spectacle."
Shift in focus
The documentary covers ill-fated attempts by the progressive and popular Weiner to put the initial scandal behind him by running for mayor of New York in 2013. It does not feature any of the events of this year, but Kriegman believes the film captures a wider shift in US politics.
"What we see in the film is a really troubling trend away from substance and towards spectacle," he suggests. "Anthony wanted nothing more than to talk about real issues rather than his scandal, but of course he couldn't."
It was Kriegman who first thought Weiner would make a great documentary subject, noting the man's charismatic approach to politics and his enigmatic, controversy-riddled personal life. He had worked as Weiner's chief of staff from 2005-06 when the politician was still a Democratic member of Congress. After leaving politics for film-making, Kriegman formed a directing partnership with Steinberg and the two began developing several film projects, as well as collaborating on television programmes including PBS news show Need To Know.
Kriegman retained an interest in telling Weiner's story in a documentary, but the politician was initially unresponsive. In 2013, out of the blue, the director received a text message on the same day Weiner announced his mayoral campaign, asking the duo if they were still interested. Evidently, the politician believed he could do with some good press in the long term.
"He felt he had just been ridiculed and reduced and wanted a different version of his story told than the one playing out in the tabloids," recalls Steinberg.
The duo decided to seize the opportunity and embark on their feature debut. Steinberg says they "had extraordinary access" but both say they were respectful of his wishes to turn off the camera when need be.
The film-makers initially had virtually no funding due to the impromptu nature of the project, but pushed on with filming because they believed Weiner's comeback story would make for a good film, regardless of the eventual outcome of his campaign. Once the pair had footage to show, they were able to attract equity investment to help complete the project. The Sundance Institute and Tribeca Film Institute also provided grants later in the process.
Chronicling Weiner as he runs a positive and energetic campaign to be mayor, the documentary is a classic tale of a troubled man who could have been a great politician if only he had been able to conquer his demons. "He's a complex and fascinating character," says Steinberg. "Our intention was to show another side of Anthony and Huma [Abedin], to peel back the curtain, go beyond the headlines and give a nuanced portrait.
"We wanted people to have various viewpoints after they saw the film, and for there to be a discussion. We wanted it to be a portrait, a moment in time, and wanted it to speak to larger themes about politics and spectacle."
Crowd pleaser
Weiner has been a critical and commercial success. It won the documentary grand jury prize at Sundance and found further festival berths at Toronto, Sheffield Doc/Fest and IDFA in Amsterdam. Released in the US in May via Sundance Selects, the film scored the biggest opening for a documentary this year, and has grossed more than $1.6m there to date. Dogwoof is handling the film in the UK and also represents international sales outside Scandinavia, where Scanbox has rights.
According to the film-makers, Weiner has not yet seen the film. "We offered to show it to him before it was finished, but he said he didn't want to see it. As far as we know, he still hasn't seen it," Steinberg reveals. "He said he wasn't eager to relive it; we respected that."
In fact, Weiner has distanced himself from the documentary. In an interview with The New York Times Magazine in August, he claimed the film-makers had violated an agreement not to include his wife Abedin in the film, and that she had never given her permission for her footage to be used. Steinberg and Kriegman deny this. "I don't know why he said that, it's not true," says Steinberg. "Huma agreed to be in the documentary and participated throughout filming. We were in touch with him after the film but recently we haven't been talking. Obviously a lot is going on in his life right now."