Dir: Philippe Lioret. France. 2009. 105 mins.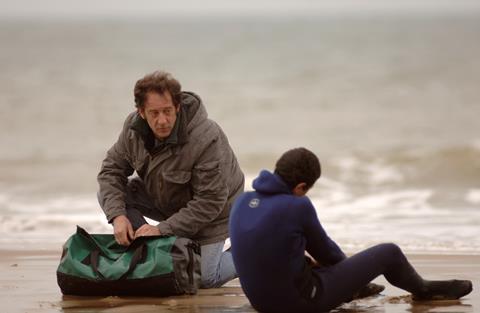 A downbeat story about a surrogate father-son with a sombre current-affairs background, Philippe Lioret's Welcome is not the most obviously commercial film in recent French cinema. But positive press and no-frills yet accessible storytelling have contributed to Welcome's impressive domestic box-office performance, with a first weekend gross of $1.7m, rising to just shy of $4m on its second week of release.Export prospects should be duly boosted, particularly in the UK.
Welcome is set largely in Calais, where illegal immigrant Bilal (Firat Ayverdi), a 17-year-old Kurd from Iraq, phones London to tell his girlfriend Mina that he'll soon be crossing the Channel to join her. The intrepid boy has already made an arduous three-month journey to France, and believes that the final leg will easy. But he finds himself amid crowds of illegals stuck in Calais and desperate to get to England at any price. After an unsuccessful crossing as a stowaway on a lorry, Bilal conceives the desperate notion that perhaps he can swim to his goal.
Enter swimming instructor Simon (Lindon); he's in the throes of a divorce from teacher Marion (Dana), who works for an organisation that provides aid for refugees. Simon agrees to give Bilal swimming lessons, then becomes increasingly involved with, and protective of, the boy - initially, it appears, in the hope of impressing Marion, but eventually for more complex emotional reasons.
The action takes place against a topical background, with the film offering a quietly impassioned critique of the French government's harsh policies towards illegal immigrants. Lioret also targets French xenophobia in general, one of the film's heavier-handed touches being the characterisation of Simon's hostile neighbours, who snitch to the immigration services.
It might be seen as a compromise that the film is ultimately more Simon's story than Bilal's - but that also makes Welcome more immediately pertinent to a French audience, as well as ensuring its originality. An engrossing question is that of Simon's motives: has he suddenly woken up to his humanitarian tendencies, is he just out to win back Marion, or is he a middle-aged man in the process of meltdown' Vincent Lindon's gruff, hangdog persona limns Simon as a hard-bitten type guy with a soft, needy core. The actor's no-nonsense turn - in rusty English as well as French - confirms Lindon as French cinema's current incumbent of the Jean Gabin niche of bullish-but-sensitive blue-collar roles. He is well matched by up-and-comer Dana as Marion, while newcomer Ayverdi is a significant discovery, his tough, candid ease persuading us of Bilal's reckless determination. A cast of Kurdish non-professionals convincingly flesh out the roles of Bilal's fellow refugees, and of Mina's family, intermittently glimpsed in London.
While the logistics of refugee life are not, finally, the film's main topic, an early section depicting the perils of cross-Channel people smuggling is extremely evocative, recalling Michael Winterbottom's more documentary-styled In This World. Formally somewhat conventional in execution, Welcome nevertheless gains credibility from the fact that the narrative takes a darker turn than we at first expect. Its harder edges are regrettably softened by a sometimes too lyrical score.
Production companies
Nord-Ouest
Studio 37
France 3 Cinema
Mars Films
Fin Août Productions
International sales
Films Distribution
+ 33 1 5310 3398
Producer
Christophe Rossignon
Screenplay
Philippe Lioret
Emmanuel Courcol
Olivier Adam
Cinematograpahy
Laurent Dailland
Editor
Andrea Sedlackova
Production design
Yves Brover
Main cast
Vincent Lindon
Firat Ayverdi
Audrey Dana
Derya Ayverdi