Aamir Khan's Indian wrestling drama became a cultural phenomenon in China this year, but why?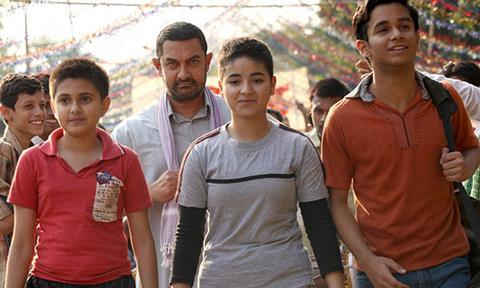 On July 4, Indian blockbuster Dangal, starring and produced by Aamir Khan, finally ended its record-breaking run at the China box office. By the time it finally faded from screens, it had grossed $190m, making it the biggest non-Hollywood film of all time in China.
Based on the true story of a former wrestler who trained his daughters to become world champions in the sport, the Hindi-language drama played for two months and is now China's 17th highest-grossing film ever, among both foreign and local titles. It became such a cultural phenomenon that Chinese president Xi Jinping felt compelled to tell Indian Prime Minister Narendra Modi that he'd seen the film and liked it.
Co-financed by Khan's Aamir Khan Productions and Disney India, the film appears to be that rarest of beasts – a genuine word-of-mouth success that flourished rather than being destroyed on social media. It had only 13% of screens when it opened second against Guardians Of The Galaxy Vol. 2 on May 5, but by the end of its first week, had nudged into first position and cinema chains had expanded it to 31% of screens.
"One of the most important factors is that it has emotions that resonated in China," explains Prasad Shetty, a partner in Strategic Alliance, which promotes Indian films in China. "In addition to the father-daughter relationship, it revolves around the sacrifices you have to make in order to achieve excellence. That's a very common theme in both Indian and Chinese culture, where there's an emphasis on hard work and needing the correct support or guidance of your parents."
Smart marketing
Shetty's partner Allen Liu, who is also founder of Beijing-based distributor E Stars Films, says the marketing campaign was a success due to three factors – the film's release date, as apart from Guardians Of The Galaxy Vol. 2 it wasn't a crowded weekend; the way Aamir Khan has been positioned in China; and the endorsement of local stars.
Khan is probably the one Indian actor who is well known in China, thanks to previous films that resonated with local audiences, including 3 Idiots (2009), Dhoom 3 (2013) and P.K. (2014). The latter film, released in China in May 2015, held the previous record for an Indian film with a gross of around $20m. But Khan's stardom alone is not at the level that it would guarantee the success of any movie.
"The important point is that we promoted Aamir Khan first and then the movie," explains Liu. "We didn't promote him as a big star from India, but as a great actor from India, who is also socially conscious, and why he chooses certain scripts and makes certain choices."
Indeed, a lot of the social media chatter around Khan refers to his involvement in social issues, including his Indian TV show Satyamev Jayate, which broaches topics such as female feticide and domestic violence. In China, a country that has its own set of social problems, he's associated with quality films and seen as someone who cares.
Local stars
However, China is still very focused on its local stars, so Shetty and Liu reached out to Chinese actors such as Deng Chao, Wang Baoqiang and Yao Chen, who watched Dangal and then discussed it with their fans on WeChat and Weibo.
Other stars and filmmakers, including Feng Xiaogang, Lu Han and Fan Bingbing, then heard about the film and started recommending it to their social media followings. "This all created a buzz in the beginning, but post the first couple of weekends, the movie was just travelling by itself due to word-of-mouth," Shetty says.
Fanning out from first and second tier cities, the film started to play in third and fourth tier markets, pulling in cinema-goers of all ages and both genders, along with viewers who might only visit the cinema once in a year.
Speaking to Indian media, Khan said he's been closely following the reactions of Chinese viewers on social media: "They've been saying things like how the movie moved them and how the characters inspired them so much. It made them realise what their parents went through. Many of them called up their parents and cried. It's a very emotional reaction."
Hollywood fatigue
Another major factor in the film's success was that it delivered something different at exactly the moment that Chinese audiences are starting to suffer from Hollywood sequel fatigue.
Speaking off the record, industry figures point out that since China's multiplex building boom in the early 2000s, cinemas have mostly screened Chinese films and Hollywood blockbusters. Although there have been some runaway successes, local films now rely on star power rather than story-telling, ironically a charge that has been levelled at Bollywood for many years. Meanwhile, popular South Korean films and TV series were banned in China last year due to political tensions.
A telling factor this summer is that Transformers: The Last Knight is performing below expectations, grossing $224m after three weeks. As the previous film in the franchise, Transformers: Age Of Extinction, took $322m in 2014 when the market was smaller, the new installment was expected to single-handedly revive China's flagging box office growth. Chinese audiences may have been amused by China-pandering product placement a few years ago, but they appear to be evolving fast and are looking for something with a bit more plot and cultural relevance.
Indeed, Dangal's success suggests that China's Asian neighbours may have a natural advantage when it comes to telling stories that resonate with local audiences. South Korea may have been temporarily muffled, but there's a window of opportunity, not only for Indian product but also films from Japan – Makoto Shinkai's animated feature Your Name grossed $80m in China last December.
Cultural relevance
And these are the kinds of stories that Hollywood, despite or perhaps because of its reputation for universal story-telling, is unlikely to tell. Western media understood the female empowerment aspect of Dangal, which was a factor in its Chinese success, but didn't fully grasp the other more powerful elements that Chinese audiences responded to.
One was the message that if you grow up in obscurity in a small town but work really, really hard you can make it on the world stage. The film also tapped into the complex feelings that Chinese people have towards family – a combination of resentment for the pressures placed on them as children and deep gratitude for the sacrifices their parents made.
Hollywood on the other hand tells stories about being an individual, rebelling against authority and having fun during your childhood. Dangal grossed a decent $12.4m in North America, but some Western critics found the film formulaic and overly patriotic. The irony of Dangal is that it was co-financed by a Hollywood studio, just before it closed its Hindi-language production unit.
What Dangal's success doesn't mean however is that China will lap up every film from India. Shetty and Liu are now working on bringing Khan's upcoming drama Secret Superstar and Telugu-language hit Baahubali 2: The Conclusion into China. Through their joint venture Peacock Mountain Culture & Media, they're also working on Indo-China co-productions and remakes of Indian movies. But they are being selective about the films they bring in.
"It's great that we were able to build the market for Indian films but we have a responsibility," Shetty says. "We want to maintain a good flow of Indian films but quality and relevance remain the highest requirements. It doesn't matter how much box office a film does in India, if it doesn't fit into the Chinese market philosophy, we won't do it."
But when we consider which stories have the ability to move, inspire or enthrall the two thirds of the world's population that lives in Asia – the balance of power may be shifting. This is a fact that won't be lost on the Chinese authorities as they negotiate a new import quota and revenue-sharing deal with the US studios. Perhaps the biggest lesson we can learn from Dangal is that when it comes to the universal story-telling of the future, Hollywood may not be the only player in the ring.