Noah Baumbach and producer David Heyman began more than a decade ago. Screen talks to the filmmakers about their first screen collaboration, and Baumbach's most awards-nominated film to date.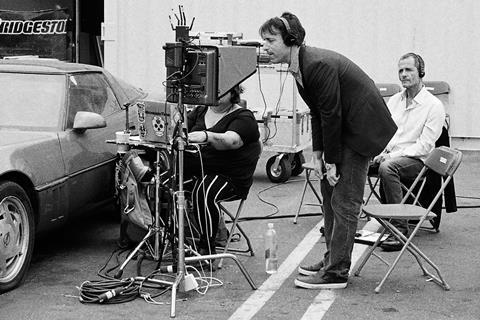 Filmmaker Noah Baumbach is a self-confessed stickler for writing. And meticulous preparation. And rehearsal. And reaching for truth through fiction. His latest project as writer, director and producer encapsulates all.
Marriage Story came from a personal place for Baumbach as a child of divorce and being divorced himself. "Divorce is something many families go through and I thought it would be an important and interesting topic to explore in an expansive way," he says.
Once Baumbach had "some kind of roadmap" of what he wanted to do, he got in touch with David Heyman of Heyday Films — whose credits include the Harry Potter franchise, the two Paddington films, Gravity and Quentin Tarantino's Once Upon A Time… In Hollywood — to produce the project with him.
Baumbach and Heyman first met when filmmaker Wes Anderson and Baumbach were working on the screenplay for Fantastic Mr Fox at author Roald Dahl's cottage in Buckinghamshire, England in the late 2000s. Dahl's widow Felicity had invited Baumbach and Anderson to spend time there and had also asked Heyman and his wife to dinner one evening.
"We stayed in touch over the years. He [Heyman] would write to me after he saw a movie of mine or I would write to him after one of his," Baumbach says. "I always had in my mind it would be fun to do something together, so when I started to write [Marriage Story] it sort of felt like it would be this."
Baumbach began Marriage Story in earnest while editing and finishing the Netflix-backed The Meyerowitz Stories. "There were a lot of parts of it, fragments and things, that I had been collecting for a while," Baumbach explains. When he first gave Heyman the script, Baumbach immediately got a call from the UK producer, with early notes and thoughts.
"He came to New York and we sat down together and talked and talked," says the filmmaker. "It's not dissimilar to the way I work with some actors — like Adam Driver." This is the fourth film Baumbach has called on Driver's acting chops.
Baumbach describes these collaborations as conversations that weave in and out of the work — he says he works with his longtime partner Greta Gerwig this way too. Despite Marriage Story being Baumbach's first film with Heyman, "It felt like the start of that."
Mounting the film
Marriage Story is about how a family works together when the marriage ends. Scarlett Johansson stars as actress Nicole and Driver is her theatre-director husband Charlie.
With their marriage collapsing, Nicole exits their Brooklyn home and Charlie's off-Broadway theatre group for California in pursuit of a TV career, taking their son Henry (Azhy Robertson). Laura Dern, Alan Alda and Ray Liotta co-star as lawyers with very different approaches to the break-up and subsequent battle over Charlie's visitation rights to the couple's son.
The film includes elements of a thriller, a legal procedural, a romantic comedy, a screwball comedy, a tragic love story and even a musical. In Heyman, Baumbach saw someone who could figure out how to make all that work and someone who would understand how he works. "I like to do a lot of takes, I like to really explore scenes. But that also means getting a lot of rehearsal time in advance," says Baumbach.
Because of the nature of the films Baumbach makes and his penchant for location shoots — The Squid And The Whale, Greenberg and While We're Young shot in New York City — he is a de facto producer on his films. "Everyone is there but I am always the first one to know what the task at hand is going to be," he says.
Marriage Story shot on 35mm film for 50 days on location in Los Angeles and New York City from January to April 2018. Baumbach and Heyman worked extensively with executive producer Craig Shilowich — husband of editor Jennifer Lame, a longtime Baumbach collaborator — on the scheduling for the shoot.
"It was important having the right amount of prep time because at a certain point we knew we were going to shoot in LA first but what we ended up doing was prepping a lot of New York first," Baumbach explains.
The director called in production designer Jade Healy, hired two different location managers for each city and co-ordinated the palette and look with Irish cinematographer Robbie Ryan with whom he had worked on The Meyerowitz Stories. "Robbie and I knew we were going to shoot the opening sequence handheld [in New York] but the rest of the movie was not going to be handheld."
According to Heyman, Baumbach questioned everything during pre-production. "The script, the casting, going over every aspect of it, trying to make it better and clearer," the producer explains. "He enjoys the debate, all the way down to the marketing and distribution."
Curtain call
One of the shoot's logistically challenging events was mounting the 'Electra' theatre performance directed by Charlie and starring Nicole. It shot in New York on location in The Kitchen, a fully functioning downtown theatre. Baumbach and his crew had to conceive, write and mount an entire theatre production — the footage of which was likely only going to be used for 30 seconds. A theatre set designer, a theatre lighting designer and even a theatre sound designer were hired — despite knowing that the sound was probably going to be added in post.
"I wanted to really think of it like a theatre company. I cast the whole theatre company as well. We felt like we knew the theatre company in advance," says Baumbach. "We have a movie production designer supervising a theatre production designer who is mounting a theatre piece."
Locations were found for everything from the theatre where the pair work and their apartment in Brooklyn to Nicole's family home in California and the office of Laura Dern's fierce divorce attorney. No sets were built. Baumbach's aim was to find locations united in having their own performance element to them. "I would like to have built a set for the accommodation in LA that Charlie rents while visiting his son," he says. "The light and the way the line down the centre of the kitchen and the living room — it almost feels like a bifurcated set in a theatre piece or a split-screen movie. That was what I was looking for."
The restaurant scene where Driver delivers an emotive rendition of the show tune 'Being Alive' from Stephen Sondheim's Company filmed at the Knickerbocker Bar & Grill on University Place and 9th Street. "It's one of the few old [Greenwich] Village places left," Baumbach notes.
Time to breathe
Baumbach met with Driver, Johansson and Dern before he began the script — it was important to him to have these actors in his head while writing. "It gave me confidence to push scenes in various ways, because I could imagine these particular actors playing these moments."
All the while, the importance of downtime during the emotionally and physically demanding shoot was never undermined by Baumbach and Heyman because of time or budget considerations.
A key scene in Charlie's Los Angeles apartment, where he and Nicole fight verbally, shot over two days. "We were all worn out by the end," says Baumbach. Tightly choreographed, shot-listed and exhaustively rehearsed, Baumbach and the crew repeatedly took breaks. "It's physical, it's emotional, it's very technical. So to have time for them [the actors] so they don't feel like they're just on a treadmill, so they feel they can actually breathe and take a break and come back, to have time in the day and also have time so that we're not all awake at four in the morning thinking what we should have done," says Baumbach.
Marriage Story is Baumbach's 10th feature as writer/director and his second with Netflix, a backer he describes as encapsulating how he imagines working with United Artists was back in the day: fully supported filmmakers left to get on with making their films. Paramount Vantage, A24 and Focus Features are among previous Baumbach backers.
Netflix film chiefs Scott Stuber and Ted Sarandos are the project's overlords. "I am always conscious, no matter who I'm working with, of working with a budget I feel is fair to the people putting up the money but also sufficient for what I need," says Baumbach. "I don't want to make it for more than it needs to be made for, but I also want a budget."
What did Heyman, a producer who has largely produced for studios including Warner Bros and Sony, make of working with Netflix for the first time? "When Scott Stuber reached out, there wasn't a moment's hesitation," Heyman says.
After a premiere in competition at Venice Film Festival in 2019, Heyman claims Netflix gave the film "significant theatrical distribution" before it landed on the subscription screening service. In the US it had a four-week window, three in the UK before its digital streaming debut on December 6. Netflix's faith in the film has been rewarded by both the US Academy and Bafta: Marriage Story received six Oscar and five Bafta nominations. Both academies nominated Driver, Johansson and Dern in their respective acting categories, while the Oscar nominations include best picture.
"I don't know that a film like this gets financed by many others, on this scale, nor would it get the marketing push that it has received from Net­flix," Heyman suggests. "They have been fantastic partners, they supported us creatively — it's as good as we could have hoped for."