Dir/scr: Woo Ming-jin. Malaysia-South Korea. 2009. 97 mins.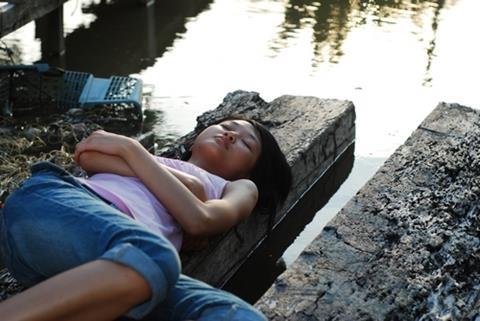 Broken hearts across multiple generations make for engaging viewing in Malaysian independent film Woman on Fire Looks for Water by Woo Ming-jin. Set in a small fishing village, the work's striking visuals and subtle dramatic touches carry the mark of a significant talent.
The setting proves to be an effective backdrop for the feelings of longing and regret that make up the main narrative.
Premiering officially in Pusan (after a 'work in progress' show at Venice), this is undoubtedly set for further festival exposure, enhancing Woo's reputation as an up-and-coming Asian auteur. Commercial potential for this low budget work will probably be limited to small deals within Asia, however.
Ah Fei (Ernest Chong) catches and sells frogs for a living. His modest income is supplemented by his single father Ah Kau (Chung Kok-keong), who operates a small fishing boat. Both men are entangled in complicated relationships. After a palm reading, Ah Kau feels that he is close to death and sets off for a neighboring village to visit a woman he wishes he had married years before.
Ah Fei is in love with Lily (Foo Fei-ling), a woman who works in a small fish salting factory, but she says she'll only accept him if he raises a sizable amount of cash. Soon, he finds better employment at a shellfish processing factory, but the factory owner seems intent on getting Ah Fei to marry his own daughter.
A big part of this film's appeal is the location shooting in Malaysian village Kuala Selangor. Numerous, repetitive shots of fish and other sea animals being processed and dried in the sun present an evocative picture of the village sustained by the bounty of the sea. However it is not a romanticised vision: Woo's camera is just as focused on rusted buildings, floating trash and the gruesome business of cutting up fish.
The setting proves to be an effective backdrop for the feelings of longing and regret that make up the main narrative. By juxtaposing the stories of the older man, still haunted by decisions he made in his youth, and the son who appears on the verge of making a similar mistake, Woo is able to give added resonance to both stories. In the final reel, the perspective shifts subtly to the character of Lily, who is suddenly confronted with her own emotional crisis.
An understated acting style predominates throughout, with characters sometimes speaking directly of their feelings, but rarely showing it on their faces. Chung, who also appeared in Woo's award-winning The Elephant and the Sea (2007), is memorable as the father, and both younger leads are effective.
The film was shot on HD and transferred to 35mm, with post-production in Seoul financed by Pusan's Asian Cinema Fund. The digital source is obvious and at times distracting, but a few of the shots, such as a final sun-drenched scene in a forest, achieve a striking visual quality.
The film's title is taken from a Buddhist text, and is interpreted by the director as indicating a resignation to one's fate.
Production companies/international sales
Greenlight Pictures
+ 60 3 7877 3014
Producers
Edmund Yeo
Woo Ming-jin
Cinematography
Wan Chun-hong
Production design
Gan Hui-yee
Music
Isabel Lam
Main cast
Ernest Chong
Chung Kok-keong
Foo Fei-ling
Jerrica Lai