This year's Dubai International Film Festival is a celebration of film-making from throughout the region as well as an important showcase for new projects.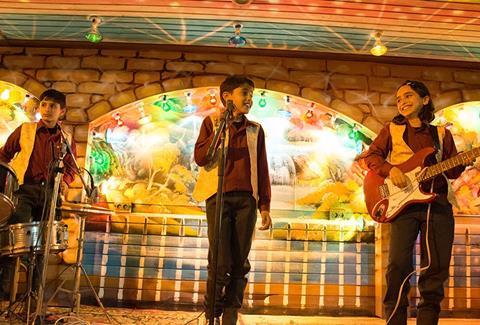 The azure Emirati waters lapping at the beaches of Jumeirah Beach Resort, where Dubai International Film Festival (DIFF) unfolds every December, might not seem quite so appealing this year. One of the events lined up for the 12th edition of the festival (December 9-16) is a 40th anniversary beachfront screening of Jaws in the presence of its star Richard Dreyfuss.
"Every time I mention this screening to people they say, 'Are you sure this is a good idea? People are going to stop swimming.' Perhaps they will for a day or two but I doubt it," says DIFF chairman Abdulhamid Juma with a laugh.
Further films screening in DIFF's popular sidebar The Beach include Palestinian director Hany Abu-Assad's crowdpleaser The Idol, followed by a live performance from the young artist who inspired the film, Arab Idol star Mohammed Assaf. The Idol is one of 11 titles in the line-up supported by the Enjaaz post-production and production fund, run by the festival's Dubai Film Market. Enjaaz has supported more than 100 Arab films since its creation in 2009.
This year, the festival and its accompanying market have much to offer the international industry. "They have really come together this year," says Juma. "There will be 133 films from 42 countries, 56 of them world or international premieres. I liked to compare that to 2004 when we only had one [premiere]."
The festival unites some of the best films of the year from around the world and the international festival circuit with a raft of new titles from Arab film-makers. These include Jordanian director Rifqi Assaf's debut feature The Curve; Kamal Aljafari's Palestinian documentary Recollection, a portrait of Jaffa; the world premiere of Egyptian director Mohamed Khan's Before The Summer Crowds; and Leyla Bouzid's Tunisian coming-of-age film As I Open My Eyes, which takes place a few months before the Tunisian popular revolution and follows a rebellious 18-year-old girl with rock-star aspirations.
French-Tunisian actor Sami Bouajila, long-time Rachid Bouchareb collaborator and star of films such as Omar Killed Me and Outside The Law, will be the recipient of the Arab Lifetime Achievement Award.
A record number of features by film-makers from the UAE (the federation of the seven emirates of Dubai, Abu Dhabi, Ajman, Fujairah, Ras al-Khaimah, Sharjah and Umm al-Quwain) are being showcased this year. The 12-title Muhr Emirati competitive line-up includes Majid Al Ansari's thriller Rattle The Cage (Zinzana), Salmeen Al Murry's emotional drama Going To Heaven, about a young boy's search for his recently deceased grandmother in an attempt to escape his unhappy home life, and Humaid Al Suwaidi's Abdullah, about a young Emirati struggling to become a musician in the face of opposition from a religious family.
Emirati film-maker Layla Kaylif is one of the three nominees for DIFF's annual $100,000 IWC Filmmaker Award, aimed at emerging directors from across the Gulf region. Her project The Letter Writer, about a professional letter writer who falls for the object of his client's desires, is competing alongside Khalifa Al Muraikhi's Sahaab from Qatar and Shahad Ameen's Scales from Saudi Arabia.
"The strong Emirati presence is the result of a decade-long strategy,"
says Juma. "The efforts of DIFF, [Abu Dhabi's media zone] twofour54 and Image Nation in Abu Dhabi and the Doha Film Institute in Qatar are beginning to pay off."
The IWC award is also playing its part: the spotlight it turns on the nominees can help those projects to find partners and gain fresh impetus.
In addition to the increase in local productions, the UAE is also gaining traction as an international production hub, thanks to a cash rebate offered by Abu Dhabi and the in-kind hospitality of Dubai.
The country has also welcomed a slew of international film shoots in recent months including Justin Lin's Star Trek Beyond and Jackie Chan's action comedy Kung Fu Yoga in Dubai, and Brad Pitt's Afghanistan-set war satire War Machine in Abu Dhabi. Scenes from JJ Abrams' Stars Wars: Episode VII ― The Force Awakens were also shot in Abu Dhabi last year.
Building a film industry
Following the decision earlier this year to close Abu Dhabi Film Festival to focus government spending on more targeted industry initiatives, Dubai Film Market has become the leading industry event in the region. The co-financing initiative Dubai Film Connection (DFC) has been reinstated and Abu Dhabi's SANAD Film Fund is financing a $10,000 award to a DFC project (see sidebar, left).
"We're really trying to be a platform for the whole region," says DIFF managing director Shivani Pandya. "We'll be announcing more and more collaborations with twofour54 and Image Nation."
In addition to DFC, the market is pressing on with its Dubai Distribution Programme, aimed at encouraging regional distributors to support Arab cinema and there will also be a physical exhibition market. There is also a full programme of industry talks, panels and masterclasses via the DIFF Forum. These will kick off with PwC's annual presentation of its Global Entertainment & Media Outlook. Further international speakers at the festival include film-makers Roger Michell and Hany Abu-Assad and Netflix's Ted Sarandos.
Juma points out the festival was launched 12 years ago in the aftermath of the September 11, 2001 terror attacks on New York to build bridges and foster understanding between cultures.
"Cinema and what we've being doing is more important than ever," says Juma. "Our slogan, 'Bridging cultures, meeting minds', is our response to those people who are doing all those bad things in the name of Islam or the Arab world."
DFC: Entering the void
The Dubai Film Connection (DFC) co-financing event is back following a one-year hiatus. DIFF managing director Shivani Pandya explains the original decision to close down the initiative had been a strategic one, based on the fact several similar project markets had launched around the region.
"We thought it would make sense to focus on other aspects of the industry such as distribution but we hadn't realised it would leave such a void in the market," says Pandya. "All the feedback we got from producers and film-makers made it clear we had to bring it back."
The initiative is showcasing 12 projects from across the region, from Palestine, Egypt, Iraq, Lebanon, Syria, Morocco and Jordan, and includes anticipated new features from Annemarie Jacir and Hala Lotfy.
"We got around 130 applications and some really good names. It was difficult to make the selection. We were originally going to do 10 projects but we managed to squeeze in another two," says DFC artistic director Jane Williams, who has returned to the role as head of the event.
DFC projects
A Step Behind The Sun Dir: Narjiss Nejjar (Mor)
Amal Dir Mohamed Siam (Egypt)
The Bridge Dir: Hala Lotfy (Egypt)
Daoud's Winter Dir: Koutaiba Al Janabi (Iraq)
The Inheritor Dir: Halim Sabbagh (Leb)
Ibrahim Dir: Lina Alabed (Jor)
The Maiden's Pond Dir: Bassem Breish (Leb)
My Favourite Fabric Dir: Gayaneh Jiji (Syr)
Pagan Magic Dir: Fyzal Boulifa (Mor)
Papion On Top Of The Water Tank Dir: Yahya Alabdallah (Jor)
Wajib Dir: Annemarie Jacir (Pal)
Weight Throwers Dir: Hind Bensari (Mor)