Staff and industry attending the CineMart co-production market sent a public message of support to the beleaguered Busan International Film Festival (BIFF)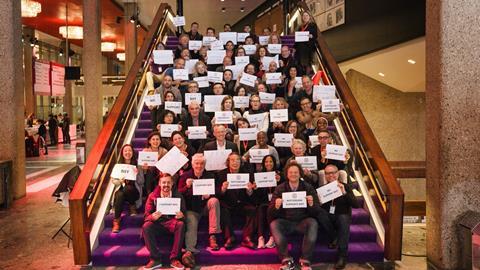 Joining in a worldwide photo campaign, International Film Festival Rotterdam (IFFR) festival director Bero Beyer, programmer Gerwin Tamsma (who oversees the selection of Korean titles) and scores of industry professionals posed on the steps of IFFR festival hub de Doelen for a group photo, holding banners proclaiming "We Support Busan".
Lee Yong-Kwan has come under unrelenting pressure to step down as BIFF director from Busan City Council officials angered by his decision to screen controversial ferry-sinking documentary The Truth Shall Not Sink With Sewol in 2014, against their wishes.
He has thus far refused to leave, but is gearing up to fight charges filed against him by the city, accusing him of mismanagement of festival sponsorship fees, on the basis of an audit of BIFF's books carried out last year following the documentary dispute.
"There has been a tightening grip and manipulation of the festival which is unacceptable for any festival that holds freedom dear to its core, and the situation seems to be escalating," said Beyer, who earlier addressed a CineMart lunch on the matter.
"There are concerted efforts to push Lee out for reasons that are clearly political and have nothing to do with culture and running a festival. We thought it was our responsibility, our duty to show our moral support to the organisation of BIFF and its dedication to free cultural expression, which is the basis for every film festival - or should be the basis for every film festival - in Europe, in Asia and all around the world."
Political pressure
Lee Sang-ho and Ahn Hae-ryong's The Truth Shall Not Sink With Sewol was the first documentary to be released on the South Korean ferry disaster in April 2014 in which more than 300 passengers lost their lives, many of them children.
Shot as the disaster was unfolding and in the immediate aftermath, the documentary's suggestion that government incompetence was partly to blame for the tragedy angered right-wing officials.
Busan City Municipality demanded BIFF to pull the film from the programme after it was announced it would screen in the 2014 edition. Lee refused. Since then, he has been under constant pressure to quit as director of the festival.
IFFR programmer Tamsma said: "First they demanded that the programmer who programmed the film be sacked, and of course Busan said no; then they demanded the film be pulled, and of course Busan said no.
"Then they started to cut funding and all sorts of regulations related to the festival were changed. Part of the budget was taken away. Then they sent in the accountants and the final act has been to prosecute Lee Yong-Kwan for financial irregularities.
"It was made clear that if Lee Yong-Kwan were to step back or not stand for another term they would drop the charges. This month, the board will decide whether he will stay or not. As far as I know, they are supportive of him.
"In the background, it will cost Lee Yong-Kwan astronomical legal fees to defend himself because it's a personal attack. There is a crowd-funding campaign going on in South Korea to help raise the money."
Since mid-December 2015, filmmakers around the world including Leos Carax, Hou Hsiao-Hsien, Koreeda Hirokazu, Mohsen Makhmalbaf, Tsai Ming-Liang and Bahman Ghobadi, Jia Zhangke and Kiyoshi Kurosawa have been sending BIFF pictures of support, some of which have been compiled as posters.
Tony Rayns' letter
Alongside IFFR's collective message of support, East Asian cinema expert Tony Rayns – a long-time collaborator with both Rotterdam and Busan – published an open letter in support of Lee Yong-Kwan and the festival, highlighting the unjust folly of the Busan municipality's attacks.
"I don't think it can be disputed that BIFF has been one of the main engines of the city's growth," he wrote.
"If Busan Metropolitan City Council were to succeed in forcing Lee Yongkwan to resign, what would happen next? No doubt some opportunist hack could be persuaded to take on the job of festival director, even if it entails constant grovelling to the city council, but many of the festival staff – including the specialist programmers, for sure – would resign in sympathy with Mr Lee, leaving the shiny new director to build a new team of fellow-opportunists.
"At the same time, BIFF's many friends around the world would boycott the festival, probably also orchestrating a campaign of protest against the city council's political stupidity. Many filmmakers would refuse to supply their films, journalists and critics would stop taking the film programme seriously – and BIFF would soon go the same way as the [now defunct] Chungmuro Festival."
Jean Noh contributed to this report