Liz Shackleton spotlights the hottest productions at Hong Kong Filmart.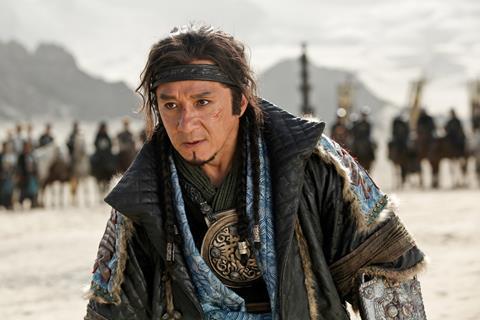 This year's Chinese New Year holiday was another box-office bonanza in mainland China thanks to hits including historical action epic Dragon Blade, gambling caper From Vegas To Macau 2 and fantasy adventure Zhong Kui: Snow Girl And The Dark Crystal.
As usual, Hong Kong talent featured prominently in many of the big hitters, even if they were not all financed by Hong Kong companies. Jackie Chan starred alongside Adrien Brody and John Cusack in Dragon Blade and Chow Yun Fat returned for sequel From Vegas To Macau 2. Both films also had Hong Kong directors, as did Zhong Kui, which was co-directed by Peter Pau.
But all these films were made with the mainland market in mind. With China's rise, the Hong Kong film industry finds itself in thrall to three distinct audiences: censorship-friendly co-productions for the mainland; edgier action films and thrillers for global export; and smaller films that cater to the tastes of Hong Kong audiences, who aren't usually captivated by mainland fare.
As if that were not complicated enough, industry dynamics at home and abroad mean none of these markets are risk-free: not all Hong Kong-China co-productions work on the mainland; western buyers have become much choosier in recent years about acquiring action titles; and Hong Kong audiences need coaxing to visit the cinema for anything other than Hollywood 3D tentpoles. The only local films in Hong Kong's top 10 in 2014 were Chinese New Year comedies Golden Chickensss and From Vegas To Macau.
And yet reports of the death of Hong Kong cinema have been exaggerated. Last year saw quirky, imaginative films such as Fruit Chan's Midnight After and Pang Ho Cheung's Aberdeen, along with a bold experiment in Ann Hui's The Golden Era. There is also fresh indie talent such as Adam Wong (The Way We Dance) and Philip Yung, whose Port Of Call will close this year's HKIFF.
The real issue is sustainability, as the future of Hong Kong cinema is not assured unless new talent enters the industry and a thriving cinema-going culture is encouraged and supported. The government is helping to a certain extent — pledging a further $25.8m (HK$200m) for the Film Development Fund and mulling plans to reserve space for cinemas, which are threatened by the city's sky-high rents.
It remains to be seen whether such plans will scrape past legislators but as the list of new productions here demonstrates, Hong Kong producers are not waiting for help; they are working hard to serve their three audiences, without losing hope that some projects will prosper across all three.
12 Golden Ducks
Dir Matt Chow
Matt Chow has reteamed with actress Sandra Ng, following Golden Chickensss, which became Hong Kong's highest-grossing local film in 2014 following its Chinese New Year release. While Golden Chickensss was a comedy about prostitutes adapting to Hong Kong's digital economy, 12 Golden Ducks turns the gender tables by following a group of gigolos, known in the local vernacular as 'ducks'. The film grossed $1.8m on its opening weekend over Chinese New Year in Hong Kong.
Contact We Distribution, Andree Sham andree@wedistribution.com
A Tale Of Three Cities
Dirs Mabel Cheung, Alex Law
After their success with Hong Kong-set drama Echoes Of the Rainbow, Mabel Cheung and Alex Law tackle a mainland-set drama about a couple separated from their children during the second Sino-Japanese war in the 1930s. Lau Ching-wan plays a former spy in the Nationalist party who falls for an opium-peddling widow played by Tang Wei. The story is loosely based on the experiences of Jackie Chan's parents, which Cheung and Law previously explored in 2003 documentary Traces Of A Dragon. Produced by Huayi Brothers, the film is in post-production.
Contact IM Global, Leslie Chen leslie_chen@imglobalfilm.com
An Inspector Calls
Dir Raymond Wong, Herman Yau
Pegasus Motion Pictures has produced this adaptation of JB Priestley's play of the same name, which adds black humour to the social commentary about a rich family's involvement in the death of a young woman. Louis Koo plays the inspector who calls on a wealthy family to investigate the suicide of a pregnant girl and discovers that, despite claiming they don't know her, they are all connected to the victim.
Contact Pegasus Motion Pictures, Kat Yeung kathy.yeung@pegasusmovie.com
Dragon Blade
Dir Daniel Lee
John Cusack, Adrien Brody and Jackie Chan star in this $65m epic action film that imagines Roman soldiers crossing the border into China. Chan plays the commander of the Silk Road Protection Squad who is wrongly accused of treason and joins forces with a Roman general (Cusack), who has fled into China to protect a young boy from his power-crazed brother (Brody). Financed by mainland investors including Sparkle Roll Media Corp, Huayi Brothers and Shanghai Film Group, the film grossed $55m on its opening weekend in China over Chinese New Year.
Contact Golden Network Asia, Clarence Tang clarence@goldnetasia.com
From Vegas To Macau 2
Dir Wong Jing
Chow Yun Fat is reprising his role as a legendary gambler in the sequel to Wong Jing's From Vegas To Macau, which grossed $85m in mainland China over Chinese New Year 2014. In the sequel, he travels to Thailand with his sidekick (Shawn Yue) on the tail of the mob's chief accountant (Nick Cheung), who has absconded with $15bn of the bad guys' money. Carina Lau plays the love interest who appears to be on the wrong side of the law. The film grossed $43m on the mainland over its Chinese New Year opening weekend.
Contact Mega-Vision Project Workshop, Angela Wong angelaolwong@mvphk.biz
Full Strike
Dir Derek Kwok, Henri Wong
Josie Ho has produced and stars in this sports drama about a hot-tempered, former badminton player who returns to the sport to coach four reformed gangsters who are keen to play competitively. Derek Kwok (As The Light Goes Out) has co-directed with well-known visual-effects supervisor Henri Wong. Also starring Ekin Cheng and Ronald Cheng, the film was produced by Ho's Hong Kong-based 852 Films with Why Entertainment and Star Chinese Movies.
Contact Distribution Workshop, Virginia Leung virginia@distributionworkshop.com
Knock Knock! Who's There?
Dir Carrie Ng
Now in post-production, actress Carrie Ng's directorial debut is a horror film interweaving three stories all connected to a funeral home, where rituals must be performed to convince the inhabitants to remain dead. The ensemble cast includes Annie Liu (Mob Sister), BabyJohn Choi (The Way We Dance) and Kate Tsui (Eye In The Sky). Ng won best actress for Remains Of A Woman at the Golden Horse Awards in 1993 and best supporting actress for The Kid at the Hong Kong Film Awards in 2000.
Contact Mei Ah Entertainment, Sara Law  sara@meiah.com
Little Big Master
Dir Adrian Kwan
Hong Kong action director Benny Chan is serving as producer for director Adrian Kwan (The Miracle Box) on this social drama starring Miriam Yeung (Love In A Puff) and Louis Koo. Based on a true story, the film follows an enthusiastic headmistress (Yeung) who runs a kindergarten for underprivileged children, despite low pay and growing pressure to shut down schools due to Hong Kong's declining birth rate. Produced by Universe Entertainment, the film is scheduled for release in Hong Kong and other Chinese-speaking territories from March 19.
Contact Universe Films Distribution, Alice Leung alice_leung@uih.com.hk
Monster Hunt
Dir Raman Hui
After gaining fame as a supervising animator and lead character designer for films such as Antz and the Shrek franchise, Raman Hui is making his Chinese-language, live-action feature directorial debut with this $30m 3D fantasy adventure. Jing Boran heads the cast of the film about a monster king who tries to bring unity between monsters and humans. Edko Films is producing and crew includes production designer Yohei Taneda (Kill Bill) and costume designer Yee Chung Man (Curse Of The Golden Flower).
Contact Edko Films, Julian Chiu chiujulian@edkofilms.com.hk
Port Of Call
Dir Philip Yung
The third feature from Hong Kong indie film-maker Philip Yung is a dark drama, based on a true story, which revolves around three characters: a mainland woman who resorts to 'compensated dating' to win her independence; a truck driver who appears to have murdered her; and the quirky police inspector investigating the case. Aaron Kwok, Elaine Jin and Patrick Tam head the cast of the film, which won a HAF award in 2011 and has been selected to close this year's HKIFF. Yung previously co-scripted Rigor Mortis and As The Light Goes Out and directed indie dramas Glamorous Youth and May We Chat.
Contact Mei Ah Entertainment, Sara Law sara@meiah.com
SPL2 - A Time For Consequences
Dir Soi Cheang
Thai action star Tony Jaa stars in this loose sequel to 2005 action drama SPL, which is in post-production for release in summer 2015. The cast also includes Louis Koo, Wu Jing, Simon Yam and Zhang Jin, while Wilson Yip who directed the original is producing with Paco Wong for Sun Entertainment Culture. The story revolves around a Hong Kong cop, who ends up in a Thai prison following false charges, and a local prison guard who agrees to free him in return for saving his daughter's life through a bone-marrow transplant.
Contact Bravos Pictures (excl-Asia), Ricky Tse ricky.tse@bravospictures.com; Star Alliance (Asia), Lammy Li lammyli@staralliancemovies.com
The Sword Master
Dir Derek Yee
Hong Kong director Derek Yee's first 3D project is based on wuxia novelist Gu Long's classic work about an elite swordsman who is haunted by his skill and forced to fight a challenger who is determined to take his place. Bona Film Group and Yee's Film Unlimited are producing with another leading Hong Kong film-maker, 3D pioneer Tsui Hark, on board as producer. Lin Gengxin, Peter Ho, Jiang Yiyan and Jiang Mengjie head the cast. Also being developed as a TV series, the film is scheduled for release in early 2016.
Contact Distribution Workshop, Virginia Leung virginia@distributionworkshop.com
To The Fore
Dir Dante Lam
Dante Lam's first sports drama delves deep into the action and psychological drama of competitive cycling. Two support riders or 'domestiques', played by Eddie Peng and Shawn Dou, become disillusioned after helping a champion sprinter, played by Korea's Choi Siwon, win his race. They leave the sport but years later are inspired to form an amateur cycling team to fight their way up from the bottom. Produced by Emperor Motion Pictures, the film is in production for release in summer 2015.
Contact Emperor Motion Pictures, May Yip mayyip@emperorgroup.com
Triumph In The Skies
Dirs Wilson Yip, Matt Chow
This feature version of one of Hong Kong's most popular TV series revolves around the glamorous lives and romantic escapades of pilots and flight attendants working for the fictional Skylette Airways. Francis Ng and Julian Cheung reprise their characters from the top-rated TVB series, while Louis Koo and Sammi Cheng play new characters. Directed by Wilson Yip and Matt Chow, Triumph In The Skies is produced by Media Asia and Shaw Brothers. It grossed $13m in China and $2m in Hong Kong during its opening weekend over Chinese New Year.
Contact Media Asia, Fred Tsui frederick_tsui@mediaasia.com
Two Thumbs Up
Dir Lau Ho Leung
Soi Cheang (The Monkey King) is producing this crime drama about gangsters who impersonate the police to commit a robbery but end up siding with the real police against a gang of hardened criminals. It marks the directing debut of Hong Kong scriptwriter Lau Ho Leung and features a strong cast including Francis Ng, Simon Yam, Leo Ku, Patrick Tam, Mark Cheng and Christie Chen. The film, in production, is produced by Emperor Motion Pictures.
Contact Emperor Motion Pictures, May Yip mayyip@emperorgroup.com
Untitled Johnnie To Omnibus
Dirs Johnnie To, John Woo, Tsui Hark, Ann Hui, Ringo Lam, Patrick Tam, Sammo Hung, Yuen Woo-ping
This omnibus about Hong Kong's history will bring together eight of the territory's leading film-makers, each directing a segment focusing on a different decade. Johnnie To produces through his Hong Kong-based Milkyway Image. Ann Hui has already started shooting her segment, set in 1940s Hong Kong, about kindergarten classes that were held on rooftops.
Contact Media Asia, Fred Tsui frederick_tsui@mediaasia.com
Lost And Love
Dir Peng Sanyuan
Andy Lau and Jing Boran (Rise Of The Legend) star in this drama about a man who embarks on a 14-year quest to find his son after the boy went missing aged two. On the road, he meets a young mechanic who was kidnapped at the age of four and has only snippets of memory about his real family. Inspired by a true story, the film marks the feature debut of well-known novelist and TV screenwriter Peng Sanyuan. Produced by Huayi Brothers, the film is scheduled for release on March 20.
Contact IM Global, Leslie Chen leslie_ chen@imglobalfilm.com
Paris Holiday
Dir James Yuen
Louis Koo and Taiwanese singer-actress Amber Kuo (Au Revoir Taipei) star in this romantic comedy about a marketing executive for a wine company who is sent to work in Paris. While getting to grips with his new life, he runs into a former roommate who has been unlucky in love despite becoming an artist in Europe's most romantic city. Yuen is a prolific writer and director whose credits include comedies My Sassy Hubby (2012) and Crazy N' The City (2005). The film is in post-production for release in June.
Contact Alice Leung, Universe Films Distribution alice_leung@uih.com.hk