An exciting crop of Hong Kong and mainland China projects are spotlighted by Liz Shackleton, who reports on the increasing efforts to support Cantonese-language film-making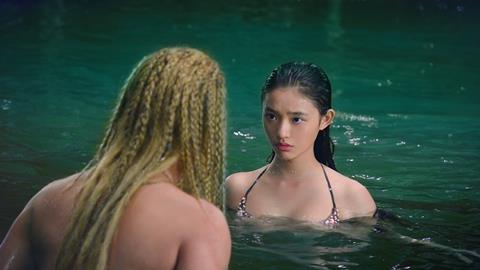 As predicted, box office over the recent Chinese New Year holiday in mainland China threw up yet more records and superlatives. Ticket sales over the seven days of the holiday hit $581m, a weekly world record, and shortly afterwards, Stephen Chow's The Mermaid became China's highest-grossing film of all time with a haul of more than $500m.
The runners-up over the holiday grossed more than local productions in other territories dare to dream — after four weeks, Soi Cheang's The Monkey King 2 had taken $181m and Wong Jing's From Vegas To Macau III was at $169m. Last year, local films accounted for 62% of China's $6.8bn box office and historically take more than a 50% share.
Hong Kong actors and film-makers have always played a key role in mainland productions — all three Chinese New Year hits were directed by Hong Kong film-makers. But with an annual box office of $256m, the Hong Kong market is now dwarfed by China. It's also a market that's dominated by Hollywood tentpoles. In 2015, the market share of Hong Kong films slipped from 22% to 19% and only one local production, Little Big Master, charted in the top 10.
All this raises questions about the future of Cantonese, as opposed to Mandarin-language film-making, not to mention films that are unlikely to pass muster with mainland censorship. And yet imaginative Hong Kong films that are definitely not made for mainland audiences continue to emerge.
Concerns about the declining use of Cantonese was one of many issues explored in ultra low-budget production Ten Years, comprising five shorts that examine the potential impact of mainland influence in Hong Kong 10 years from now. Recently banned by mainland media, the film became a sleeper hit in Hong Kong, grossing nearly $1m despite playing on just a few screens.
Elsewhere, there are more commercially driven efforts to support local film-making. Hong Kong thriller Trivisa, one of the opening films of this year's Hong Kong International Film Festival, is directed by three of Johnnie To's protégés from the Fresh Wave programme.
Fresh Wave proves that sometimes good things happen with patience: the initiative was launched in 2005 by the Hong Kong Arts Development Council and has made huge strides in supporting new film-makers. But it will be an ongoing battle to help Cantonese-language movies compete against the dual juggernauts of Hollywood and Beijing.
The Bodyguard
Dir Sammo Hung
David Linde's Lava Bear is co-producing this Sammo Hung and Andy Lau action thriller, alongside Edko Films, Irresistible Films and Lau's Focus Films. Martial-arts veteran Hung directs and also stars as a retired bodyguard who settles down in a small town on the Russia-China border but finds himself attempting to rescue a young girl when her father (Lau) falls in with the criminal world. The film is in post-production with a pan-Asian release scheduled for April 1.
Contact Edko Films, Julian Chiu chiujulian@edkofilms.com.hk
Call Of Heroes
Dir Benny Chan
Sean Lau Ching-wan, Louis Koo and Eddie Peng star in the latest action epic from Benny Chan (The White Storm, Shaolin), which is in post-production for tentative release in June. Set during the warlords era after the fall of the Qing Dynasty, the story (previously titled Deadly Reclaim) revolves around a group of plucky villagers standing up to a cruel young general. Universe Entertainment is producing the $32m film. Sammo Hung is on board as action choreographer.
Contact Universe Films Distribution, Alice Leung alice_leung@uih.com.hk
Chongqing Hotpot
Dir Yang Qing
One of the opening films of this year's Hong Kong International Film Festival, Yang Qing's comedy follows three high-school classmates who open a hotpot restaurant in an old bomb shelter in Chongqing. When the business fails, they are told to enlarge the property and accidently break into the bank vault next door. Produced by Chen Kuo-fu, the film stars Chen Kun (Mojin — The Lost Legend) and Bai Baihe (Monster Hunt). Yang previously directed 2009 comedy hit One Night In Supermarket.
Contact Distribution Workshop, Virginia Leung virginia@distributionworkshop.com
Cold War 2
Dir Longman Leung, Sunny Luk
Chow Yun-fat, Aaron Kwok, Tony Leung Ka-fai and Eddie Peng star in the highly anticipated sequel to Edko Films' 2012 action thriller, which became the highest-grossing Hong Kong film of the year. In post-production, Cold War 2 continues the story of the first film with the hijacker of the missing police van behind bars. But then a retired police chief steps forward to reveal a scheme to corrupt the police force. The directors went on to make 2015 action thriller Helios after the original Cold War.
Contact Edko Films, Julian Chiu chiujulian@edkofilms.com.hk
Dog Days
Dir Jordan Schiele
Pang Ho Cheung and Subi Liang's Making Film Productions produced this mainland-set drama, which marks the feature directorial debut of Beijing-based film-maker and DoP Jordan Schiele. The story follows a young single mother who teams up with a drag singer to track down her missing son and his father. Huang Lu (Blind Massage) plays the young woman and the cast also includes Tian Mu Chen (The White Lie) and Luo Lan Shan (A Touch Of Sin). The film premiered at this year's Berlinale.
Contact Bravos Pictures, Ricky Tse ricky.tse@bravospictures.com
The Ferryman
Dir Zhang Jiajia
Wong Kar Wai's Jet Tone Productions is producing this romantic comedy, based on Zhang Jiajia's bestselling 2014 novel, I Belonged To You. Zhang has also been brought on board to direct the film, which stars Tony Leung Chiu-wai, Takeshi Kaneshiro, Angelababy and Eason Chan. In post-production, the $25m film is one of the first projects backed by Alibaba Pictures. Mei Ah Entertainment is handling Hong Kong and several Southeast Asian territories.
Contact Mei Ah Entertainment, Sarah Law sara@meiah.com
Heaven In The Dark
Dir Yuen Kim-wai
Karena Lam and Jacky Cheung have picked up nominations at the upcoming Hong Kong Film Awards for their roles in this drama, helmed by commercials and music-video director Yuen Kim-wai. Adapted from the play French Kiss by Candace Chong, the film tells the story of a woman who shares a kiss with a pastor and then files sexual harassment charges against him. The pastor loses his faith as a consequence of her actions, while the woman tries to find salvation in religion. The film is scheduled for release in Hong Kong on March 24.
Contact Emperor Motion Pictures, May Yip mayyip@emperorgroup.com
Kung Fu Yoga
Dir Stanley Tong
Now in production, this CGI-heavy action adventure stars Jackie Chan as a Chinese archaeologist who teams up with an Indian professor in the quest for a legendary diamond that takes him from the high plateaus of western China to the Middle East and India. Indian actor Sonu Sood (Happy New Year) and Chinese actors Aarif Rahman and Zhang Yixing also star in the film, which is being set up as a China-India co-production. Director Stanley Tong, who worked with Chan on First Strike and Rumble In The Bronx, has already filmed in China and Dubai, and will shoot the next section in India.
Contact Golden Network Asia, Clarence Tang clarence@goldnetasia.com
The Mermaid
Dir Stephen Chow
China's highest-grossing film of all time, The Mermaid confirms that while Stephen Chow may not churn out many films, he is Hong Kong's most commercially successful film-maker. His latest comedy stars Deng Chao as a young tycoon whose plans to drive marine wildlife away from his island development are thwarted by a beautiful young mermaid. The cast also includes Lin Yun, Show Luo, Kris Wu and Kitty Zhang. Released by Sony in the US on February 19, the film grossed a respectable $1.2m in its first week.
Contact IM Global, Leslie Chen leslie_chen@imglobalfilm.com
Railroad Tigers
Dir Ding Sheng
Following their collaborations on Police Story 2013 and Little Big Soldier, Ding Sheng is directing Jackie Chan in this $50m action comedy, which aims to revive the spirit of classic Chan comedies such as Project A and Drunken Master II. Chan stars as a railroad worker who leads a team of fighters to derail the Japanese war machine in China, 1941. Young idols Z Tao (You Are My Sunshine), Wang Kai (The Golden Era) and Darren Wang (Our Times) also star. In post-production, the film's investors include Sparkle Roll Media Corporation, Shanghai Film Group, Beijing Going Zoom Media and Shanghai New Culture Media Group.
Contact Golden Network Asia, Clarence Tang clarence@goldnetasia.com
S Storm
Dir David Lam
Now in post-production, this sequel to 2014 action thriller Z Storm revolves around an even bigger case at Hong Kong's fraud-busting Independent Commission Against Corruption. Louis Koo reprises his role as an anti-corruption investigator, while Chilam Cheung and Vic Chou have joined the cast. Produced by Pegasus Motion Pictures, the $9m film is scheduled for release in June.
Contact Pegasus Motion Pictures, Alvina Wong alvina.wong@pegasusmovie.com
Swordmaster
Dir Derek Yee
Tsui Hark is producing and Derek Yee directing this long-anticipated 3D martial-arts epic, starring Lin Gengxin (The Taking Of Tiger Mountain) and Peter Ho (The Monkey King). Based on wuxia novelist Gu Long's classic, the film tells the story of an elite swordsman who is haunted by his skill and forced to fight a challenger who is determined to take his place at all costs. Produced by Bona Film Group and Yee's Film Unlimited, Swordmaster is in post-production and tentatively scheduled for release in May.
Contact Distribution Workshop, Virginia Leung virginia@distributionworkshop.com
Ten Years
Dir Kwok Zune, Wong Fei-pang, Jevons Au Man-kit, Chow Kwun-wai, Ng Ka-leung
Produced on an ultra low budget, Ten Years comprises five short films that imagine life in Hong Kong 10 years from now. The stories include a Hong Kong taxi driver struggling to survive in a Mandarin-speaking world and a grocery store owner who is punished for selling 'local' eggs. Although it was released on only a few screens, the film became a sleeper hit in Hong Kong.
Contact Golden Scene, Winnie Tsang winnie@goldenscene.com
Three
Dir Johnnie To
Following his well-received foray into musical drama with Toronto title Office, Johnnie To returns to hard-boiled action with this highly anticipated crime thriller, starring Louis Koo, Wallace Chung and Vicki Zhao Wei. In post-production for a tentative June release, the film revolves around a showdown in a hospital involving a criminal with a bullet in his head, a policeman about to turn rogue and a surgeon from mainland China.
Contact Media Asia, Fred Tsui frederick_tsui@mediaasia.com
Trivisa
Dir Frank Hui, Vicky Wong, Jevons Au Man-kit
Gordon Lam, Jordan Chan and Richie Jen star in this Johnnie To-produced crime thriller, which tells the story of three notorious criminals who are rumoured to be joining forces for a heist in Hong Kong. Three of To's protégés from the Fresh Wave programme — Frank Hui, Vicky Wong and Jevons Au Man-kit — have each directed the story of one gangster, which have then been weaved together into a complete feature. The film premiered in Berlin and has been selected as one of two opening films at this year's Hong Kong International Film Festival.
Contact Media Asia, Fred Tsui frederick_tsui@mediaasia.com