Working with China is not easy but a year on from its much-vaunted treaty, UK producers are learning fast. Melanie Goodfellow looks at the increasing collaboration between the two countries.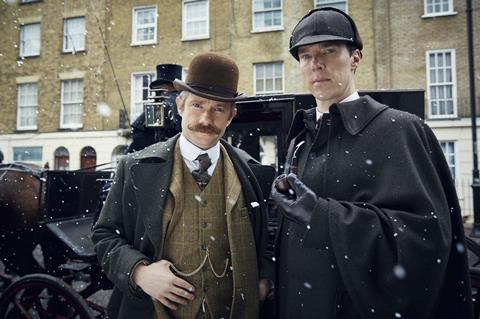 When Hong Kong star Jackie Chan hit London in February for the shoot of Martin Campbell's The Foreigner, the production prompted buzz in more ways than one. At the same time as a spectacular stunt blowing up a double-decker bus on Westminster Bridge prompted a raft of emergency calls from panicked locals, the UK film industry was eyeing the production with curiosity.
Adapted from UK writer Stephen Leather's 1992 novel The Chinaman by US screenwriter and producer David Marconi, the film stars Chan as a former assassin-turned-restaurant owner seeking revenge on the Irish terrorists who killed his daughter. Pierce Brosnan, reunited with his GoldenEye director Campbell, co-stars as a former IRA leader, with support from UK and Irish talent including Charlotte Murphy and Scotland-born Katie Leung.
The Foreigner is part of an ambitious slate of films being produced by nascent Hollywood studio STX Entertainment, which is backed by the Chinese private equity firm Hony Capital and has a three-year agreement with Huayi Brothers Media Corp.
The China-backed film was in fact developed and co-produced by UK outfit The Fyzz Facilty and marks the type of collaboration more in the UK film industry are keen to emulate.
One joint production has been officially announced a year on from the ratification of a landmark co-production treaty between the UK and China, the feature-length nature documentary Ten Billion (formerly Earth: One Amazing Day) directed by Peter Webber. The collaboration between BBC Earth Films and China's SMG Pictures was unveiled last October, during a state visit to the UK by Chinese president Xi Jinping.
The challenges facing UK and European producers who want to work with Chinese producers are multiple. Beyond navigating China's complicated film import and censorship rules, producers need to find stories that chime both at home and in China as well as attract the attention of Chinese producers.
The latter do not necessarily need to look abroad for ideas and finance amid their burgeoning home market. And when it comes to the UK films and TV series beloved by Chinese audiences, such as Downton Abbey, Sherlock and Paddington, Chinese producers are not keen on participating in watered-down versions made to satisfy the demands of an international co-production treaty.
"The commitment needed to make a project work in China is pretty huge," says Isabel Davis, head of international at the British Film Institute (BFI), which negotiated the treaty. "You have to get under the skin of the cultural differences and how that affects audience appetite and the way you portray China. A story has to resonate and the only way to achieve that is by properly engaging on a deep creative level to ensure there is a level of truthfulness."
Reality bites
Christopher Granier-Deferre of Poisson Rouge Pictures — who is developing two potential UK-China co-productions, thriller Fox Spirit and The River Dragon Princess, about a girl sent to a boarding school in the UK — says he has had to rethink his ideas about what Chinese audiences want to watch and base them firmly in reality.
"When you talk about the Chinese audience, you're talking about the 18 to 30-year-old generation whose tastes are mainstream," he says. "Western audiences have been fed on a diet of either auteur films or works that pander to our fascination with Orientalism that don't necessarily reflect Chinese tastes today."
Granier-Deferre will be at Filmart, looking for partners for Fox Spirit, about a Chinese detective sent on a mission to London's Chinatown to catch a killer terrorising the expat community.
Susan Xu, vice-president of China Film Co-Production Corporation, echoes Granier-Deferre's sentiments. "Producers need to look at what Chinese audiences are watching. The box office in the first months of 2016 has been dominated by local comedies and romances," she says. "Very often the [international] projects we receive just wouldn't work with audiences here."
Goodwill hunting
Beyond the popularity of home-grown productions, European producers also have to contend with corporate China's love affair with Hollywood, as evidenced in its recent acquisitions of significant stakes in Legendary Entertainment, AMC and the new STX deal.
But the BFI knew forging links with China would require a multi-pronged approach. "The treaty is one instrument alongside many others that will help a small number of films but has a much greater resonance because of what it symbolises in terms of goodwill between the UK and Chinese government," says Davis. "The role of government cannot be underestimated in China."
Around a dozen or so UK projects with potential to qualify for the treaty are in development. Warp Films is working on a science-fiction fantasy action film The Waste Tide, based on the award-winning novel by Chinese writer Chen Qiufan, which is being adapted by UK-based screenwriter Lydia Adetunji for producer Robin Gutch.
Emu Films is in the early stages of script development on Sapphire, the second film from Catch Me Daddy director Daniel Wolfe, which the film-maker would like to shoot in China.
Cape Town, London and Reykjavik-based Spier Films is hoping to bring to bear its co-production skills in The Navigator, an ambitious project written by Andrew Briggs and taking inspiration from a real-life expedition to Africa by legendary 15th-century Chinese explorer Zheng He.
Not just co-productions
Other forms of collaboration are also developing beyond co-productions. Film and TV agent Rob Kraitt at Casarotto Ramsay & Associates reports growing demand for UK writers to work on Chinese projects, especially at the development stage.
He cites the example of Dudi Appleton and Jim Keeble — writers on UK series Silent Witness and Thorne — who have been hired to show-run a 40-hour series about the semi-historical figure of Judge Dee, a sort of Chinese equivalent of Sherlock Holmes, being produced by their 87 Films and Phillippa Giles at Bandit TV for China's Combo Drive.
"They are using the expertise we have in developing big series arcs and stories for television and then translating the scripts," says Kraitt.
Davis also points to former WestEnd Film sales director Mercy Liao's recent relocation to Beijing for Universal Pictures International Productions as well as Pinewood Shepperton's deal with Bruno Wu's Seven Stars Media, adding: "The co-production treaty was never going to be the only outcome," says Davis. "There is a real and growing depth to our relationship with China."
How are Europe's producers working with China?
France has led the way among the European countries courting China's film industry. This is not surprising as the country has been courting China for longer and is the world leader when it comes to co-productions. Unifrance took a delegation of French producers to China in 2004 and ratified the first co-production treaty with China in 2010.
Since then, there have been half-a-dozen official France-China film collaborations, kicking off with Wang Xiaoshuai's 11 Flowers in 2011, and including Philippe Muyl's Nightingale, Jean-Jacques Annaud's Wolf Totem and the feature-length animation The Prince And The 108 Demons.
Ongoing co-productions include Charles de Meaux's The Lady In The Portrait, Alon Chan's Papa Lanternes and Wang Chao's Looking For Rohmer.
French major EuropaCorp signed a Hollywood-style distribution and co-production deal with Shanghai-based Fundamental Films in 2012. Fundamental has since handled the release of hits including Lucy and Taken 3 in China, and has financed a number of its productions including Luc Besson's sci-fi title Valerian And The City of a Thousand Planets, now shooting in Paris.
The country has also forged links through the Aide aux cinémas du monde fund, previously Fonds Sud, which has supported the likes of Jia Zhangke, Zhang Yimou and Wang Bing in the past. The fund is a huge draw for Chinese producers looking for funding for non-mainstream films, as is the Hubert Bals Fund in the Netherlands.
Indeed, the other European countries to have signed co-production deals in the last three years with China include the Netherlands, Spain and Italy. Denmark's Zentropa, meanwhile, announced last December it was joining forces with Shu Huan's Shengwei Media and Jetavana Entertainment for the first China-Denmark co-production, My Best Friend Andersen.