Currently shooting Foster in London, Swinging With The Finkels director Jonathan Newman and producer Deepak Nayer talk about the challenge of developing a short film into a feature.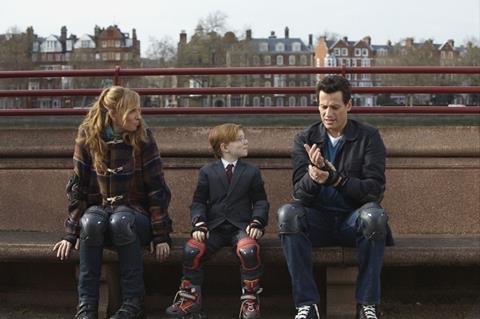 "The worst thing about filming in London is the constant noise from the planes" says British director Jonathan Newman, speaking on the set of his fourth feature Foster, the day before volcanic ash rendered the capital's airspace a plane free zone.
"He should be careful what he wishes for," laughs the film's producer Deepak Nayar, who is due to be flying into London from Los Angeles before the film wraps on May 7.
The second film collaboration between Newman and Bend It Like Beckham producer Nayar, Foster stars Toni Colette and Ioan Gruffud as a married couple who meet a young boy called Eli, while coming to terms with a family tragedy. The supporting cast includes Richard E.Grant, Hayley Mills and Anne Reid.
It began life in 2005 as a short film, which Newman wrote and directed for the BBC and HBO and which was almost picked up by Pete Farrelly – one half of the Farrelly Brothers. At that point, says Newman, he could not work out how to turn it into a feature so interest "fizzled out".
In the meantime, he had submitted two other shorts – Father's Day and Sex With The Finkels – to Nayar, who had set up a monthly shorts competition for young film-makers and, spotting Newman's potential, decided to finance a feature version of Finkels.
It was during post-production on Finkels – which will be released later this year as Swinging With The Finkels and stars Mandy Moore and Martin Freeman as a couple trying to spice up their marriage – last autumn that the pair started talking about turning Foster into a feature.
"When something exists already in a certain form, it is really difficult to know what to do with it," says Newman. "But we sat for hours brainstorming, and then eventually I went off and wrote something and the story began to develop from there."
Less than six months later, and the film is nearing the end of its six week shoot across various location in London, including Battersea Park, Tower Bridge, and a warehouse in the East End which doubles up as a toy factory. The interiors have been shot at Greenford Studios, on the outskirts of the capital.
"We are trying to showcase London. But it is different to Finkels, which has a chocolate box feel to it. There is a bit of a magic realism to Foster. If anything it harks back to films of an older decade, like It's A Wonderful Life."
Born in Britain to an Israeli father and South African mother, Newman moved to LA when he was eight years old. He divided his time between the two countries while he studied before moving back to the UK to attend the Northern Film School in Leeds in early 90s.
"I definitely see myself as a British film-maker but my cinematic style is very non-British, it is more American, more commercial. The filter I see my films through is more of a romanticised point of view."
Newman says his work has been influenced by the films of his childhood heroes Steven Spielberg and Robert Zemaki, rather than British directors such as Ken Loach and Mike Leigh. "There is definitely a place for the gritty, natural realism but I was brought up on films like ET, and they are the kind of films I love."
For Nayar, who has produced the film through his company Kintop Pictures, this works in Newman's favour. "If you are going to make a film you have to allow the investor to recoup, therefore you have to make films for the wider audience, which is what Jonathan does.
Colette, who was Newman's first choice for the part of Zooey, came on board on the strength of the script. "The material reverberated with her because she is a mother of a two year old and it was the same with Ioan, who has a six month old. We couldn't really have cast it better," says Newman.
Meanwhile, the young boy is played by Londoner Maurice Cole, who, apart from appearing in one advert, has no previous acting experience. "I was very clear that I didn't want a stage school type. I wanted someone really natural who could deliver a very organic performance."
Still, having a seven year old in the lead role has presented its own problems. "We are only allowed to shoot five days a week and we are only allowed three hours on set with him a day, so everything else has to be scheduled around him. It is a logistical challenge," admits Newman.
The film's $6m (£4m) budget is made up of equity from UK financier Ingenious, as well as support from Indian production company Reliance Big Pictures, whom Nayar has partnered with on his last two films, Tucker & Dale vs Evil and Swinging With The Finkels. Also financing the film is US production company Starlight Productions, which backed Finkels as well as US company Bent Nail, which was behind Nayar's 1999 film Harlem Aria. Foster was also able to qualify for the UK tax credit, which Nayar cash flowed himself.
International sales are being handled by Simon Crow's London-based SC Films International, who will be taking a promo to Cannes with the aim of wooing potential buyers.
"Pre-sales are getting harder and harder," says Nayar, who divides his time between his native India, LA and London. "But on Finkels we were able to make quite a few pre-sales at Berlin on the strength of the script and the short that was cut from it, so I am hoping we can do the same thing at Cannes."
With post production beginning in earnest in May at the UK's Molinare, Nayar is hoping the film will be ready to screen at Toronto. "But if not we will probably aim for a market screening at the American Film Market."
The film-making duo is already talking about their next collaboration, although Newman admits that Hollywood has started to knock on his door.
"I've told Jonathan that he has to do his next three films with me, otherwise I'll have some Indian mafia come after him," laughs Nayar.