Dir: Wong Jing. Hong Kong-China. 2015. 110mins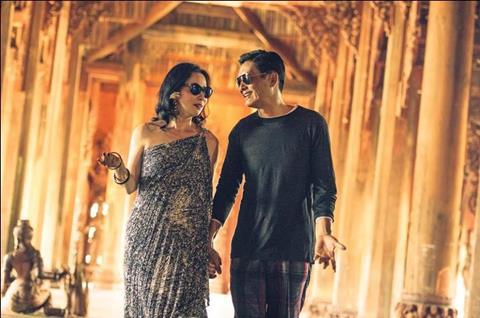 Chow Yun Fat returns for a second helping of comedic hijinks in the follow-up to Wong Jing's 2014 holiday blockbuster From Vegas To Macau (released in mainland China as The Man From Macau). A bankable supporting cast and exotic locations should prove an attractive combination over the Lunar New Year break, but beyond Chow's perennial popularity, sloppy plotting and colloquial humour will likely see From Vegas To Macau II have limited international appeal.
The result is a noticeable step down in quality from last year's offering, repeatedly falling back on the appeal of Chow Yun Fat to carry the rest of the production.

From Vegas To Macau saw arguably Hong Kong's most popular screen actor, Chow Yun Fat, pay homage to one of his most enduring roles - Ko Chun from God Of Gamblers - in the actor's first Cantonese speaking role in 20 years. An energetic throwback to those films, the film was a huge hit across Chinese speaking territories over the Lunar New Year holiday.
A year on and the inevitable sequel replaces Nicholas Tse, Chapman To and Jing Tian with the equally popular Nick Cheung and Carina Lau, with Shawn Yue also joining the cast as Chow's godson. While much of the action is here transplanted from the eponymous Chinese gambling resort to Thailand (but again avoids Las Vegas), this second outing lacks its predecessor's winning combination of energy, wit and spectacle.
Superstar gambler "Magic Hands" Ken (Chow Yun Fat) is approached by his godson, Vincent (Shawn Yue), an Interpol agent, to assist in toppling crime syndicate D.O.A. once and for all. Their target is Mark (Nick Cheung), the syndicate's accountant, who has recently hightailed it to Bangkok with $15 billion of their money. Learning that he is still a D.O.A. target himself when his yacht comes under attack, Ken agrees to help bring Mark in.
Once in Bangkok it quickly becomes apparent that there is a D.O.A. mole within Interpol. Chow, Mark and his young daughter Yan give the agents the slip, but soon become entangled with Thai gangsters and Ken's old flame Molly (Carina Lau) on their way back to Macau to plot a final showdown on board D.O.A.'s secret airborne casino, The Dragon's Palace.
Logical plotting and narrative coherence come a distant second in From Vegas To Macau II to a series of loosely strung together set-pieces, both on and off the casino tables. This everything-but-the-kitchen sink style of storytelling is expected from veteran writer-director Wong Jing, who again collaborates with producer-cinematographer Andrew Lau, and the film works best during its numerous fast-paced action beats.
An opening attack on Ken's yacht by bikini-clad, gun-toting villains on jet-skis and flyboards sets the tone beautifully. Once in Thailand, Ken pursues Mark through the tributaries of Bangkok's klongs on a long-tail boat, in a sequence that echoes 70s high-camp Bond flick The Man With The Golden Gun. Later, after cleaning out a Thai casino, Ken is forced into a muay thai boxing bout opposite ubiquitous martial artist Ken Lo, though the sequence is played largely for laughs rather than genuine fisticuffs.
In fact, martial arts are conspicuously absent from this sequel, as all the competent fighters from the first instalment - Max Zhang, Nicholas Tse, Philip Ng, Jing Tian - are absent this time around. Save for a brief skirmish between Shawn Yue and D.O.A heavy Wu Yue, altercations either involve explosives, firearms or the occasional thrown playing card from Ken. All the film's pivotal showdowns take place across the felt, in a number of high-stakes poker games which again are used mostly for comedic purposes and loaded with knowing references to The God of Gamblers and other earlier Hong Kong films.
Wong employs sequences from Taylor Wong's 1987 film Tragic Hero in place of flashbacks to show young lovers Ken and Molly, but despite his efforts, their romance always feels superfluous, until finally taking centre stage in the film's climax, where it does little to raise the stakes. Similarly, there is scant opportunity for Nick Cheung's Mark to wring any drama from the presence of tag-a-long daughter Yan (Angela Wang) or estranged wife (Yuan Quan). A potential love triangle between Shawn Yue's Interpol officer, his female partner (Michelle Hu) and the only other returning cast member from the original, Ken's ward Rainbow (Kimmy Tong), is barely given a moment to breathe.
Much of the comedy throughout the film also falls flat. Wong frequently brings the action to a standstill to allow for lengthy, meaningless shenanigans between Ken and his robot butler (bizarrely named after Chapman To's character in Infernal Affairs), to wax nostalgically with an utterly wasted David Chiang, or break into bouts of Chinese opera because, well, this is the nature of Hong Kong's New Year offerings. Quality will always play second fiddle to big stars and bigger laughs in an effort to entertain multi-generational audiences keen to escape each other's company for a couple of hours over the festive break.
As a result, From Vegas To Macau II is merely adequate on a technical level. Andrew Lau and Cho Man Keung's cinematography is merely adequate, while it is left to Azrael Chung's editing and a bouncy if unremarkable score from Chan Kwong Wing and Chen Yu Peng to keep the film moving along at a sprightly pace. Production design varies wildly between location shooting and studio sets, with dubious CG effects used throughout to cut corners whenever possible.
The result is a noticeable step down in quality from last year's offering, repeatedly falling back on the appeal of Chow Yun Fat to carry the rest of the production. Pushed to his limits, particularly in scenes of broad physical comedy, the 59-year-old Chow gives it his all, yet the burden of Wong's rambling, half-baked sequel proves too much, even for Chow's undeniable charms.
Production companies: Mega-Vision Project Workshop Ltd, Sun Entertainment Culture Ltd, Shaw Brothers (HK) Ltd, Media Asia Group
International sales: Mega-Vision Pictures
Producer: Andrew Lau Wai Keung
Executive Producers: Alvin Chow, Peter Lam, Wong Jing, Yu Dong
Screenplay: Wong Jing
Cinematogprahpy: Andrew Lau Wai Keung, Cho Man Keung
Editor: Azrael Chung Wai Chiu
Production designer: Andrew Cheuk
Music: Chan Kwong Wing, Chen Yu Peng
Action Director: Lee Tat Chiu
Main cast: Chow Yun Fat, Nick Cheung Ka Fai, Shawn Yue Man Lok, Carina Lau Ka Ling, Kimmy Tong, Micheele Hu, Angela Wang, Yuan Quan, David Chiang Da Wei, Wu Yue, Jin Qiaoqiao