Dir: Aaron Schneider. US. 2010. 101mins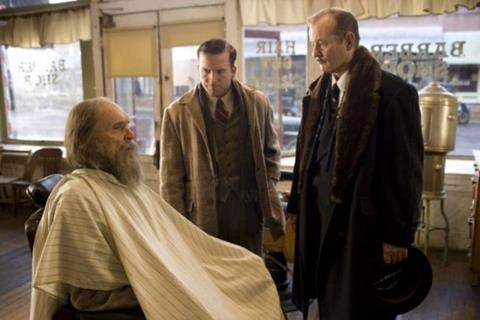 A backwoods tale of grumpiness and redemption, Get Low is a finely staged and authentic feeling drama, driven by two striking – and strikingly different – performances by Robert Duvall and Bill Murray.
Bill Murray delivers a wonderfully subtle and funny performance as the undertaker with money problems.
Recently opened in the US, it is the type of movie – unshowy, intriguing and elegantly made – that will appeal to festivals and should have a life in the hands of knowing distributors willing to have faith in the strong cast.
It is dream acting role for Duvall. He gets to have long straggly hair and a bushy beard, point his shotgun at anyone who comes near his hermit shack and potter into town with just his mule for company.
Set against a backdrop of 1930s Tennessee, Duvall plays Felix Bush, a man who has avoided human contact, but as he grows older decides he needs some sort of redemption. He visits the local undertaker Frank Quinn (the wonderful Bill Murray) and proposes a funeral party while he is still alive, so that he can stand up and reveal the truth behind the dark stories about him.
It presents an unwelcome change of profile for Felix (whose property is fronted by the sign 'No Damn Trespassing, Beware of Mule'), who reluctantly shaves his beard, cuts his hair and has to talk to folk again.
He wants to reveal his dark past and his part in the death of a young woman in a fire, and eventually makes his confession from a wooden stage into a microphone as local folks come to attend his party…drawn mainly by the offer of all his property going to one lucky lottery winner. Duvall delivers the speech in a nervous and faltering manner, making it even more fascinating…especially as he really isn't talking to the crowd, but rather directly to Mattie (Sissy Spacek), an old girlfriend and sister of the woman who died.
There is a niggling sense that Duvall is enjoying his 'acting' for too much here, and could possibly have done with more direction from Aaron Schneider, but his sheer personality is what drives the film. On the other hand, Bill Murray delivers a wonderfully subtle and funny performance as the undertaker with money problems with memorable style. He gets better and better as an actor, and is perfectly suited to this backwoods fable.
Production companies: Zanuck Independent, David Gundlach Productions, LARA Enterprises, TVN, Butcher's Run Films, K5 International
International sales: K5 International, www.k5international.com
US distribution: Sony Pictures Classics
Producers: David Gundlach, Dean Zanuck
Screenplay: Chris Provenzano, C Gaby Mitchell, based on the story by Chris Provenzano and Scott Seeke
Cinematography: David Boyd
Editor: Aaron Schneider
Production designer: Geoffrey Kirkland
Music: Jan AP Kaczmarek
Website: www.sonyclassics.com/getlow
Main cast: Robert Duvall, Sissy Spacek, Bill Murray, Lucas Black, Bill Cobbs, Gerald McRaney, Lori Beth Edgeman, Scott Cooper