Dir: Moon Si-hyun. South Korea. 2013. 108mins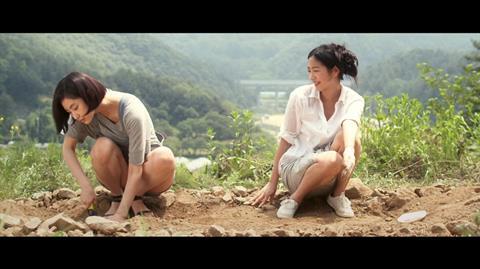 Based on a scenario by one of Korea's most eccentric filmmakers Kim Ki-duk, Godsend, bares the hallmarks of many of Kim's works through its misogynistic themes and characters, and while rookie director Moon Si-hyun is no substitute for the controversial director, it's makes for some compelling and at times uncomfortable viewing.
The film's underlying themes along with convincing performances from the two leads make this an interesting feature.
Kim's name as both the film's writer and producer is bound to be the film's main selling point as it seeks to find further festival exposure after premiering in the Korean Cinema Today Vision section at the Busan Film Festival.
In true Kim Ki-duk fashion the film's narrative kicks off a bizarre yet disturbing chain of events as it follows two women: a pregnant teenager called So-young (Chun Su-jin) who is considering an abortion and a middle-aged women named Seung-yeon (Lee Eun-woo) who desperately seeks to have a child but is unsuccessful and therefore proposes to So-young that she gives the baby to her instead in exchange for her expensive foreign car. Although Seung-yeon's husband is hardly content with the decision, the two women agree and head off to an isolated location until she gives birth. Problems arise, however, in the form of some criminal hunters that prey on the two women, while an observant gardener watches the women closely.
While its attempts to deal with social stigmas of teenage pregnancy and the obsession with materialism sometimes feels a little shallow, it's the issues surrounding misogyny that resonate, as the hunters become ever closer in trying to fulfill their sexual and sadistic desires. This, of course, won't be for everyone's taste, but it's Kim's determination to deal with these issues that makes his work both provocative, but also unique and stimulating.
One of the most effective traits of the narrative is the attention given to develop the relationship between the two women that begins as an unusual encounter at the clinic, which later progresses into a meaningful and tangible connection well played out by the two leads: Chun Su-jin and Lee Eun-woo.
Moon who has worked with Kim as an assistant director on his award-winning film Pieta (2012) is competent as a debut director and plays out Kim's script capably, but some of the camera work feels a little too contrived,
Although technically it's not especially impressive, the film's underlying themes along with convincing performances from the two leads make this an interesting feature that may make it an appealing prospect to include it in a festival line-up.
Production company: Kim Ki Duk Film
International sales: Finecut, www.finecut.co.kr
Producers: Kim Ki-duk & Kim Soon-mo
Screenplay: Kim Ki-duk
Cinematography: Choo Kyeong-yeob
Editor: Moon In-dae
Music: Park In-young
Main cast: Lee Eun-woo, Chun Su-jin, Kim Young-jae, Lee Seung-jun, Kwon yul