Shooting has just wrapped on Jon Wright's comedy monster film Grabbers, which is being unleashed on Berlin's EFM by international sales company Salt.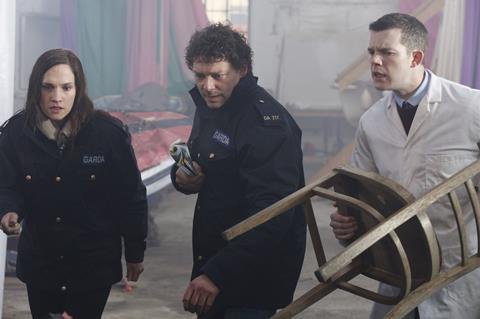 Synopsis: When blood sucking squid monsters invade a sleepy island off the coast of Ireland, the locals realize that the only way to fight them off is to get drunk, after they discover that the monsters are allergic to alcohol…
Director: Jon Wright
Writer: Kevin Lehane
Producers: Kate Myers and Tracy Brimm of Forward Films, along with Martina Niland of Samson Films, James Martin and Eduardo Levy of High Treason Productions and Piers Tempest
Cast: Richard Coyle, Ruth Bradley and Russell Tovey
Financing: Bear Rock, Limelight, High Treason, UK Film Council, Irish Film Board, Northern Ireland Screen
International sales: Salt
Distributors: Sony (UK) and Ascot Elite (Germany)
Country of production: Ireland and UK
Filming locations: Ireland (Belfast and Donegal)
Status: post production
"If you think of [80's horror movie] Tremors in a Waking Ned community, then you are close to getting the idea," says producer Kate Myers of Grabbers, the second feature from Tormented director Jon Wright, which has just finished shooting in Ireland.
A comedy horror set on a fictional Irish island, Grabbers centres around two police officers, one charming and slightly alcoholic (played by Richard Coyle), the other straight laced and slightly workaholic (newcomer Ruth Bradley), who are left in charge for the weekend and end up falling in love…whilst fighting a group of squid monsters.
Tracy Brimm and Kaet Myers of Forward Films first fell in love with the script (which went on to top the UK's annual Brit List of the hottest projects around) when it fell through their letterbox in November 2009, courtesy of first time feature script writer Kevin Lehane's agent.
"We rarely pick up a spec script, but this was a fantastic commercial premise that was beautifully executed, so we knew we had to do it," says Brimm, who brought director Jon Wright onboard.
"We had worked with Jon on Tormented, and we knew he loved this kind of material and he was raised 80s monster movies, so giving him the script seemed like the next logical step," she explains.
Both Lehane and Wright are Irish born, which helped when it came to creating an authentic Irish community, something that the team feel is essential for the film's success.
"We are trying to avoid the clichés and be quite honest about the Irish, whilst having fun," explains Wright. "There are certain films that perpetuate Irish stereotypes, with people on horses and carts outside Galway airport being asked the way to Dublin. What I liked about Kevin's script was that it was full of good humour, but it felt true to life."
Some shooting took place in Belfast, but the majority of the filming locations were in Donegal, Ireland, which Wright describes as "Spectacular."
"The beaches and the scope of the scenery really suits the widescreen frame," adds the director.
With alien squid monsters popping up throughout the movie, Brimm and Myers felt it was important to bring a special effects company onboard early on, in the form of Nvizible, who are also a partner on the film.
"We felt like we wanted an iconic monster. You look at the great monster films and you know that you have to have a monster that stays in the public consiousness," says Brimm.
"We now have six months of visual effects to do before we start mixing the sound," explains Wright, who admits that post production is actually his favourite part of the process. "It's very technical, and it's when you get to polish and finesse."
Salt has already sold the film to Sony in the UK (who will release in April 2012), but will be looking for more sales at the EFM in Berlin. The team are confident it will have international appeal.
"There is a lot of interest in the market place, because it is a creature movie with a heart," says Myers.
Wright is also confident it will find an audience. "As a teenage boy who loved monster movies and loved drinking and anything out of the ordinary, I would have loved it."
"And as part of the generation who hasn't grown out of those things, I would probably still love it," he laughs.