Dir: Morten Tyldum. Norway-Demark-Germany. 2011. 101mins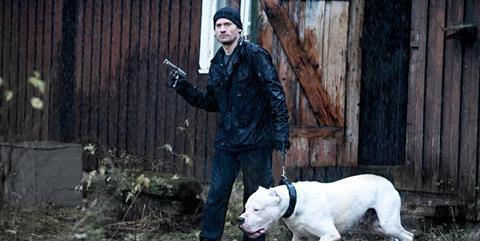 Here comes the next European candidate for a future Hollywood blockbuster. Evidently inspired by the record breaking Millenium series, Tyldum's third feature, which screened in Locarno's Piazza Grande, moves at top speed, with bright, brilliant camera work and a twist-a-minute plot. His opus is bound to be a crowd-pleaser, even if it quickly fades in the memory.
Realism is not high on the agenda here, with Tyldum diverting the plot in a number of directions and providing a shock a minute
Based on a novel by Jo Nesbo, the thriller follows an undersized headhunter with an oversized ego who earns a living chasing top executive material for high powered jobs. However, in order to supplement his dwindling income he also steals valuable art works which he sells across the border.
Roger Brown (Aksel Hennie) is 5'7" and deeply self-conscious about it. To compensate, he has a spectacularly blonde wife, Diana (Sinnove Macody Lund), who towers over him. He keeps her in a villa he can't afford and drives her around in a car way beyond his means.
His profession is to recruit the most qualified minds available for the highest paying bidders in the industry, but evidently, given the kind of expenses he insists on indulging in, he needs a lot more money than whatever his job pays. Therefore, he smells out owners of valuable art pieces, sets out to relieve them of their possessions, has an arrangement with a security officer to cut off the alarms of the home he intends to burgle and then moves the merchandise across the border to be sold for cash.
The troubles start when his wife introduces him to a Dane, Clas Greve (Nikolaj Coster-Waldau) who has star potential as an executive but who is also in possession of an original Rubens. In addition, Clas turns out to be not only a tall, fit and handsome villain that even Bond would think twice before tackling, he also owns an array of gadgets and futuristic tracking devices even the British spy would be proud of.
When he tops the rest of his evil doing by sleeping with Roger's wife, war between the two is openly declared. For a while, it seems Roger has no chance, but after killing his partner in crime, being shot at and wounded, diving into human excrement, being bitten by a pit bull, arrested for a murder he did not commit, crushed out of recognition in a car crash and almost knifed to death by a former lover, he still manages to shoot his rival to death in front of a whole battery of TV cameras.
Tyldum, who won over audiences with Buddy, his 2003 joyous rite-of-passage romp, has honed his technical skills enough to mask his indifference to a number of underdeveloped characters. Realism is not high on the agenda here, with Tyldum diverting the plot in a number of directions and providing a shock a minute. The film's main objective is to race ahead at top speed, starting in a light playful mood and gradually twisting the screws towards something akin to horror.
The same plot with stars able to compensate for script lacunas might have done better, for both Hennie and Coster-Waldau look more like TV characters than movie stars. Once Tinsel Town picks Tyldum up, as they should, they will know how to solve this problem.
Production companies: Yellow Bird, AS Norge, Friland Film
International Sales: TrustNordisk,www.trust-film.dk
Producers: Asie Vatn, Marianne Gray
Screenplay: Ulf Ryberg and Lars Gudmestad, based on the novel by Jo Nesbo
Cinematography: John Andreas Andersen
Editor: Vidar Flataukan
Main cast: Aksel Hennie, Sinnove Macody Lund, Nikolaj Coster-Waldau, Julie Olgaard