Dir: Deepak Rauniyar. Nepal-US. 2012. 80mins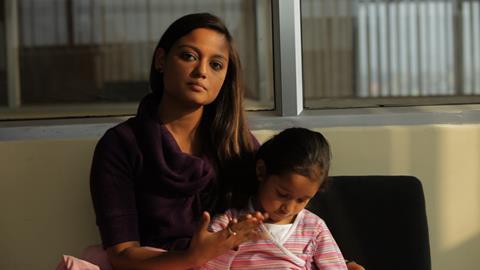 This is the first Nepal film ever screened in the Berlinale and having it featured on the Panorama roster is certainly a great achievement for the producers. A road movie set in a bus twisting its way down the Himalayas from Darjeeling to Kathmandu, it should be replete with exotic sights never seen before and feature personal stories of the travelers who should provide meaningful insights into the lifestyle of the Nepalese people.
These stories suggest that life in Nepal is not that different from the rest of the world.
That, at least is what the promotional material seems to promise. But in truth, what's left are best intentions squandered on a sadly unoriginal plot - or more accurately put, plots - which unfold in a disorganised and too often manipulated manner, leaving viewers indifferent and apathetic to it all.
An army lieutenant on leave (Dayahang Rai) is supposed to return to his wife (Asha Magarati) in Kathmandu after swallowing a magic fertility potion in the mountains that will finally make her pregnant, without suspecting that in his absence she is already been impregnated by another man; a homosexual (Eelum Dixit) is on his way to meet his internet date and console him for the loss of his trans-sexual partner, and a girl (Shristi Ghimire), who has a lover in the mountains, is on her way back to the capital, accompanied by her mother, to marry a man (Karma) who has come back from US for her sake.
They are all seated on a bus whose driver (Rajan Katiwada) who is supposed to rush back to the city and bring his girlfriend, a nightclub dancer (Reecha Sharma), the money she urgently needs to take care of her daughter.
And there's more, of course. A doctor (Rabindra Mishra) whose wife has left him, keeps fantasising about her and ignoring his patents and there is also a hit and run traffic accident and several massive strikes blocking the roads and forcing the bus travelers to stage a fake wedding, because apparently only weddings are allowed to go through strike pickets.
The bus ride and the constant impediments delaying its progress are supposed to tie all these mini-plots together. Instead, they jumps all over the place, from the bus to personal flashbacks of the people sitting in it, then back to the bus, followed by another flashback of a different character and so it goes, on and on, with such alacrity that it is difficult to latch on to any of the stories or really empathise with them.
While general conclusions on life in Nepal could eventually be drawn from all these disparate details, it all seems a bit too easy and superficial to be taken seriously and evaporate under closer survey. If at all, these stories suggest that life in Nepal is not that different from the rest of the world, even if their country looks different: the same romantic entanglements, moral hang-ups and emotional crises. The one tempting filmic option left, the spectacular landscapes of the Himalayas that would seem inevitable in such a story, are too rarely exploited.
Out of the large cast, all of them credited with improvising their own dialogue, there are some, such as Shristi Ghimire or Reecha Sharma, who have a chance the stand out, the rest being limited to brief, melodramatic performances of little significance.
Production companies Aadi Productions, Kathmandu with Louverture Films, NY
Producer: Deepak Rauniyar
Executive Producers: Lonim P. Dixit, Sameer P. Dixit
International sales: Seagull Films, info@seagullfilms.com
Screenplay: Abinash Bikram Shah, Deepak Rauniyar based on story by Deepak Rauniyar, Kedar Sharma, Khagendra Lamichhane
Cinematography: Apal Singh, Jyoti Keshar Simha
Editor: David Barker Deepak Rauniyar, Rita Meher
Production designer: Rajan Khatiwada
Music: Richard Horowitz, Vivek Maddala
Main cast: Dayahang Rai, Asha Magrati, Shristi Ghimire, Karma, Rajan Khatiwada, Reecha Sharma, Rabindra Mishra, Mirmala Rai, Eelum Dixit, Saugat Malla