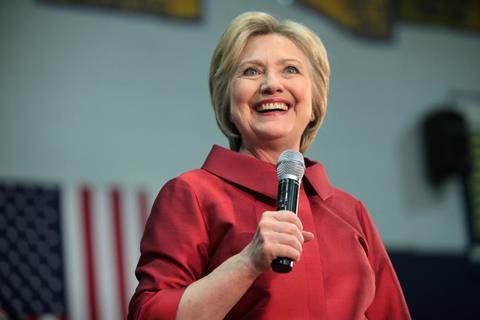 Steven Spielberg's Amblin Television has optioned the rights to female suffrage book The Woman's Hour and is developing a long-form television adaptation with Hillary Rodham Clinton among the executive producers.
Joining former secretary of state and first lady Clinton as executive producers on the project – which will be aimed at premium cable or streaming platforms – are author Elaine Weiss and Amblin TV co-presidents Darryl Frank and Justin Falvey.
Weiss's book, published in March, is about the activists who led the decades-long fight to grant women the right to vote in the US, a goal that was eventually achieved in 1920.
Clinton commented: "At the heart of democracy lies the ballot box, and Elaine Weiss's unforgettable book tells the story of the female leaders who – in the face of towering economic, racial, and political opposition – fought for and won American women's right to vote. Unfolding over six-weeks in the summer of 1920, The Woman's Hour is both a page-turning drama and an inspiration for everyone, young and old, male and female, in these perilous times. So much could have gone wrong, but these American women would not take no for an answer: their triumph is our legacy to guard and emulate. I am thrilled to be working with Elaine, Steven and everyone at Amblin Television on bringing this important project to audiences everywhere."
The Woman's Hour joins a slate of Amblin TV projects in various stages of production that also includes The Haunting Of Hill House for Netflix, Amazing Stories for Apple, Halo for Showtime and Cortes for Amazon.