Screen went down to the West London set of Vertigo's StreetDance 2 to watch the very flexible Sofia Boutella in action.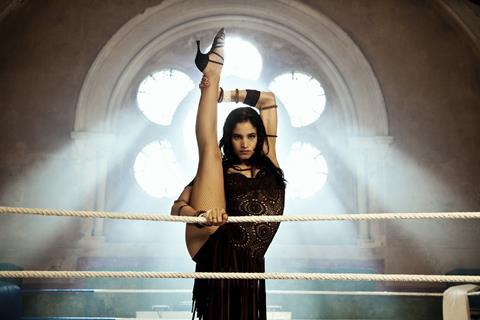 As you can see from this shot from StreetDance 2, lead actress Sofia Boutella is a lady of many talents.
I went down to Black Island Studios in West London to watch the StreetDance 2 shoot in action and was blown away by the French/Algerian actress who has collaborated with the likes of Madonna and Michael Jackson, but had to learn salsa dancing from scratch for the film. Watching her in action, you wouldn't know it.
"We've had our eye on Sofia for two years, we always knew we wanted to work with her. She has been training as an actress and she wanted a challenge," revealed Daria Pasquni, who, together with Max Giwa is back in the directors' chair for the sequel to Vertigo's 2011 smash hit StreetDance.
If the footage I saw was anything to go by, it's looking glossier, sexier and more exotic than the first one, with a bigger budget and a series of glamorous locations including Berlin, Paris and Rome.
Before I went down on set I was secretly hoping they might ask me to be an extra. Thank god they didn't. I would have ended up in A&E if they had asked me to pull a move like that.