Dir/scr: Barnaby Southcombe. UK-Germany-France. 2012. 93mins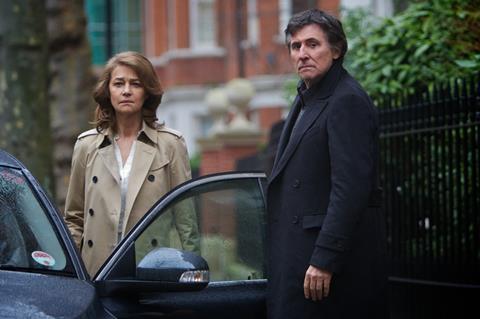 Not so much noir as plain murky, I, Anna is a psychological drama that boasts lashings of moody atmospherics hiding a slim emotional core. The film's primary selling point is the ever-watchable Charlotte Rampling as we haven't seen her in a while – at least, not since François Ozon's Under the Sand. Instead of the scary, hard-boiled misanthropes she's played at late – in films by Todd Solondz, Laurent Cantet et al – here's Rampling as a vulnerable and not terribly confident woman in a crisis.
Rampling is as magnetic as ever when she shows Anna on the edge of breakdown.
But debut writer-director Barnaby Southcombe – who's also Rampling's son – never really knits the complexities of lead character Anna into a plausible narrative, generally relying on moody urban backdrops, and some stylish trimmings such as Richard Hawley's downbeat songs, to pick up the slack. With its markedly older than usual lead characters set against glossy stylistics and K.I.D.'s techno-ish score, it's hard to know quite what audience sector will appeal to, although the pairing of Rampling and Gabriel Byrne could make it a moderate pull for mature genre-friendly viewers.
The film's initial hook is that it looks at the perils of modern dating for the older woman. Anna (Rampling) is a divorced woman, living in London with her daughter Emmy (Atwell) and small granddaughter Chiara. Steeling herself to re-enter the dating market, Anna attends a speed-meet soiree where she seems to hit it off with a smooth-talking rough diamond, George (Ralph Brown). Later, George is found dead and circumstances seem to imply his son Stevie (Max Deacon), in trouble over a drug debt.
First on the crime scene is insomniac police inspector Bernie Reid (Byrne), cracking up over his own divorce. Seeing Anna leave the building, he finds her strangely catching his imagination – possibly because he senses a lonely kindred spirit, possibly because Rampling's legs still look knockout in a femme fatale's trenchcoat. Failing to connect her with the case he's investigating, this most erratic of movie cops finds himself virtually stalking Anna, before hooking up with her romantically.
Meanwhile, the plot thickens, but rather less than the atmosphere, which makes liberal and doom-laden use of various London locations to which Southcombe seems to have had unusually free access – above all, the Barbican, London's brutalist upmarket housing estate cum arts complex, which here becomes a baleful mini-metropolis in itself, as well as Oxford Street and even the interior of the John Lewis department store, where Anna works. Ben Smithard's Scope photography covers these locales in lashings of baleful ambience, given a chic modernist gloss by K.I.D.'s electronic score and the moody musings of neo-retro balladeer Hawley.
But the film falls down both on narrative, the love-death nexus never quite working out satisfactorily in investigative terms, and in characterisation. Southcombe simply doesn't seem to have a keen eye for performance, and somewhat overindulges both Byrne, whose cop – crackling with neurosis and anxiety – doesn't ever come across as plausible, and more importantly, Rampling.
The actress's harder edges are here, and she's magnetic as ever when she shows Anna on the edge of breakdown, but is less convincing when she gives her a mischievous, even impish glimmer that hints at the character's troubled self-delusion. Best among the cast are Eddie Marsan, effortlessly good value as ever in a no-nonsense sidekick cop role, and veteran actress Honor Blackman – erstwhile action-kicking heroine in '60s TV series The Avengers – whose mischievous cameo shows she can still vamp it up. A final-act twisteroo introduces a hard-to-swallow psychological back story that the film has seeded in narrative hints but certainly hasn't earned emotionally.
Production companies: Embargo Films, Riva Film, Arsam International
International sales: Global Screen, info@globalscreen.de
Producers: Felix Vossen, Christopher Simon, Michael Eckelt, Ilann Girard
Screenplay: Barnaby Southcombe, from the novel by Elsa Lewin
Cinematography: Ben Smithard
Editor: Peter Boyle
Production designer: Tom Burton
Music: K.I.D., Richard Hawley
Main cast: Charlotte Rampling, Gabriel Byrne, Eddie Marsan, Jodhi May, Hayley Atwell