Dir: Douglas McGrath. US. 2011. 90mins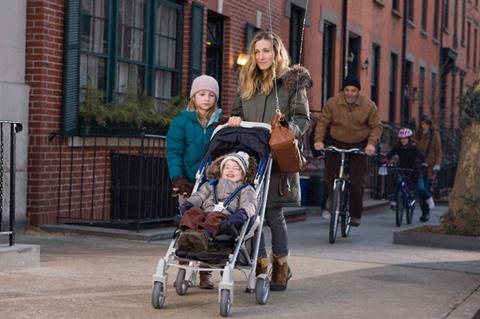 Sarah Jessica Parker's femme fanbase from Sex And The City will lap up her superwoman antics as a Boston-based woman juggling family, husband, household, high-powered job and bake sales. This straight-forward and generally good-natured film offers a few moments to smile at and is likely to be a hit with its target audience of female cinemagoers, with a strong life on home entertainment also guaranteed.
Sarah Jessica Parker is engaging as always but there is nothing in the way of a story surprise here.
The – admittedly somewhat clumsy - title of I Don't Know How She Does It essentially says it all. Based on British writer Allison Pearson's chick-lit bestseller, the story has been transplanted to the US and given a dose of upbeat energy. Naturally, the theme will click with a lot of women who juggle life's commitments while SJP's wardrobe choices will also interest audiences as always.
Parker stars as Kate Reddy, a stressed but cheerful woman who has just about got her life-work balance sorted…but only just. She has a high-powered financial job doing a little number-crunching, two young children and an architect hubby (Greg Kinnear) who is on the cusp of getting a big contract. But the biggest stress is the school bake sale, which sees her buying a pie from a local deli and 'distressing' it to try and fake that home-cooked look.
Her best friend (Christina Hendricks in super-charming form) is glowing in her appreciation of Kate's life-juggling skills, while her serious and prim assistant Momo (Olivia Munn, in a movie-stealing performance…make her a movie star someone) can't face how un-primped her boss looks after a morning wrangling kids.
When Kate's boss (Kelsey Grammer, not really given enough to do) presents her with the chance of a lifetime she is naturally torn. She has to spend lots of time in New York with handsome business mogul Jack Abelhammer (Pierce Brosnan) that also starts to put strains on home and happiness.

Though Brosnan's tough-but-tender exec offers up the possibility of something new in Kate's life, the film never really presents it as a real option. The film is all about how dishevelled Kate appears in the office while keeping all of the balls in the air, and how cute she is despite her scattershot approach to things. She loves her hubby and kids and that is the end of the matter.
Screenwriter Aline Brosh McKenna adapted the blockbusting film version of The Devil Wears Prada, but with I Don't Know How She Does It there is less in the way of drama or dynamic characters. Sure there are some funny lines, and Sarah Jessica Parker is engaging as always but there is nothing in the way of a story surprise here. And perhaps that is a good thing – it is a film that essentially is there to reassure that you can have everything, and that being a working mom isn't a terrible thing.
Production company/US distribution: The Weinstein Co
Producer: Donna Gigliotti
Executive producers: Bob Weinstein, Harvey Weinstein, Aline Brosh McKenna, Scott Ferguson
Co-producer: Allison Pearson
Screenplay: Aline Brosh McKenna, from the novel by Allison Pearson
Cinematography: Stuart Dryburgh
Editors: Kevin Tent, Camilla Toniolo
Production designer: Santo Loquasto
Music: Rachel Portman

Main cast: Sarah Jessica Parker, Pierce Brosnan, Greg Kinnear, Christina Hendricks, Kelsey Grammer, Seth Meyers, Olivia Munn, Jane Curtin