Dir/scr: Xavier Giannoli. France. 2009. 155 minutes.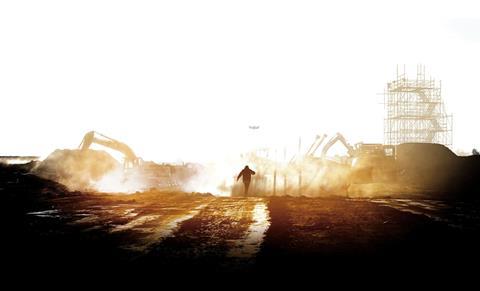 France's Xavier Giannoli tells the true story of a small-time conman whose latest fraudulent scheme brings hope to a depressed community in In The Beginning, a sort of social realist Capra-esque fable set in the rain and grit of northern France. Giannoli's expansive fourth feature is far less intimate than his last, lovely Quand J'Etais Chanteur, although his talent with actors and his keen observation are still in evidence. The film is crippled, however, by an extreme running time of 155 minutes which dilutes rather than strengthens the message of the story and will have even the most patient cinephiles shifting in their seats.
France is the target market here, especially with the potent star trio of Francois Cluzet, Emanuelle Devos and Gerard Depardieu in lead roles. International buyers might be cautious about taking a chance on the bleak setting and running time, not to mention the specific French flavour of the road construction sequences at the film's core.
Perhaps Giannoli's chief challenge in the story is that the audience is asked to relate to a jailbird whose actions for much of the film are both criminal and stupid. That his con scheme takes on a life of its own and brings a sense of value and worth to the town he's in is a side-effect which brings him back to life and generates some empathy for the character, but it's only a matter of time before his scheme catches up with him – an inevitability which hangs over every scene.
As played with a quiet desperation by Cluzet, Paul is an ex-con who gets out of jail and immediately rips off his friend and fellow small-time crook Abel (Depardieu). On the road in the far north of France, he starts to carry out petty scams which involve buying and reselling construction equipment using fake documentation. Before long, he ends up in a smalltown hotel pretending to work for a construction giant called CGI.
What he doesn't realise is that the town has been languishing in unemployment and misery since CGI pulled out of a major road building project two years earlier due to an infestation of beetles.
After a banal chat with the hotel maid Monika (Soko), word spreads round the town quickly that a CGI executive is visiting and planning to reactivate the road project. Within days, Paul, who now calls himself Philippe Miller, is taking meetings with the mayor (Devos) and accepting kickbacks from suppliers who want his business.
Unable to halt the momentum of the project and buoyed by the unstoppable enthusiasm of the townsfolk, Paul, aka Philippe, leads a team which starts to rebuild the road, using a phony company name and a 90-day window before he has to pay any of the suppliers.
Giannoli goes into every detail of the scam and every step of the process whereby the town is galvanized, then stupefied as the people who trusted Philippe as their saviour begin to realise the extent of his deceit. Yet the film suggests that he isn't quite such a villain, since he manages to restore hope and community to the town.
But in a post Bernie Madoff-world where unemployment is a global epidemic, many viewers might not receive Philippe's grand deception as warmly as Giannoli would like.
Production company
Rectangle Productions
EuropaCorp
Studios 37
France 3 Cinema
Worldwide sales
EuropaCorp
(33) 1 53 83 03 03
Producers
Edouard Weil
Pierre-Ange Le Pogam
Cinematography
Glynn Speeckaert
Production design
Francois-Renaud Labarthe
Editor
Celia Lafitedupont
Music
Cliff Martinez
Main cast
Francois Cluzet
Emmanuelle Devos
Gerard Depardieu
Soko
Vincent Rottiers
Brice Fournier