While US stars are pouring into China this year to work on co-productions and local projects, black comedy Inseparable can claim to be the first fully Chinese production to tap a major Hollywood actor.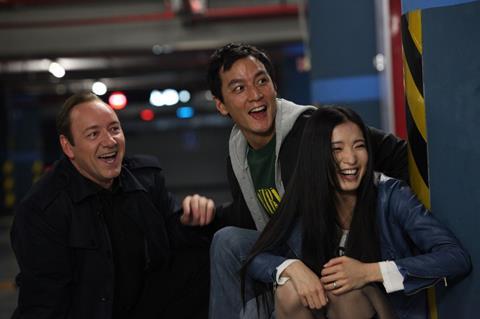 Synopsis: A young man with problems at home and work is befriended by a mysterious American expat who changes his life.
Director: Dayyan Eng
Writer: Dayyan Eng
Producers: Dayyan Eng, David U. Lee
Exec producers: Li Ming, Jason Han, Dana Brunetti, Kevin Spacey, Steven Squillante
Cast: Kevin Spacey, Daniel Wu, Beibi Gong
Budget: $6m
Prod cos: Colordance Pictures in association with Trigger Street Productions
Financing: Fantawild Films, Xinhua Media Entertainment
Language: English and Chinese
Countries of Production: China
Status: Completed
Release date: 2011
Directed by Beijing-based Dayyan Eng, Inseparable stars Kevin Spacey along with Hong Kong's Daniel Wu and Chinese actress Beibi Gong. Wu plays a young man beset with work and relationship problems who runs into a mysterious ex-pat (Spacey) who changes his life. However, we're not sure that this character is really who he claims to be.
"The film touches on the 'post-eighties' generation in China, who are confident and think they can do everything, but when they start out in life they find it's not so easy," explains Eng.
When Eng first wrote the script in 2007, both characters were Chinese and he sent an early draft to Chow Yun-fat, hoping he would play the Spacey role. He already had Daniel Wu, like himself American born but settled in Asia, and Beibi Gong on board. Chow had played a cameo role in Eng's first feature, edgy romantic comedy Waiting Alone, which was cult hit in China in 2005.
Chow was interested but was proving difficult to schedule - at the end of 2008 he still hadn't made a firm commitment. As it was around the same time as the SAG strike in the US, Eng had the idea that perhaps a US actor might be available and starting rewriting the script to incorporate an English-speaking character.
"I grew up in both cultures, so language wasn't a problem, in fact I could use it to my advantage," Eng explains. "I also realised, in this particular instance, that I could rewrite the character without really changing the structure of the film."
Eng says that Spacey was the obvious choice for the role. "When I'm writing I don't think of a specific actor in my head, but I felt he was perfect as he has that sense of humour that works in this story, and I thought he might be interested as it was something he hadn't done before." He initially sent the script to Spacey's agents, but when that didn't result in a quick enough answer, he managed to get the script to him through a friend who had worked with Spacey in the past.
Spacey liked the script and agreed to come on board. However, there were scheduling conflicts, so Eng agreed to move production to a later date if Spacey would commit in advance. He tapped co-executive producer Michelle Morris Gertz to help negotiate the terms to lock Spacey in for an early 2010 start. David U. Lee, who had helped set up Sino-US co-productions The Forbidden Kingdom and Shanghai, came on board as one of the producers to start raising the $6m budget.
Xinhua Media Entertainment (XME), with whom Lee was working as managing director at the time, contributed part of the initial finance to get the project off the ground. The capital was used to engage Morris Gertz and pay for Spacey's initial deposit.
As the package was being put together, Eng found 40% of the financing through Jason Han's Fantawild Films, the new film division of one of China's leading theme park operators. Fantawild eventually became the main investor, contributing more than 90% of the financing. The filmmakers say it was a juggling act keeping the much-in-demand Spacey attached while putting the finance together, but were fortunate that both Spacey and his manager, Joanne Horowitz, firmly supported the project.
All the pieces finally fell into place at the end of 2009. Eng's Colordance Pictures is the production company on the film in association with Trigger Street Productions, the company Spacey founded with Dana Brunetti.
The film started shooting in Guangzhou, one of China's major cities, in Jan 2010 and Spacey spent a whole month in the city filming his scenes. The crew included DoP Thierry Arbogast, who has worked with Luc Besson on films including Leon and The Fifth Element, and Hong Kong production designer Thomas Chong.
"The atmosphere on set was really great - we'd brought in people from different parts of the world who were good at their craft," says Eng. "I think in future Chinese production will start being more open to this method of shooting - having local key creative along with people from elsewhere. The film looks and feels more universal, and I think that's due to the combination of everybody's ideas coming in."
The project is more than 50% in English with Chinese-language scenes where that makes sense. With projects such as Slumdog Millionaire, which had large chunks of Hindi, being so readily accepted by audiences around the world, Inseparable has a strong precedent. However Eng stresses that the film is a 100% Chinese production, rather than a Western film shooting overseas as Slumdog was. The film is now completed and Odin's Eye Entertainment recently came on board as international sales agent.
Next up: Eng is developing two scripts - one an English-language biopic called American Dream, and the other a Chinese-language heist movie.