The AMC-backed streaming service is not for the faint of heart and specialises in horror, which gave Jeremy Berkowitz a timely opportunity to chat to lead curator Colin Geddes.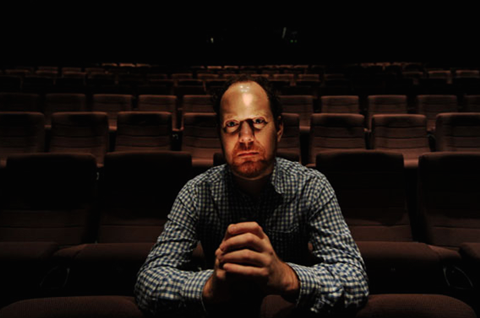 Geddes, the brains behind the Toronto International Film Festival's Midnight Madness section and a beloved programmer, curator and juror of many a festival, waxes lyrical on what scared him as a child, epoch-defining classics and why horror fans are so diehard.
To learn more about Shudder click here.
How did you get into horror movies?
My parents made the mistake of telling me about when they went to go see a Roger Corman retrospective before I was born. That was the spark that got me to investigate horror films, genre films, exploitation films… let me read the right comics and watch the right TV. I've always been attracted off the beaten path and abnormal or paranormal.
Is there a movie, TV show or comic that still horrifies you to this day?
I'd have to go with the old American TV series The Night Stranger with Darren McGavin. I would stay up late at night to try and watch that on an old black and white TV, playing with the rabbit ears on the weekends. Every episode always had a monster, which I stayed up for because I was tough enough to deal with monsters, but every once in a while one of those demons would creep into my nightmares for sure.
How did you find your way into TIFF?
I started as an audience member. I did a Canzine [Toronto-based festival] on Hong Kong cinema and that's when some of the programmers at TIFF began to come to me for advice on a marginal ethnic cinema. That eventually got me my first programming gig.
Is there anything from any of those programmes that you still feel is revolutionary to the horror genre?
Definitely. We had Dario Argento to the festival. I had the world premiere of [Eli Roth's] Cabin Fever. I also discovered Alex Aja with Haute Tension. Most recently I had films like Insidious and Oculus.
And this led you to Shudder?
They were looking for someone who had a grasp on horror cinema. They came to me to see if I was interested in being involved. I get a kick out of curating and leading people to films that I think they'll like, so I got involved.
So, I notice on Shudder there are lots of categories with awesome names like 'Weird Science' and 'Zombie Jamboree'. Do you come up with these names?
I can't take full credit. My wife helps me come up with some of those of those catchy names. We decided to try and make it easier for people to find what they wanted. The problem is that people spend so much time trying find something and there's so much information. When you categorise films its much easier for the audience to find what they like. If you like ghosts you can find them. If like you like films with extraterrestrials you can find them. And of course the current favorite monster of this millennium is zombies. So, we have that.
Do you think you're going to expand into other genres like sci-fi or thriller?
For the time being we're just going to stick with horror films. There is no other kind of movie site that offers what we do in the market, so we're going to work with what we have as best we can.
What do you think makes horror fans so committed to the genre?
People have been recognising that Shudder is different than other services and that's because of the curation angle of it. It really digs deep and our audience are impressed so far. And part of it is that a lot of other horror sites just push zombies because they sell. There's certain films we won't take because we want to make sure we're putting out films that are critically well-received or underrated. Myself and other curators will back up what we pick.
I think the thing is that people don't give horror film fans enough credit because they are a very diehard kind of fan that watches so much. They know what is good and they know what is bad. You get out a film like Oculus or Let The Right One In and they take notice of that. And we try to make sure that we are honest and sincere in what we are programming so we are more aware of the audience.
Do you have any must-see Halloween films as the holiday is coming up?
We have a Halloween selection currently. Some of them deal with paranormal as opposed to real life situations like serial killers. There's 12 films in that category that range from American Werewolf In London to Let the Right One In, to name just a few.