The co-creator and co-showrunner talks to Elbert Wyche about creating a critical hit and Emmy hopeful that explores slavery in America.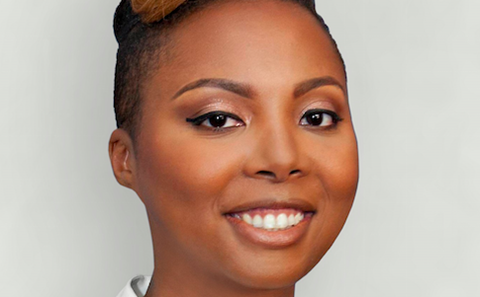 Misha Green, co-creator and co-showrunner of Underground (alongside partner Joe Pokaski) created a critically lauded show set against the Underground Railroad network built to help slaves escape from the South in the early to mid-19th century.
While the historical drama was well received and maintained solid ratings during its two-season run on WGN America, once Sinclair Broadcast Group agreed to buy WGN America's parent company Tribune Media the writing was on the wall. WGN is now effectively out of the high-budget scripted arena and the show was not renewed for a third season.
While hopes are dim that Underground, produced by Sony Pictures Television, will find a new network home, it remains an Emmy contender.
Green, a NYU Tisch School Of The Arts graduate, already has her next project lined-up. She will write and serve as showrunner on the upcoming HBO anthology drama Lovecraft Country from Jordan Peele's Monkeypaw Productions, Warner Bros Television and J.J. Abrams' Bad Robot.
When did you initially connect with Joe Pokaski and how did the idea for Underground begin?
Joe and I met on [the NBC television show] Heroes. I was a staff writer at the time and he was a producer. We actually worked together on my first script for Heroes. Usually, when you have writing partners that you're just sort of forced together with, you're arguing over small things. We actually worked really well together. [After Heroes ended] we were having breakfast and I told him we should do a show about the Underground Railroad. We agreed that it seemed like something someone already should've done a show about. We just started researching and from there we wrote the pilot together.
What brought the Underground Railroad to the front of your mind?
One of the things that both Joe and I have in common is genre. We love stories about heroes and these are American heroes. This story was always in the back of my mind. I made a little pop-up book as a kid when we had to do our section on African American history because there is a week you get in school about it. I made my pop-up book about the Underground Railroad. It had always been in there; this intriguing, amazing story. Once we started researching, I was amazed that no-one had told these stories. The South and slavery has been looked at with one lens, where a lot of the stuff you watch [was about a] whipping post and the people doing the whipping. I thought these were people who existed and had full lives and I was ready to see that on screen.
Are the Macon 7 (the group at the core of the show) based on real people?
Yes, they are all a combination of real people. The character of Rosalee was based on a letter we read written by a slave girl pondering the decision to run or not to run. That was mind-blowing to read because you look back at that time with our modern lens and you think, 'Of course you would run. Run, don't take this.' Then, you read that letter and understand just how much courage and how much strength it took just to take one step off a plantation and run 600 miles to freedom.
How did the series end up at WGN America?
We had pitched to a couple of places and had gotten resounding 'no's'. WGN was the first place that was willing to be bold with us and really take the series to the places that we wanted to take it. What was fantastic about WGN picking up this show is they didn't quite understand it; they didn't get it. But they allowed us the room to say, 'This is what the show is and this is why it's going to be great.' Then, they backed us when we made those decisions.
What reasons did the other networks give for passing on the show?
There was a lot of, 'We don't think that people will want to revisit slavery week after week.' The thing that we were saying is, 'We understand your feelings and your fear of that. But this is not about the occupation; it's about the revolution and that is a story that people will want to revisit every week. People will want to watch American heroes kick ass and that's what our show is.'
Music is such a big part of the series. Was that the idea going in or did that come to the surface as you went along?
It was the idea from the start. We wrote Kanye West's song Black Skinhead into the pilot; it's in the first line you read. The idea was to definitively say we're looking at this through a different lens; we're taking a new approach to living in this time period. We don't want it to be a portrait on the wall; we want it to be an Instagram video. The music is a big part of that and having John Legend come aboard and kind of be the godfather of the music has been great.
When coming up with ideas for each episode are you in a constant state of research?
Yes, the research never stops. It's that thing where we're lucky to have it, because we can go back to things that we've read that real people did. That can re-ignite the creative force.
Where did you shoot and how did you develop the look of Underground?
We shot the first season in Baton Rouge, Louisiana, and we shot the second season in Savannah, Georgia. The whole feel of Underground is a combination of Anthony Hemingway, our director-producer. We told him we want to change the game; we don't want to look at this as if it's a period piece. We want it to feel very vibrant and modern and he was ready to do it from day one and he did it. We also have Meghan Rogers, our production designer, who is the unsung hero of our show. We don't have a crazy budget and she gives us 600 miles of running and it feels different every place we go. In Season Two we're all over the United States and even London and she brings it to life. The look of Underground is so exciting because it's putting a different lens on this time period.
What do you like to do when away from the show?
I can't even remember what it's like to have free time. Being a showrunner – no-one prepared me for how many hours of the day is devoted to being a showrunner. I love it so I can't complain about it.
Has bringing Underground to life affected you outside of the industry?
I think researching Harriet Tubman and seeing how much change she made in the world made me come away from [Season Two] thinking about what I'm doing and wondering if I am doing enough. All around it's the idea of doing more and being more active, especially with the state of our country right now. I don't think any of us can just sit out.