Dir: Jonathan English. UK. 2014. 108mins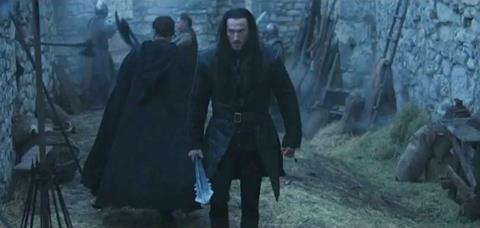 A bludgeoning and brutal bit of medieval mayhem, the bloodthirsty sequel Ironclad: Battle For Blood may well lack the characters, storyline and – by the look of it – budget to make it a successful follow-up, but it goes all out in terms of stabbings, hatchetings, beheadings and general gore to try and make it appealing to fans of the original.
Blood flows, but the story is weary. some of the dialogue clumsy and the performances scattershot at best.
The original 2011 film Ironclad – also directed by Jonathan English – proved to be a surprise modest success (both with some critics and cinemagoers), with a strong cast including James Purefoy, Kate Mara, Brian Cox, Jason Flemyng, Charles Dance and an unlikely Paul Giamatti (as the mad King John) and a no-holds-barred 'Magnificent Seven' style storyline.
English tries to repeat the format – a band of mercenary types are recruited to try and defend a castle against marauding Scots – but suffers from the law of diminishing returns. Blood flows, but the story is weary. some of the dialogue clumsy and the performances scattershot at best. The film receives a brief release via Warner Bros in the UK, but its life lies most likely in home entertainment.
Set against the backdrop of dark and brutal 13th century England, fresh-faced young nobleman Hubert de Vesci (Tom Rhys Harries) is sent by his father to recruit hired swords to help defend their family castle from Scottish tribesmen hell-bent on revenge for the death of their leader's son.
He tracks down his cousin Guy de Lusignan (Tom Austen), a crusader who has witnessed too many atrocities and who only agrees to help if he is handsomely paid. Along with Guy's mercenary friend Berenger (David Caves); axe-wielding executioner Pierrepoint (Andy Beckwith) and murderous Crazy Mary (Twinnie-Lee Moore) this not-so-magnificent five head off to try and save the day.
The battles to save the castle are all pretty predictable – plenty of blood and hacking of bodies; impressively bleak locations (the film shot in Serbia, with Serbians playing the Scottish attackers); a laboured romantic sub-plot involving Guy and Hubert's sister Kate (Roxanne McKee), and a by-the-numbers mano-a-mano climactic fight between Guy and the Celtic warlord (Predrag Bjelac) – with so-so CGI being used to try and give the film an epic quality. In truth, though, it is at its best when it focuses on the down-and-dirty hand-to-hand combat and abandons all attempts at a cohesive storyline.
Tom Austen has a certain presence as the troubled Guy; while Twinnie-Lee Moore has fun as the murderous and filthy (spattered with mud even after a bath) Crazy Mary, and a cameo by Michelle Fairley (who plays Catelyn Stark in Game Of Thrones) gives the film a much-needed dose of class. The in-joke that the executioner is named Pierrepoint (in the last century Albert Pierrepoint was the UK's longest serving hangman) is a nice one, but likely lost on most audiences. The film is titled Ironclad 2: Battle For Blood on the UK posters and promotional material.
Production companies: Mythic International Entertainment, International Pictures One, Gloucester Place Films
International sales: Content Media Corp., www.contentfilm.com
Producers: Rick Benattar, Andrew Curtis, Jonathan English
Executive producers: Jamie Carmichael, Nigel Thomas, Milos Djukelic, Marija Djukelic, Al Munteanu
Screenplay: Steven McDool, Jonathan English
Cinematography: Zoran Popovic
Editor: Laurens Van Charante
Production designer: Jelena Sopic
Music: Andreas Weidinger
Main cast: Tom Austen, Tom Rhys Harries, Roxanne McKee, Danny Webb, Rosie Day, David Caves, Andy Beckwith, Twinnie-Lee Moore, Predrag Bjelac, Michelle Fairley, David Rintoul