Dirs/scrs: Edward McHenry, Rory McHenry. UK. 2010. 93mins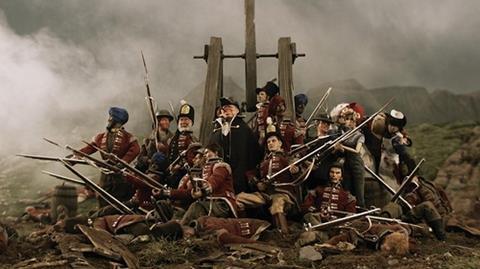 There is definite cult appeal in Jackboots On Whitehall, a loopy World War Two puppet animation spoof in the style of Team America. Brothers Edward and Rory McHenry approach their idiosyncratic labour of love with a schoolboy delight in lame puns and smutty innuendo that should help define the film's target audience as youthful, indulgent and heavily dominated by students.
Jackboots is much more watchable than Epic Movie, Date Movie and their endless ilk.
A global appreciation of quirky British humour that runs from Python to Spitting Image could help the film to carve an international profile.
There are echoes of Ealing dramas and Carry On comedies in the story of an England invaded by the Nazis in 1940. Winston Churchill (voiced by Timothy Spall) decides to gather together his rag tag supporters and venture beyond Hadrian's Wall to the sanctuary of Scotland. Inevitably Scotland is populated by hordes of unintelligible savaged ruled by an Aussie-sounding bloke sporting blue face paint.
There is no joke too obvious for the action-packed Jackboots, but the brothers have an eye for detail and a sense of pace whilst some well-chosen actors breathe life into their puppet figure alter egos. Timothy Spall is a wonderfully growly, defiant Churchill; Richard E Grant is a demented vicar; Alan Cumming a deliciously camp Hitler and Ewan McGregor a stalwart hero called Chris whose most prominent feature is his large hands.
A rousing score by Guy Michelmore is the real star of Jackboots as it beautifully captures the stiff upper-lip Bulldog spirit of iconic British war movies and perfectly evokes the music of Ron Goodwin.
Jackbootsis undeniably puerile and does eventually wear out its welcome but it is much more watchable than Epic Movie, Date Movie and their endless ilk.
Production company: Entertainment Motion Pictures
International sales: Media 8 Entertainment, www.media8ent.com
Producers: Karl Richards, Patrick Scoffin
Cinematographer: Michael Connor
Editor: Chris Blunden
Production designer: David McHenry
Music: Guy Michelmore
Main vocal cast: Ewan McGregor, Rosamund Pike, Richard E Grant, Timothy Spall, Tom Wilkinson, Alan Cumming