Dir: David Zellner. US. 2014. 105mins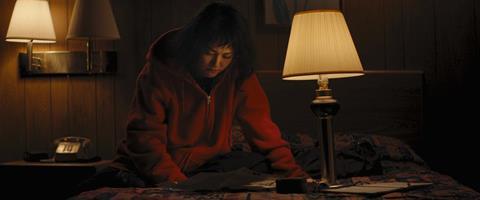 A delightfully mannered and eccentric delight, Kumiko, The Treasure Hunter is a cult film in the making, with the effortlessly quirky Rinko Kikuchi (Norwegian Wood, Pacific Rim) striking as the determined and defiantly oddball Kumiko whose quest for 'treasure' takes her from Tokyo to snowy Minnesota. The film will delight lovers of filmic quirks, but perhaps bemuse those expecting a more traditional treasure hunt movie.
A strange, but oddly wonderful film.
The third film from brothers David and Nathan Zellner (Goliath, Kid-Thing), the film potters along with a delightfully sustained sense of the absurd that reaches wonderfully crazy proportions when Kumiko sets about tramping through the frozen wastes of Minnesota. The film could easily sell well to indie distribs with an attitude, especially given Kikuchi's growing stature.
In the opening scenes a shambling Kumiko follows a treasure map to a cave overlooking a beach, where she unearths an old VHS tape. In her tiny flat she takes copious notes from watching the fuzzy tape…which, we discover, is actually a copy of the Coen brothers 1996 film Fargo. She watches and re-watches the scene where Steve Buscemi buries a briefcase full of cash, making notes and equations to work out where the actual spot might be.
Unhappy at work – where she is the oldest and most dishevelled of the 'Office Ladies' – and browbeaten by her mother, who complains that she isn't married yet – she is caught by security at the library when she tries to steal a large atlas that contains a detailed map of Minnesota, and later mortified when her old video machine eats up the tape. But after buying a DVD player and a new copy of Fargo (offering up a far clearer image) and comes up with precise details for the location of the case, buried in the film deep in snow next to a fence, and she plans her trip to the US.
This means – in perhaps the most delightful and rather sad moment of the film – she has to abandon her much loved pet rabbit Bunzo. But for Kumiko it has to happen…after all, finding the treasure is her "destiny" as she explains. So, halfway through the film she arrives in the US, speaking minimal English and through the kindness of equally oddball strangers slowly finds her way to Fargo. At one point she is helped by a shy deputy sheriff (played by director David Zellner) who clearly has time on his hands as he helps her find a better map and also buys her much-needed cold weather clothes.
The film spirals towards a surreally happy ending that might have been just an oddball step too far if its wasn't for the fact that Rinko Kikuchi's sheer sense of warm-hearted oddball charm is so winning, the concept so quirky and the delivery so proficient. A strange, but oddly wonderful film.
Production company: Lila 9th Productions
International sales: Kathy Morgan International, Kathy@kmifilms.com
Producers: Nathan Zellner, Cameron Lamb, Chris Ohlson, Andrew Banks, Jim Burke
Executive producers: Alexander Payne, Jim Taylor, Rinko Kikuchi
Screenplay: David Zellner, Nathan Zellne
Cinematography: Sean Porter
Editor: Melba Jodorowsky
Production designers: Kikuo Ota, Chad Keith
Music: The Octopus Project
Main cast: Rinko Kikuchi, David Zellner, Nobuyuki Katsube, Shirley Venard, Nathan Zellner