Dir: Tom Hanks. US. 2011. 99mins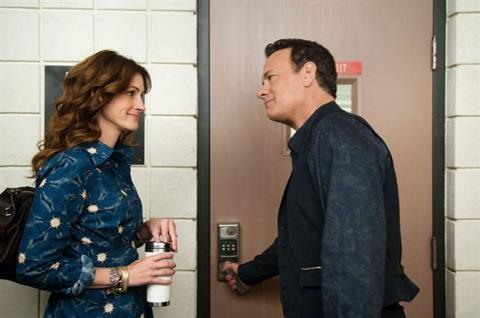 Recession-themed drama quickly gives way to escapist comedy in Larry Crowne, a resolutely upbeat romcom directed by Tom Hanks and featuring the likeable on-screen pairing of Hanks and Julia Roberts. Though the perky tone sometimes threatens to undermine the story's credibility, it may be welcomed by older audiences looking for a break from grim economic reality.
Hanks is appealing but not as believable as he was in similar roles earlier in his career.
The Vendome Pictures production is being pitched as older- and female-skewing counter programming in the US, with Universal releasing over a July 4 holiday weekend likely to be dominated by the latest Transformers outing. Independents releasing the film in the international marketplace should be able to benefit from the fact that both Hanks and Roberts have retained more of their star power outside the US than they have at home.
Written by Nia Vardalos and Hanks (who produced Vardalos' My Big Fat Greek Wedding), the film opens with Hanks' title character, a former navy cook now an enthusiastic hypermarket sales clerk, losing his job and facing what looks like a long struggle to find work and hang on to his home.
The tone soon lightens, however, and in short order Larry buys a motor scooter, signs up for community college, makes friends with a pretty young fellow student (UK actress Gugu Mbatha Raw, from British spy series Spooks, titled MI-5 in the US), gets a fashion makeover and finds a part time job. The romance between Larry and jaded college teacher Mercedes (Roberts) takes a little longer to develop, thanks to the presence of Mercedes' deadbeat husband Dean (Bryan Cranston, from TV's Breaking Bad).
Giving Larry a childlike optimism that occasionally brings Forrest Gump to mind, Hanks is appealing but not as believable as he was in similar roles earlier in his career. Roberts, who previously starred opposite Hanks in political satire Charlie Wilson's War, gets a more realistic role and effectively adds some sharper humour and slightly darker drama to the proceedings.
Production companies: Universal Pictures, Vendome Pictures, Playtone
US distribution: Universal Pictures
International sales: Summit Entertainment, www.summit-ent.com
Producers: Tom Hanks, Gary Goetzman
Executive producers: Philippe Rousselet, Steven Shareshian, Jeb Brody, Fabrice Gianfermi, David Coatsworth
Screenplay: Tom Hanks, Nia Vardalos
Cinematography: Philippe Rousselot
Production designer: Victor Kempster
Editor: Alan Cody
Costume designer: Albert Wolsky
Music: James Newton Howard
Website: www.larrycrowne.com
Main cast: Tom Hanks, Julia Roberts, Bryan Cranston, Cedric the Entertainer, Taraji P Henson, Gugu Mbatha Raw