Dir: Christian Larson. UK. 2014. 93mins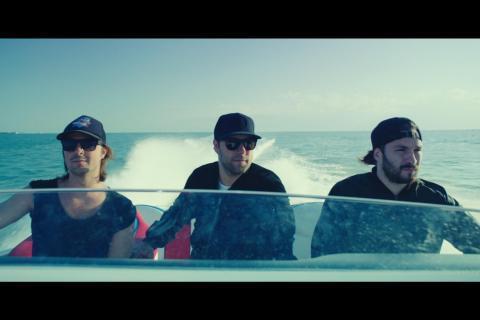 The 'farewell tour' movie has been well-mined over the years, but Christian Larson's rather beautiful, emotionally striking and often up-lifting Leave The World behind is a real delight as it charts the 2012 farewell tour of top electronic dance group Swedish House Mafia.
The beating heart of the film, though, is the vibrant and exhilarating concert footage.
The Swedish trio of DJ/producers Sebastian Ingrosso, Steve Angello, Axel Hedfors dominated the electronic dance scene until they decided to call it quits…not because of fights or hassles, just simply that they were a the top and simply wondered what could they do next, figuring in the end that it is best to quit while you are ahead.
Though director/editor Christian Larson shoots and structures his film in pretty standard style there is a lot of joy, compassion and sheer verve to the long final tour. The concert footage is plentiful – and stylishly shot – and often intercut with beautiful women staring towards the camera – and sits nicely alongside interviews with the Swedish threesome as they bond with their families, perform, recall the how they met and the fun of their early days and travels around the world.
The film opens with details about the band's winding up and that fact that they sold out Madison Square Garden in nine minutes before tracking back to detail the band members themselves. They are vibrant but all very different personalities – bearded and tattooed Angello seems the brooding core; Ingrasso is all clean-cut energy, and Axwell is thoughtful and pensive. They came together through no great design – but with a shared loved for Daft Punk's Homework album – but found that their mixes hit the electronic dance music zeitgeist, and embraced the world of music, drink, touring, drugs.
They talk fondly about the good old days, and while there is no discussion about issues within the band – and as a threesome they are tight, warm and friendly – there is a sense that there are deep-rooted issues between them. They have agreed to split up but have not agreed a common line about why, which leads to interesting interpretations of their comments about how they feel about their time together.
The beating heart of the film, though, is the vibrant and exhilarating concert footage. Even is electronic dance music isn't your thing it is hard not to be swept up in the sheer enthusiasm the fans have and to get a tangible sense of how the pulsating music sweeps audiences away. The film is a thoroughly enjoyable music experience – yes it may not get to the bottom of what went wrong inside the band, but as a document of a brilliantly staged farewell tour it is enthralling and enjoyable.
Production company: Ridley Scott Associates, Black Dog Films Contact: Black Dog Films, sgisla@rsafilms.co.uk
Producer: Svana Gisla
Executive producers: Amy Thomson, Jonas Åkerlund
Cinematography/editor: Christian Larson
Music: Swedish House Mafia
With: Sebastian Ingrosso, Steve Angello, Axel Hedfors