DreamWorks Animation CEO Jeffrey Katzenberg talks to Mike Goodridge about the DWA business model, the attention the company pays to international distribution, the relationship with Paramount and the pressures of running a public company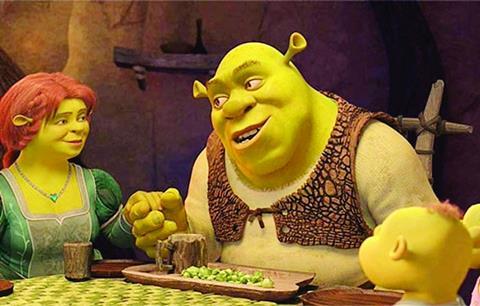 When I meet Jeffrey Katzenberg in London in late February, he has just introduced a screening of Shrek Forever After (pictured) for European exhibitors at Vue Westfield, the massive new 14-screen complex which sits atop a lavish west London shopping mall.
If it seems unlikely the Hollywood powermonger and head of the publicly traded DreamWorks Animation (DWA) should be shaking hands with cinema-owners in Shepherd's Bush, it is not. Katzenberg has been in the trenches since the company separated from DreamWorks Studios, struck a worldwide distribution deal with Paramount/PPI and started trading on the New York Stock Exchange in October 2004.
"Two thirds of DWA's theatrical business is outside of North America," he explains. "It's been that way for a couple of years now and that's why we continue to work as hard as we have with international exhibition. Our results are very much down to the way each of the countries driven by the [PPI] managers and marketing executives has taken ownership of the business.
"The earlier we can give them a look at the movie, the sooner they can get a sense of how to make it work in their territory," he says. In July he and senior PPI executives are travelling to 19 territories in 19 days to show PPI territorial teams a rough cut of DWA's end-of-year release Megamind, 30 minutes of Kung Fu Panda: The Kaboom Of Doom (to open in June 2011) and 20 minutes of Puss In Boots (November 2011).
"Kung Fu Panda doesn't come out for another year so they can get promotional partners in to work with a year out, which is what it takes if you're going to do really good planning.
"More and more, we're trying to break down the world into 25 territories that represent 85% or 90% of our business," he continues. "So we actually try and tailor-make each programme for that market. Our release dates stagger across weeks if not months to hit the right holidays and make the whole family audience available to us. That's what gets you the best results."
The results have indeed been impressive. Madagascar: Escape 2 Africa took $424m in international (to $180m domestic), Kung Fu Panda took $416m (to $215m domestic) and Shrek The Third did $476m (to $323m domestic).
"Our talent, both the film-making and acting, doesn't get paid gross, they get paid on the success of the movies."
"CG-animated movies play to a broader audience [than just families]," he says. "I think it's the single most successful genre of movies right now, at least the high-end ones that Pixar, Blue Sky and we are doing."
He differentiates between different scales of animation and says the market can probably handle only six or seven of the "big ones" a year ― DWA films cost around $150m or more to produce. "There is a second tier animation business ― films like Planet 51 or Fantastic Mr Fox or the Aardman movies ― which are separate from what we do."
DWA's worldwide deal with Paramount was struck in January 2006 after Paramount's parent company Viacom acquired DreamWorks Studios, although DWA had already broken off from its live-action sister company at that point.
The deal runs through to the end of 2012 and the relationship with Paramount has, says Katzenberg, gone well.
"We didn't have the friction the live-action company had," he explains. "The difference is that they were sold to [Paramount] and worked for them and they got off on the wrong foot and never recovered. Our situation was different. We got off on a good foot and it has stayed good. We've had a fantastic partnership and they have done an excellent job for us."
DWA employs 2,000 people in all stages of production and ­distribution, but Katzenberg says the company bears few similarities in its business model to that of other movie ­studios.
"Our entire enterprise sinks or swims on three movies whereas they are a very small part of something very large," he says. "What they do is not necessarily material to what happens in the larger company.
"Besides, our paradigm is completely different," he continues. "Our talent, both the film-making and acting talent, doesn't get paid gross, they get paid on the success of the movies. And our DVD results remain robust."
Katzenberg has pursued alternative sources of revenue, as others such as free TV sales have declined. The first, famously, is his aggressive push on the theatrical experience and the revenue-generating potential of 3D. "We had a hope and a belief 3D would become a very valuable premium business and it's more than we ever dreamed of."
Second, DWA has explored multiple ways of exploiting each intellectual property ― in live theatre, TV specials and series or an online virtual world which DWA is planning to launch within a month. TV specials and series alone contributed $50.4m in revenues to the company's fourth quarter 2009 results.
The week I meet him, DWA's full year 2009 financial results were reported ― revenues of $725.2m and net income of $151m. The fourth quarter showed a 16% decline in profits but was better than expected.
"Our talent, both the film-making and acting, doesn't get paid gross, they get paid on the success of the movies."
So how does Katzenberg, who formerly ran more traditional studios Disney and DreamWorks, cope with the pressure of being frontman for a public company?
"I don't get pressure, I give pressure," he laughs. "I'm having a good time. It's good, we are graded. I'm a competitive guy and I get a grade every quarter. Good, bad, up, down. I like that. It keeps you on your toes.
"Particularly with the transparency that exists in the public markets today, you cannot let your guard down at any time on any front whatsoever," he continues. "You're on the high wire in the main arena and the lights are on you, so you better perform.
"[The major studios] are not really public. You do not know 10% as much about Paramount or Warners or Universal as you do about DWA. You know how much our movies cost, you know how much we spend marketing them, you know how many DVD units we sell. You can't fudge it, you can't exaggerate it. You have to speak the facts. And let me be really clear ― not doing that is a felony."
The studio is not required to reveal talent payments but Katzenberg chuckles that his contract is detailed in DWA filings and public statements.
"There's not a single thing in my contract which isn't public. None of us knows what Ron Meyer or Jeff Zucker or Brad Grey make. Me ― it's out there."
So far, so good for DWA, and 2010 looks like it will be a particularly good year for the company.
Katzenberg hopes that How To Train Your Dragon ― which opens later this month and is based on the first of an eight-book series by Cressida Cowell ― will yield a franchise, as will Megamind, which follows the adventures of a megalomaniac supervillain. "I'm hoping that by the end of this year, we'll have five franchises ― those two in addition to Shrek, Madagascar and Kung Fu Panda."
But Katzenberg says while he is pursuing considerable growth in the next three to five years, he has no ambitions to sell or become a part of a conglomerate. "I think a lot of our success comes from being independent and having to make every effort on every movie mean everything," he muses. "I'm not sure that if we were part of something bigger we would have that same drive."
Jeffrey Katzenberg
■ Born in 1950
■ Started as an assistant to Barry Diller, then chairman of Paramount Pictures, in 1975. He worked his way up to president of production under Michael Eisner.
■ Moved to Disney with Eisner in 1984 as head of the studio, where he famously revived the animation studio.
■ In 1994, having left Disney after a highly publicised legal spat with Eisner, Katzenberg co-founded DreamWorks SKG with Steven Spielberg and David Geffen, marking the first bona-fide attempt to create a new Hollywood studio in decades.
■ Katzenberg left the studio to head up DreamWorks Animation which was spun off and listed on the New York Stock Exchange in 2004, then transferred to NASDAQ in 2009.