Arthouse giants and Hollywood blockbusters jostle for space on the Piazza Grande and in International Competition. Matt Mueller, Andreas Wiseman and Tom Grater profile the titles set to get audiences buzzing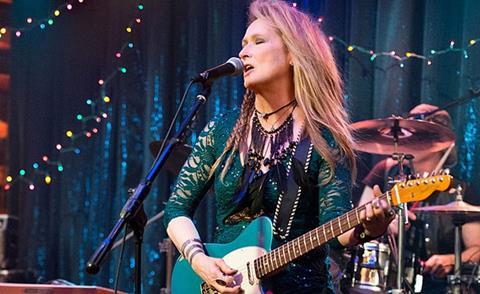 Amnesia (Switz-Fr)
Dir Barbet Schroeder
Schroeder's drama, which premiered at Cannes, follows a young music composer (Max Riemelt) who moves from Berlin to Ibiza in the 1990s to become part of the nascent electronic music revolution. There he strikes up a friendship with an ageing ex-pat (Marthe Keller).
Contact Les films du Losange info@filmsdulosange.fr
La Belle Saison (Fr)
Dir Catherine Corsini
Set in 1971, French film-maker Corsini's lesbian love story follows a French girl of humble origins (Izia Higelin) who becomes involved with a free-spirited girl from Paris (Cécile de France).
Contact Pyramide International distribution@pyramidefilms.com
Bombay Velvet (India)
Dir Anurag Kashyap
From the writer-director of Gangs Of Wasseypur, which premiered in Directors' Fortnight at Cannes in 2012, this Bombay-set gangster drama traces the adventures of a street boxer and a beautiful jazz singer.
Contact Fox Star Studios India rohits@in.foxstarstudios.com
The Deer Hunter (UK-US)
Dir Michael Cimino
Cimino's Oscar-winning Vietnam war drama, starring Robert De Niro and Christopher Walken, is screening as part of the festival's tribute to the US director, who will receive the Pardo d'Onore Swisscom this year.
Contact Tamasa Distribution contact@tamasadiffusion.com
Floride (Fr)
Dir Philippe Le Guay
Jean Rochefort and Anamaria Marinca headline Le Guay's comedy about an 80-year-old man struggling to cope with memory loss.
Contact Gaumont International abuhl@gaumont.fr
Fists In The Pocket (It)
Dir Marco Bellocchio
Veteran film-maker Bellocchio, who will receive this year's Pardo d'Onore, first made waves at Locarno in 1965 with Fists In The Pocket (I pugni in tasca), the story of a young man who takes drastic measures to rid his dysfunctional family of its various afflictions.
Contact The Match Factory info@matchfactory.de
Guibord s'en va-t-en guerre (Can)
Dir Philippe Falardeau
Patrick Huard and Suzanne Clément lead the cast of Falardeau's comedy about a politician faced with a monumental decision. Falardeau's Monsieur Lazhar picked up Locarno's audience award in 2011.
Contact Films Distribution info@filmsdistribution.com
Heliopolis (Braz)
Dir Sergio Machado
Machado's latest film follows the young men of a real-life orchestra established for underprivileged children in Sao Paulo.
Contact Films Boutique info@filmsboutique.com
Jack (Aust)
Dir Elisabeth Scharang
Austrian director Scharang's second fiction feature after 2011 Holocaust drama In Another Lifetime charts the true story of Jack Unterweger, a convicted murderer whose road to redemption, while imprisoned, was to write stories and poems.
Contact Picture Tree International pti@picturetree-international.com
The Laundryman (Tai)
Dir Lee Chung
A contract killer haunted by the ghosts of his victims enlists the help of a female psychic. Black comedy The Laundryman (Qing Tian Jie Yi Hao) marks Lee's feature debut.
Contact Ablaze Image
Me And Earl And The Dying Girl (US)
Dir Alfonso Gomez-Rejon
Fox Searchlight splashed big on this Sundance hit about a high-schooler who has his outlook changed after befriending a classmate who has been diagnosed with cancer.
Contact Fox Searchlight
Ricki And The Flash (US)
Dir Jonathan Demme
Meryl Streep stars as an ageing rock star attempting to reconnect with her family, with Demme directing from a Diablo Cody script. Ricki And The Flash screens out of competition, with Streep's co-star Edward Norton receiving this year's Excellence Award.
Contact Sony Pictures Releasing International www.sonypictures.com
Southpaw (US)
Dir Antoine Fuqua
Jake Gyllenhaal steps into the ring as a grieving boxer at the heart of Fuqua's redemption drama, which The Weinstein Company is currently rolling out internationally.
Contact The Weinstein Company www.weinsteinco.com
Der Staat gegen Fritz Bauer (Ger)
Dir Lars Kraume
Burghart Klaussner stars as Fritz Bauer, a German-Jewish attorney general determined to pursue through the German court system those who took part in the Holocaust.
Contact Beta Cinema
Trainwreck (US)
Dir Judd Apatow
Apatow directs this vehicle for Amy Schumer, starring as a commitment-phobic career woman who meets Mr Right.
Contact Universal Pictures International www.universalpicturesinternational.com
La Vanité (Switz-Fr)
Dir Lionel Baier
Patrick Lapp and Carmen Maura star in Swiss director Baier's latest, about an elderly architect determined to end his life.
Contact Wide infos@widemanagement.com
Bella e perduta (It)
Dir Pietro Marcello
Italian director Marcello, known for 2009 documentary drama The Mouth Of The Wolf, brings to Locarno the surreal story of two servants, man and animal, who embark on a long journey across a lost and beautiful Italy.
Contact L'Avventurosa Film info@avventurosa.net
Brother Dejan (Rus-Serb)
Dir Bakur Bakuradze
Brother Dejan (Brat Dejan), about a general of the Balkan war who is secretly transported to a detached house outside a mountain village, marks Bakuradze's first effort as director since 2011 drama The Hunter.
Contact Soul Food Distribution sonja.topalovic@soulfoodfilms.com
Cosmos (Fr-Port)
Dir Andrzej Zulawski
Polish veteran Zulawski returns to the director's chair for the first time in 15 years with the story of a deaf-mute girl who is saved from suicide by an unusual encounter.
Contact Alfama Films alfamafilms@orange.fr
Chant d'Hiver (Fr-Geor)
Dir Otar Iosseliani
Georgian director Iosseliani's first film in five years, featuring a cast made up largely of non-professional actors, charts the dramatic chaos following revolution.
Contact Les Films du Losange info@filmsdulosange.fr
Chevalier (Gre)
Dir Athina Rachel Tsangari
Tsangari's first film as director since 2010 festival hit Attenberg follows a group of men trapped on a boat who devise a game that becomes increasingly competitive. Greek singer Sakis Rouvas features among the cast.
Contact The Match Factory info@matchfactory.de
Dark In The White Light (Sri Lanka)
Dir Vimukthi Jayasundara
Jayasundara won the Camera d'Or in 2005 for his debut The Forsaken Land. Dark In The White Light (Sulanga Gini Aran) intertwines the stories of a Buddhist monk, a medical student, an organ dealer and a surgeon to paint a broader picture of life and death.
Contact Film Council Productions filmcouncilproductions@gmail.com
Entertainment (US)
Dir Rick Alverson
En route to meet his estranged daughter, an ageing comedian plays a string of dead-end shows in the Mojave desert. Gregg Turkington stars alongside John C Reilly and Michael Cera in Alverson's drama, which premiered at Sundance.
Contact Stray Dogs, Epic Pictures Group sales@epic-pictures.com
Happy Hour (Jap)
Dir Ryusuke Hamaguchi
When a woman disappears after losing her case in divorce court, her three best friends are forced to examine their own lives. Hamaguchi's drama clocks in at 317 minutes.
Production company Fictive LLC hh.fictive.jp/en
Heimatland (Switz-Ger)
Dirs Lisa Blatter, Gregor Frei, Jan Gassmann, Benny Jaberg, Carmen Jaquier, Michael Krummenacher, Jonas Meier, Tobias Nölle, Lionel Rupp, Mike Scheiwiller
The only Swiss film in this year's competition is a compendium piece by 10 up-and-coming directors examining the notion of Swiss identity and how it relates to dependency on other countries.
Contact Wide infos@widemanagement.com
James White (US)
Dir Josh Mond
Martha Marcy May Marlene producer Mond makes his directing debut with this drama about a New Yorker (Christopher Abbott) trying to rein in self-destructive tendencies.
Contact Memento Films International sales@memento-films.com
No Home Movie (Bel-Fr)
Dir Chantal Akerman
This documentary by the Belgian film-making veteran recounts the story of her mother, who arrived in Belgium from Poland in 1938, fleeing pogroms and violence.
Contact Doc & Film International sales@docandfilm.com
Paradise (Iran-Ger)
Dir Sina Ataeian Dena
A frustrated Iranian schoolteacher is shocked when two of her female students are kidnapped. Paradise (Ma Dar Behesht) is Dena's feature debut.
Contact Bon Voyage Films bonvoyagefilms@gmail.com
Right Now, Wrong Then (S Kor)
Dir Hong Sang-soo
Right Now, Wrong Then (Jigeumeun Matgo Geuttaeneun Teullida) follows the relationship between a director (Jeong Jae-yeong) and an artist (Kim Min-hee). The film-maker allows a friendship to develop before revealing to her that he is married. The prolific Hong won Locarno's best director prize two years ago for Our Sunhi.
Contact Finecut cineinfo@finecut.co.kr
O Futebol (Sp)
Dir Sergio Oksman
Oksman's documentary short A Story For The Modlins stormed the festival circuit in 2012. This feature, set during the 2014 World Cup in Brazil, follows a father and son trying to rekindle their relationship after 20 years apart.
Contact Dok Films guadalupebalaguertrelles@gmail.com
Suite Armoricaine (Fr)
Dir Pascale Breton
Eleven years after her feature debut, French writer-director Breton's second film follows an art historian and geography student as they face their demons.
Contact Zadig Productions info@zadigproductions.com
Te Prometo Anarquia (Mex-Ger)
Dir Julio Hernandez Cordon
Cordon's second film in Locarno competition after 2012's Polvo, is a Mexico City-set drama about two male lovers and blood traffickers who attract the attention of a cartel. Diego Calva and Eduardo Martinez Peña star.
Contact Latido Films latido@latidofilms.com
The Sky Trembles And The Earth Is Afraid And The Two Eyes Are Not Brothers (UK)
Dir Ben Rivers
Rivers' previous feature, A Spell To Ward Off The Darkness, debuted at the 2013 festival. His latest, set in the Moroccan desert, is about a director's descent into madness.
Contact Artangel info@artangel.org.uk
Tikkun (Isr)
Dir Avishai Sivan
Fresh off four awards at Jerusalem Film Festival, including best film, Sivan's atmospheric drama is about an ultra-Orthodox scholar irrevocably changed after a near-death experience.
Contact Plan B Productions ronenbental@gmail.com