Dir: Ziska Riemann. Germany. 2011. 96mins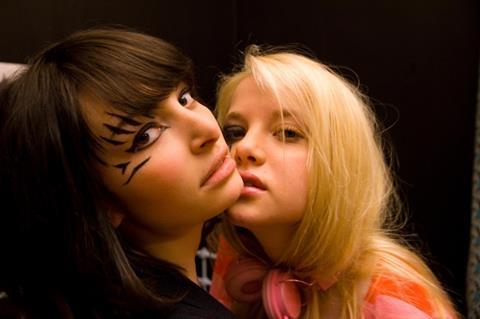 Ziska Riemann's willful and wild comedy-drama Lollipop Monster tracks a familiar path through the territory of teenage anger and rebellion, but at least tries to put its own garish and vibrant spin on it. It is intermittently successful, but is at least distinctive, mainly thanks to two lead performances by Jella Haase and Sarah Horvath.
Debut director Ziska Riemann's tries to be bold in terms of camera-technique, production design and sound editing.
The film, which premiered at the German Cinema section of the Berlin Film Festival, screened in competition at the Karlovy Vary Film Festival. Its focus on sexuality, seduction and rebellion – as well as its manga sensibility – may make it of interest to niche, culty, art-house distributors, but in the end it is a bit too scattershot to really convince as a pop-art coming of age tale.
The two very different 15 year-old girls go to the same school. Lolita-like Ari (Haase), is blonde, pouting and lives in a world of bright colours, frustrated by her mother still treating her as a child, while arty Oona (Horvath) dresses in black and is treated as an adult by her artist father.
When Oona's father commits suicide after his wife has an affair with his brother Lukas, Oona starts to self-harm, but finds and unlikely friendship with Ari. The pair start to bond – they share an enthusiasm for a band named 'Tier' – and Oona starts to regain her confidence.
Ari's enthusiasm for exerting her sexuality rebounds when she starts an affair with Oona's uncle, who has recently moved in with Oona's mother. This leads Oona to take drastic action, but the pair are eventually reunited and decide to take action against the manipulative Lukas.
Debut director Ziska Riemann's tries to be bold in terms of camera-technique, production design and sound editing, and there are times when the film succeeds in terms of being self-consciously 'different' and oddly surreal. It could be that Riemann is trying to reference Japanese teen movies (a good example would be Tetsuya Nakashima's 2004 film Kamikaze Girls) but blended with a certain German gloominess.
But there are times when there is a lot of dark fun to be had with Lollipop Monster – especially when it heads into fairytale territory – and the amusingly black ending suggests that Riemann is a director to be watched. And certainly Jella Haase and Sarah Horvath are young actresses with a future.
Production companies: Network Movie Film. ZDF
International sales: Aktis Film International, www.aktis-film.com
Producers: Wolfgang Cimera, Bettina Wente, Andi Wecker
Screenplay: Ziska Riemann, Luci van Org
Cinematography: Hannes Habach
Editor: Dirk Grau
Music: Ingo Ludwig Frenzel
Main cast: Jella Haase, Sarah Horvath, Nicolette Krebitz, Thomas Wodianka, Sandra Borgmann, Rainer Sellien