Dir: Julien Temple. UK. 2012. 128mins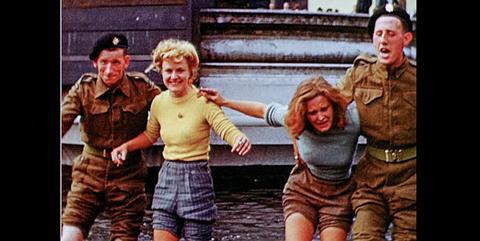 Timed to coincide with the London Olympic Games, Julien Temple's gloriously enjoyable assembly of archive material interlinked by a striking series of voices providing the narration offers up a remarkable vision of London from the beginning of the 20th century up until today. It is fine theatrical offering, though in most territories more likely to feature on television or home entertainment.
It is no fluffy bit of fluffy propaganda but an exciting presentation of an important city.
Temple's background as a chronicler of the music scene in the UK impressively tinges aspects of London: A Modern Babylon, but more importantly and movingly the film weaves popular culture, public events and real-life human stories as it presents a fresh vision of a complex and vital city.
While essentially charting a chronological path through London from the end of the 19th century (offering up the earliest cinematic glimpses of the city) through to the present day, the film favours a sometimes scattershot delve into London, weaving in songs, cinema, newsreel, poetry and interviews as it charts a course through to London 2012 and the Olympics.
Temple manages the rare feat of making his film both heartwarming and dramatic, insightful and frivolous, ranging from early footage of Victorian England, through two world wars, the depression, immigration, coronations and up to the recent 2011 riots.
And throughout the film he punctuates proceedings with selections of nicely chosen music which takes in punk, classics, rock and folk, interweaving the music and archive footage with thoughtful interviews with Londoners of all ages. For film fans there are some astute movie extracts – John Mackenzie's The Long Good Friday; Michael Powell's Peeping Tom and Alfred Hitchcock's Blackmail for example – while these are balanced by a series of narrators who read quotations from the like of William Blake and WB Yeats.
The film has the outward appearance of a free-slowing and often freewheeling collage, but through it all Julien Temple presents the image of a vibrant and often-changing city, held together by its ability to change. It is no fluffy bit of fluffy propaganda but an exciting presentation of an important city.
Production companies: BBC, BFI, Nitrate Films
Sales agent: Ealing Metro International, www.ealingmetro.com
Producers: Amanda Temple, Stephen Malit
Cinematography: Steve Organ
Editor: Caroline Richards
Music: JC Carroll
Main cast: (voices) Michael Gambon, Bill Nighy, Imelda Staunton, Andy Serkis