Dir/scr: Jan Kruger. Ger-Fr. 2011. 89mins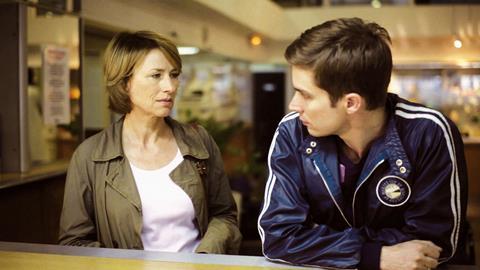 A domestic detective story with ruminations on family, memory and sexuality, Jan Kruger's feature Looking For Simon (Auf der Suche) intrigues and impresses in occasional moments, despite settling for a rather plodding style and lack of real drama. Unlikely to set buyers pulses racing, but it is oddly watchable nonetheless.
There are vague, unexplored, hints that the film could have developed into a 'thriller' of modest proportions.
Screening in the Forum at the Berlin Film Festival, it makes stabs at dabbling in psychological thriller territory as a mis-matched couple search a city for a missing person, but the levels of both thrills and psychology are so modest that it succeeds more due to its insights and good use of locations rather than as a traditional thriller.

Middle-aged mother Valerie (Harfouch) has not been able to get in touch with her son Simon, who is a doctor in Marseille, for some weeks, and asks his ex-lover Jens to fly over from Berlin to help her look for him.
As the pair talk to police, visit the clinic where he worked and view videos that they find in Simon's apartment, it becomes clear that they don't really know Simon. She is still trying to adjust to her son's gay lifestyle, while Jens is bemused - and confused - to find that Simon had been having a relationship with Camille (Leroy) who also worked at the clinic.
False leads take them to a Marseille lido where a neighbour says he saw Simon swimming; to the car dealer who sold him a yellow sports car and to a vineyard where Simon and Camille went on a holiday. Each offers fresh nuggets of hope - as well as tiny insights into Valerie and Jens - but ultimately leads them nowhere.
Writer/director Jan Kruger seems more interested in Jens - who pursues sexual encounters while in the city - and his reaction to Simon's disappearance than he does Valerie, despite the fact that she is a more interesting character. But essentially both are sketchy figures, simply caught up in the search for Simon in the atmospheric French port city and revealing little about themselves.
The backdrop of Marseilles adds much to the feel and tone of Looking For Simon. He had planned to escape on holiday to Morocco and take with him Jalil (Dehbi), from whom he bought the sports car, and that sense of a vibrant city with close links to North Africa is always a clear part of the story.
The search ends abruptly - as does the film - with little sense that much had been achieved, apart from some mild insights in the characters and attitudes of Valerie and Jens. There are vague, unexplored, hints that the film could have developed into a 'thriller' of modest proportions, but Kruger seems happier to let to drift in a rather ill-defined way rather than come to firm resolutions.

Production companies: Schramm Film Koerner & Weber, Neon Productions, WDR
Sales contact: Neon Productions, www.neoncinema.com
Producers: Florian Koerner von Gustorf, Michael Weber
Cinematography: Bernadette Paassen
Music: Birger Clausen
Main cast: Corinna Harfouch, Nico Rogner, Valerie Leroy, Mehdi Dehbi, Mireille Perrier