Dir: Lee Isaac Chung. US. 2010. 97mins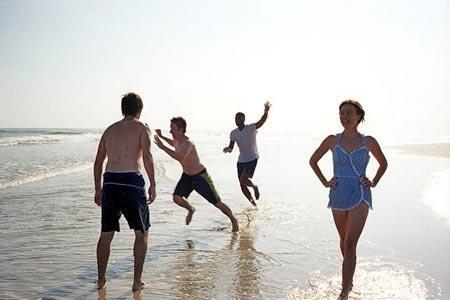 Munyurangabo was a small, effective independent film that Chung shot in Rwanda, where he was teaching filmmaking at a Christian camp. Death hovered like a phantom around two teen-aged friends, one Hutu, the other Tutsi. Under xenophobic family pressures, the buddies sever ties, but end up reconciling. One had planned to kill a man who had harmed his father, but had a change of heart and allows him to live. The film emphasized forgiveness and redemption. Its religious tone was subtle, more humanist than the property of any one religion.
Some fest activity is certain, probably more for Chung's reputation based on Munyurangabo, but commercial prospects are slim.
Chung's new film, showing at the Tribeca Film Festival, Lucky Life is more overtly Christian. It's not the Christian references so much as their heavyhandedness that is off-putting. "Prayer" and "God" are words uttered over and over again. And the rather vanilla characters, especially the two male leads Mark (O'Keefe) and Jason (Adams), speak like characters out of sanitized 1950s family dramas or comedies. "Good morning, Sleepyhead," Jason greets Mark.
The chances for the film to go beyond a dedicated indie audience are slim, and many will be put off by the religious bent and the vanilla characters. Some fest activity is certain, probably more for Chung's reputation based on Munyurangabo, but commercial prospects are slim. The arty visual style, however, might appeal to some very specialised distributors and venues in limited markets.
Four friends from college days join up for their annual vacation at the North Carolina beach house owned by Mark's aunt. Mark is a frustrated writer from Brooklyn who is obsessed with the poetry of New Jersey's Gerald Stern, especially the poem Lucky Life. Mark has recently married Karen (McKenna, the most animate of all, another member of their group of pals.
A third friend is Alex (Harvell), who is studying medicine and preparing to propose to his girlfriend. At the center is Jason, a sweet young man whose parents are Jamaican immigrants. A sadness permeates the reunion this go-round: Jason has been diagnosed with terminal cancer. Most of them, including Jason, are in some phase of denial. Their conversations often sound unnatural, like Christian mumblecore.
The camerawork, though frequently impressively done by Lund and Otsuka, borders on mannered, with all the framed and asymmetrical shots too studied despite their beauty.
The film jumps to Brooklyn, perhaps a year later, to the home of Mark and Karen, who are expecting a child. Mark is haunted by his memories of Jason, who died soon after the beach holiday. The couple loses the baby. Memory and death are inextricably bound. Gone are the best friend and the expected child, but memory will keep them close by. Still, one must be thankful for being alive. Lucky life.
Production company: Almond Tree Films
International sales: U-Media, www.umedia.fr
Executive producers: Alex Hsiong Chu, Lily Chu, Pinky Liang, Robert Liang
Producers: Samuel Gray Anderson, Lee Isaac Chung, Richard Lormand
Screenplay: Lee Isaac Chung, Samuel Gray Anderson
Cinematography: Jenny Lund, Koji Otsuka
Editor: Lee Isaac Chung
Production designer: Valerie Chu
Music: Bryan Senti, Matthew Croasmun
Main cast: Daniel O'Keefe, Megan McKenna, Kenyon Adams, Richard Harvell