Dir: Nigel Cole. UK. 2010. 112mins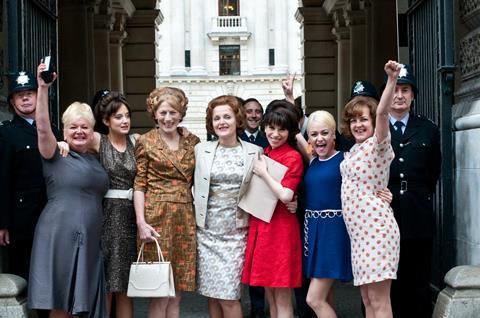 There is something refreshingly old-fashioned about Made In Dagenham, a lively and delightfully performed British film about the real-life struggle by a group of female factory workers in 1968 at the Ford plant in the London outskirt of Dagenham who go out on strike for wage equality.
Made In Dagenham is a nicely crafted battle of the sexes film that should find a welcoming audience.
It is the type of film that could have been made by Ealing Studios back in the 1950s (you could just imagine Peter Sellers in a lead role), an with its shrewd balance of top-notch performers, a series of stirring speeches, terrific production design and costumes, and some smart comedy moments and you have a film that hits its marks at pretty much every turn. It is not, though, going to be an easy sell to mainstream audiences, and while director Nigel Cole has proven success with Calendar Girls in attracting a female audiences Made in Dagenham does not offer the same easy press angles.
Some crackerjack lead performances by Sally Hawkins, Miranda Richardson and Rosamund Pike are the beating emotional heart of the film, though reliable Bob Hoskins is also on hand as a genial union man who supports the women as they set about making history.
In the massive Dagenham factory, Ford employs 187 women, working as machinists in the grim and sweaty building where they work on the car seating. They are a lively and bawdy bunch more than happy to poke fun at any stray male worker who wanders into their domain. Faced with a cut to their already paltry pay the women encourage mild-mannered Rita O'Grady (Sally Hawkins) to become their union rep in a meeting with the management.
To her surprise - and that of both the management and the old-fashioned union shop stewards – Rita is a natural at fighting the good fight, and quickly the debate about a possible pay cut moves on to a stance on pay parity with the 55,000 male workers at Ford, with the women going out on strike to reinforce their stance.
Before long the women's struggle is attracting media attention and increased concern amongst the Ford top brass. It is also of interest to the Labour government's Secretary of State for Employment and Productivity Barbara Castle (Miranda Richardson, who has a lot of fun in the role) who supports the notion of equal pay, despite threats from the Ford management.
As the unassuming firebrand Rita O'Grady, Sally Hawkins (who made such an impact in Mike Leigh's Happy Go Lucky) revels in the role of a feisty fighter who gradually comes to relish her newfound skills in leadership and speech making. At times her lip-quivering delivery of the speeches is a bit wearing, but there are also rousing moments that might have some audiences cheering. Miranda Richardson pretty plays the role of Barbara Castle for laughs (there are moments when she seems like she is still playing her comedy Queen Elizabeth I role from TV series Blackadder), which jars ever so slightly with the seriousness of the women's battle.
There are fine performances all round. Bob Hoskins is terrific as the union man with a twinkle in his eye as the women fight their corner; Daniel Mays is engaging as Rita's supportive but rather old-fashioned husband, and Rosamund Pike is striking as the more upper-class woman, married to a Ford executive, who supports the women's' campaign.
Made In Dagenham is a nicely crafted battle of the sexes film that should find a welcoming audience. It is also worth staying for final credits which feature actual television news footage of the real Dagenham women and also brief interviews with some of those who took on Ford and won.
Production companies: Number 9 Films, BBC Films, Audley Films, UKFC, BMS Finance, Lip Sync Productions
International sales: HanWay Films, www.hanwayfilms.com
US Distribution: Sony Pictures Classics
Producers: Stephen Woolley, Elizabeth Karlson
Screenplay: William Ivory
Cinematography: John de Borman
Production designer Andrew McAlpine
Editor: Michael Parker
Music: David Arnold
Main cast: Sally Hawkins, Bob Hoskins, Miranda Richardson, Geraldine James, Rosamund Pike, Andrea Riseborough, Daniel Mays, Jaime Winstone