Dir/scr. David Twohy. US. 2009. 105 mins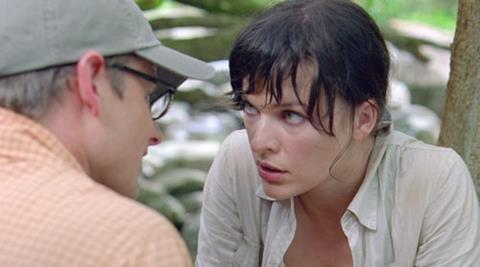 It may start off looking like Deliverance in Hawaii, but writer-director David Twohy's A Perfect Getaway soon develops into an enjoyably off-kilter suspense thriller that has considerable fun toying with genre conventions and audience expectations. While the plot twists will present some marketing challenges, word of mouth - and the casting of Milla Jovovich in one of the four lead roles - could make this Relativity Media production a solid performer for independent distributors worldwide.

Relativity's Rogue Pictures opens the R-rated thriller wide in the US this weekend (August 7). Competing releases with built-in appeal – the female-skewing Julie & Julia and actioner G I Joe - are likely to grab most of the weekend's available moviegoers so Rogue will have to hope that
its entry has some staying power.
The tension is nicely off-set by touches of Hitchcockian humour
Independents outside the US which have acquired rights from QED International may be able to find easier slots in which to launch the film. And they should be able to make more of the presence of Jovovich, whose three Resident Evil movies have all done better internationally than in North America.

Twohy - who made his mark as a screenwriter on The Fugitive before adding a directing hat for Pitch Black and other genre projects - sets the story up as a fairly conventional urbanites-in-the-wild thriller.

Up-and-coming but nerdy Hollywood screenwriter Cliff (Zahn) and his new bride Cydney (Jovovich) are honeymooning on Hawaii's lush Kauai island when they set out to hike to a secluded beach. Along the way they meet two other couples: rugged adventurers Nick (Olyphant) and Gina (Sanchez) and mysterious hitchhikers Kale (Hemsworth) and Cleo (Shelton).

When news reaches the group that a pair of serial killers may be at large on the island the couples stick together for safety - but also start eyeing each other nervously.

The film's first half-hour seems to be laying the ground for a thoroughly formulaic psycho murderer thriller (complete with the now requisite scene establishing that no one can get a mobile phone signal).

But things get more interesting as Twohy offers up telling details about Cliff, Cydney, Nick and Gina, suggesting new possibilities as to who are the hunters and who are the hunted.

The tension is nicely off-set by touches of Hitchcockian humour, some of which provides additional clues about who's who.

An hour into the story, Twohy throws convention to the wind by revealing the killers' identities. It's a bold and surprising move that just about works, even though the extended flashback sequence - spookily shot on digital infrared black and white film - that follows the revelation robs the story of some momentum.

From then on the film becomes a more familiar and slightly cartoonish - though still quite witty - couple-in-peril nail-biter.

Besides Twohy, the actors deserve credit for helping to make the big plot twist credible. Olyphant is especially engaging as the cocky Nick, who claims a secret military background and likes to refer to himself as "an American Jedi." And Zahn displays his acting chops in a pivotal role.
Jovovich and Sanchez get less to work with but both add a bit of character depth to what might otherwise have been a generic story.
Shot (because of financial incentives) in Puerto Rico, the production uses visual effects to transform Puerto Rican locations into some impressive Hawaiian settings.
To sign up for Screen's weekly Reviews Newsletter with new releases, international openings and full festival reviews delivered free to your mailbox every Friday, please click HERE

Production companies
Relativity Media
QED International
Davis Entertainment
Tooley Productions

North American distribution
Rogue Pictures

International sales
QED International
+ 1 323 785 7900

Producers
Ryan Kavanaugh
Mark Canton
Tucker Tooley
Robbie Brenner

Cinematography
Mark Plummer

Production design
Joseph Nemec III

Editor
Tracy Adams

Music
Boris Elkis

Main cast
Steve Zahn
Milla Jovovich
Timothy Olyphant
Kiele Sanchez
Chris Hemsworth
Marley Shelton